This post was most recently updated on September 22nd, 2019
{I'm going to stray a little off topic today.  This post has nothing to do with pretty homes or pretty things, so if you need that kind of escape today, you might want to exit stage right and click on some of my prettier posts. And if you do, no hard feelings, I totally get it!}
BUT…
If you have a young child in your life who has an ipod Touch – or who might have one in near the future – this post might interest you.  In case you haven't already done so, I'm going to show you how to set some controls to make it safer.  But first, let me tell you our story.
Like most, our ipod story starts innocently enough…with a guy in a red suit.
Once upon a time, there was a 7-year old girl named Miss G who came home asking declaring, "Mommy, I need an Ipod Touch  pleeeeease. So-and-so has one, and I NEED one too!"
Not understanding much about the features of an ipod Touch more than that it has a touch screen Mommy says, "Why on earth would you possibly need one?"  (Seriously, I thought my Nano was pretty cool, considering I started out with a Shuffle!)
"You can play games, and take pictures and make videos, Mommy!"
"Well, it's too expensive." Yadda yadda. End of story.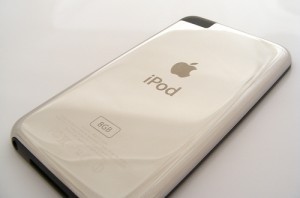 So the time rolls around to make a list for Santa, and Miss G says, "Mommy, I asked Santa for the ipod Touch.  I know he'll make one for me!"
So Mommy says "Sorry doll, Santa doesn't make ipod Touches, they're way to complicated for the elves", while secretly high five-ing herself for thinking on her feet after a day of negotiating with two-year old twin boys.
Miss G says: "Yes, he DOES, Mommy!  He gave one to some kids in my class last year.  So, I am sure he could make one for ME too, right?  And I am sure he doesn't think I'm too young because they are all 7 year olds too!"
Mommy scans her end-of-day chicken fried brain for another comeback, but can't find one fast enough.  Stutter, stutter. "Um, well let me think about it, ok?"
And so, the crumbling begins.
"It's just like a tape recorder, right?"
Months goes by, and a bucket-load more kids have been added to her list of kids we know who are asking Santa for an ipod Touch.
So I begin to ask myself: Do we have a good reason not to allow it?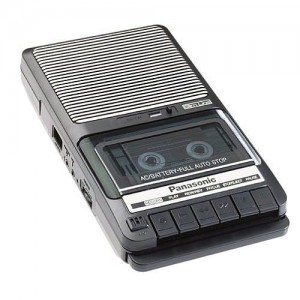 She's one of the most responsible and trustworthy kids I know. A "rule follower" if there ever was one.  And, well, it's the only thing on her Christmas list…except of course, "a real pet fairy", and we all know how easy pet fairies are for Santa to find, lol.
And, I mean, isn't it just the modern-day equivalent to the tape recorder Santa gave me in the early 80s?  I still remember all the fun I had recording and re-recording my version of 'the evening news' , lol.  Is it her fault that the modern day version of the tape recorder costs $200+?
So, before I know it, we're saying yes to our  7-year old: "I guess the elves can make you an ipod Touch."
"Um, what's that now?"
A few weeks pass, and I'm hearing the word "Face Time" thrown around.
Me: "What's this Face Time you're talking about?"
Miss G explains:  "It's like when we talk to Daddy on the webcam.  When I get my ipod Touch from Santa, I'll be able to see and talk to my friends whenever I want!"
Back it up.  Me: "Um, what's that now?"
I thought the darn thing was just a souped up version of my ipod Nano, not a mini-computer.   I begin to think that perhaps I should have researched this ipod Touch a little better!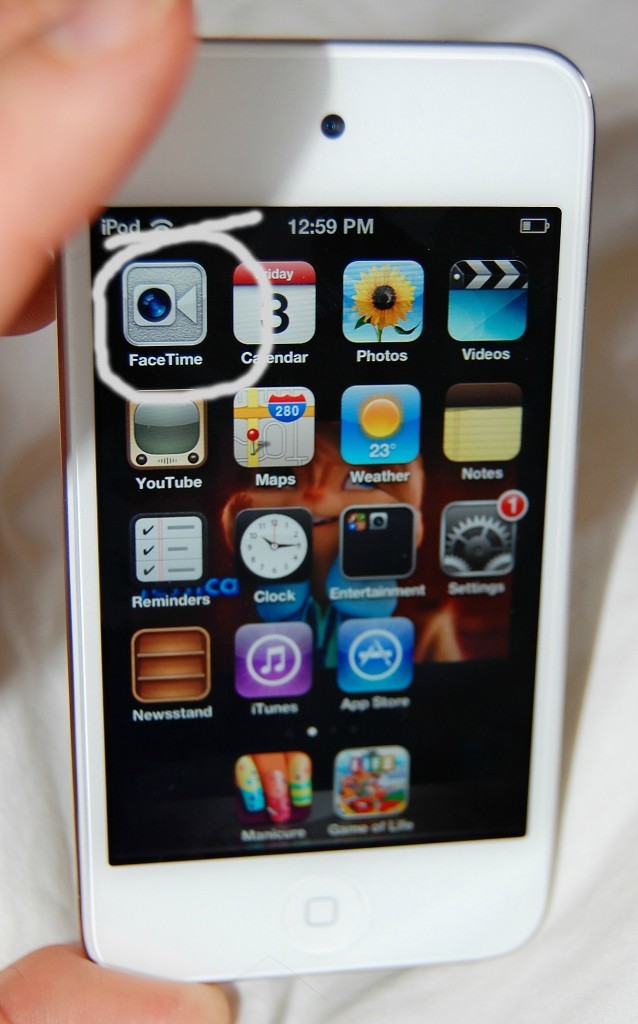 So I ask my sister.  Her 2 kids are a little older than Miss G, and they already own ipod Touches. She confirms what I clearly should have known by now: an ipod Touch connects to your WiFi network.   She can "Face Time" anyone else with an ipod Touch – or an iphone, mac or ipad.  All she needs is their e-mail address, and then she's always one click away from video chat.  (You can see Apple's desciption, here).
By now, I am feeling some regret for saying yes so soon.  But it feels to late to turn back. It's December, and Miss G's spent weeks talking about Santa and her ipod Touch.
And, I couldn't deny that FaceTime might come in handy when Daddy's travelling.  Or, for keeping in touch with her BFF cousins who live a plane ride away.
Surely, with some rules in place, the ipod Touch would be OK.  Right?
You did

WHAT?!?
Fast forward 8 weeks.
Christmas morning is long over, and Miss G and her shiny ipod touch are BFFs.  We've set rules, and she's followed them. No Internet on the ipod…except with Mommy or Daddy at her side.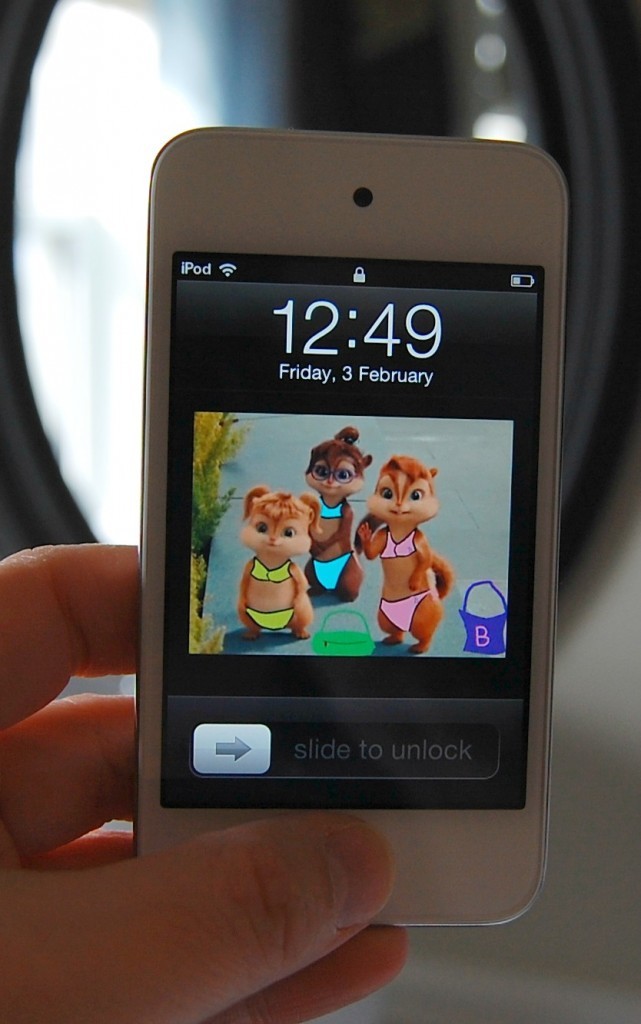 So one evening last week, I noticed something that catches my eye. Her screensaver was an odd, doctored-up picture of the Chipettes in bikinis.  Innocent enough, but certainly a picture that raised a red flag.
Me: "Where'd you get that picture?"
Her ( a little hesitantly): "I got it from YouTube."
Me: "YOU DID WHAT?!?"  I think my heart stopped.
She, now crying, explains that she clicked the button that said "YouTube", and then she typed in "Chipettes".  Within seconds, she had dozens of Chipettes videos to pick from.
(Dear gawd, I have nightmares about what she might have seen if she'd searched for "Chip and Dale" instead.)
Worst.Parent. Ever.
The conversation that followed was a serious one.  We ended up sharing more with her about Internet danger than we ever thought we'd have to with a 7-year old.  Her punishment was handing over her ipod Touch. Mine was feeling like The Worst Parent Ever.
Your worst nightmare: in just 3 clicks.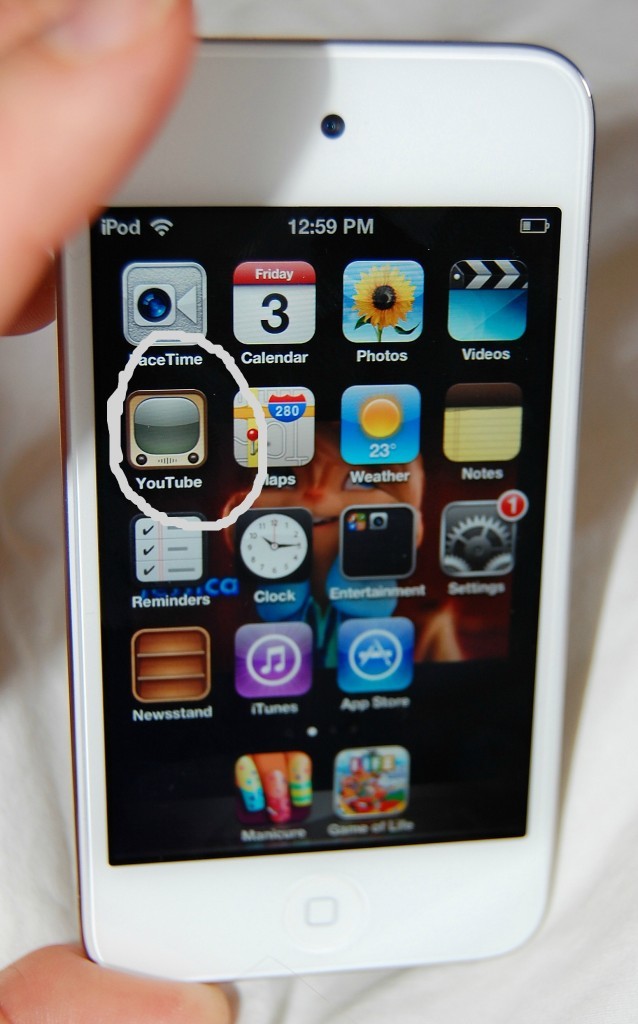 So here's where the preachy part of this post begins.
1. The ipod Touch is not like a tape recorder, and its not a toy.  It's a powerful piece of technology that gives your child access to web, and 'one click' access to things like video chat and YouTube.
2. Don't trust that a child understands this.  While we said "No Internet", did she really understand that meant "Don't click the YouTube button"?  After all, a 'toy' is something to explore.  An ipod isn't.  All it took was one click from her home screen to land in YouTube-land.
Once in YouTube, she clicked one of the tabs on the bottom.

Luckily (I guess), she clicked 'Search' to find an image from the Chipettes movie.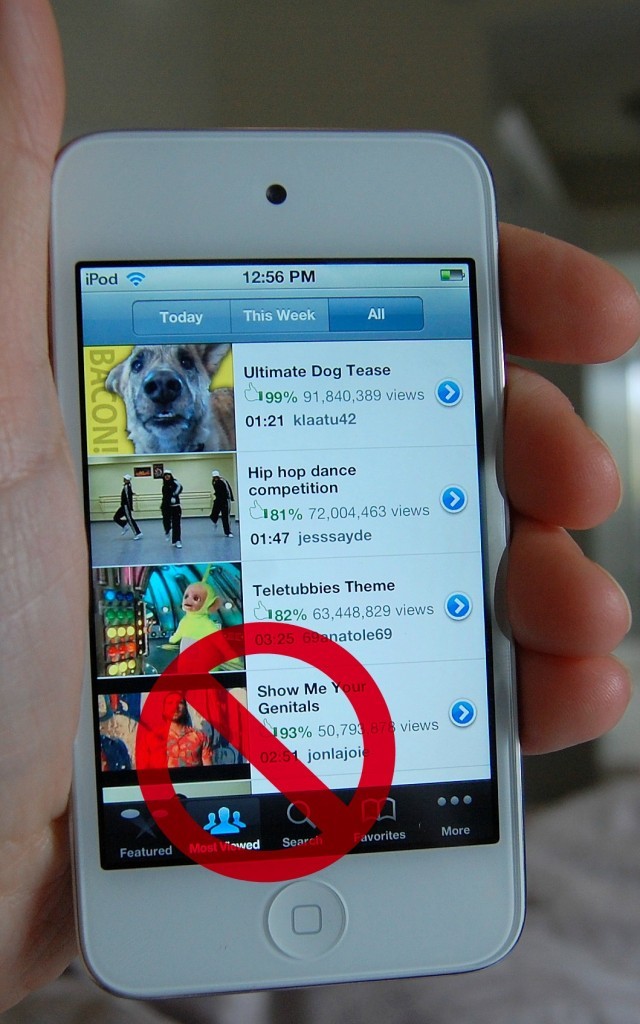 But had she clicked 'Most Viewed' (and then All) instead, I was shocked to see the videos that would have appeared on her screen.
Please take note of the fourth one down (at right).  I won't write that title here for obvious reasons.  Now, here's the really scary part. Had she clicked that disgusting link, she would have been exposed to one of the worst verbal assaults on women that I've ever heard.
I would never have allowed her to surf YouTube willy-nilly on our family computer for fear of finding something EXACTLY like this.  Yet, with her ipod Touch, she had the ability to do so right in her hands.
It's every parent's worst nightmare. In just 3 clicks.
Parental Controls
Fortunately, there's an easy solution.  It is so easy that I am embarrassed that I hadn't thought of it sooner.  Drum roll please…it's called Parental Controls.  I know, I know. I should have set these right out of the box. But I am assuming that if I didn't think of setting them, then maybe some more of you moms and dads out there haven't set them yet either. (Please humour me and nod.)
Here's how I did it:

1. The first thing I did was click on Settings on the home screen, and then Location Services and turned it OFF!   Nobody needs to know my child's "approximate location". (Again, scary stuff.)

2. Then, still under Settings, I went to General, then Passcode Lock.  Once in there, I set a passcode for the parental controls.  Once this is code is set by you, it is the only that passcode can be used to update the restrictions you set as a parent.  Make sure you don't create the same passcode that your child uses to login to the ipod.

3. Next I went to Restrictions, which you'll find directly under Passcode Lock.  This is like command central where you can turn off the services that you don't want your child to have access to.  (You'll note that it prompts you for the passcode which you just created.)  You can turn off You Tube, Face Time, Safari, or the ability to install apps, just to name a few.  When I turned off YouTube, the icon no longer appeared on her home screen.

If you scroll further down, you'll also see that you have some ability to control "Allowed Content", for example by allowing only Clean vs Explicit music lyrics, by turning off Movies and TV shows, and/or disallowing Multi-player Gaming.
OK, so here's my qualifier. I don't attest to know everything about how to make an ipod Touch safe.  Perhaps there are other parental controls  that I  didn't discover in my research.  (If you know of any others, please let us know in the comments!) And certainly, we all know that parental contols aren't 100% fail-proof without real parental monitoring.  But I feel a whole lot better knowing that Miss G's ipod Touch is much safer now than it was before.
I hope that some of you found this helpful, and that it keeps at least one child a little safer from Internet danger.
I promise, it's back to the pretty pictures next time!
Until then,
Kerri