This post was most recently updated on September 22nd, 2019
A couple of weeks back, I guest posted at Making the World Cuter, where I shared my tips for creating a bright and cheerful basement space. I just realized that I never did post that to my own blog for my readers.  So in case you missed it, here it is…
 ————————-
I'm Kerri-Lynn from A Pop of Pretty (previously called My Decorating Addiction), a decor and crafting blog all about creating a pretty home with worn and whimsical flair. I'm so honored that Tiffany invited me to guest post here at Making the World Cuter which is one of my favorite stops in Blogland!
Today, I'm going to share some tips for creating a bright and cheerful basement space.  We recently finished renovating and decorating this space in our home.
Now, I know what you're thinking.  When I say "basement", the first thing you think of is one of the following: dark, damp or depressing. Unfortunately, that perception is what holds most of us back from developing this useful space in our home.  But let's face it, there comes a time in every family's life when you realize you need more space. Ours came when we found out we were having twin boys!  They are now almost two years old, so having a developed basement for them and our seven year old daughter to play in together has been a life-saver.
With a little imagination, any basement can become a cheerful and happy space that you and your kids will love to spend time in.  Here are my Top 5 Tips for creating a great basement space!
Tip #1: Open it up.

Most basements are an after-thought in building a home – something to be finished later.  As a result, most of us don't give much consideration to the basement layout before the home is framed and those stubborn 'load-bearing' walls go up. For example, I was stuck with a wall going straight through the center of the space. Ugh. But instead of creating several small and choppy rooms, we were able to create the illusion of an open space.  We removed the wall of the staircase and replaced it with a railing.  We also opened up the space beneath our staircase, and where possible, we installed pocket doors instead of space-wasting swinging doors.
Tip #2: All the trimmings.
Most basements  suffer from design disadvantages like low light and low ceilings, making them feel like a sub-standard area of our homes. Installing nice trim in your basement is a great solution  for making this space feel like an important part of your home.  We installed white bead board trim on our staircase and throughout key areas of the space.  Other trim like wainscotting or board and batten would be equally stunning.  Sure, it will cost a little extra, but will make the space feel like a legitimate part of your home.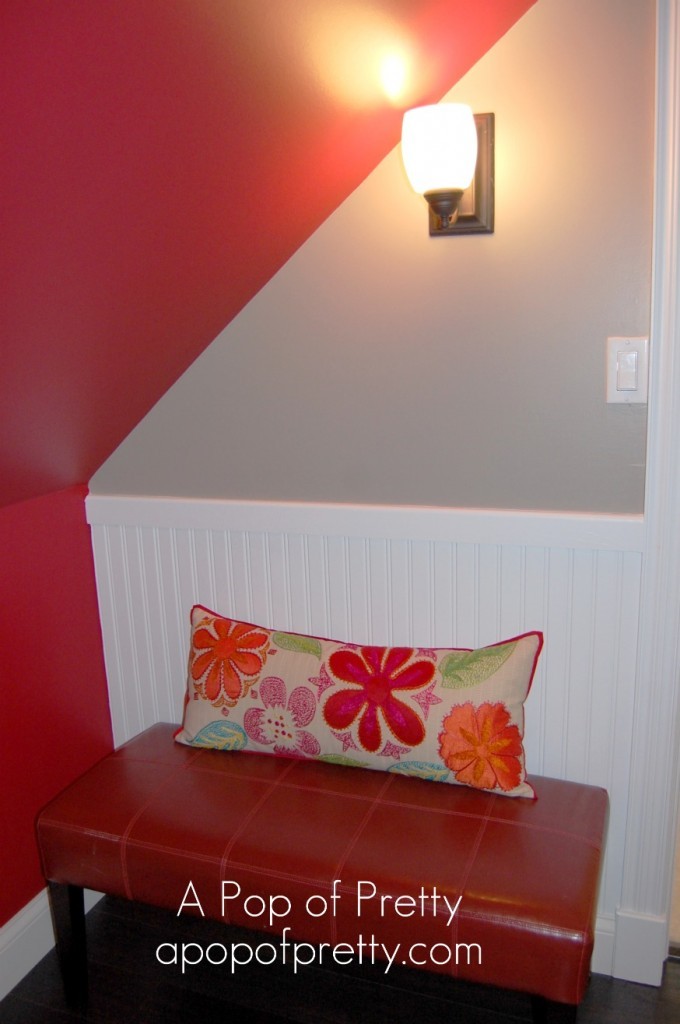 Tip #3: Let there be light!
Small windows and a lack of natural light are the biggest disadvantages in most basements.  We compensated for the lack of window light by installing recessed lights – and, lots of them!  But if your basement is already finished, and changing electrical is not an option, there are other creative ways to let the light shine in.  Try replacing some of your doors with ones that have frosted panes.  This will allow you to 'borrow' natural light from the rooms that have windows, but still maintain privacy in those spaces.
Tip #4: Colour Me Happy
My next tip is a bit of a rule-breaker: don't be afraid of using saturated color in a basement!  I know, I know, this goes against everything your local paint store told you! And, in part, they are right. After all, color theory says that dark colors will absorb light, while light colors will reflect it. But it also explains why so many basements are a boring version of 'builder beige'!  I am a believer that bright and vivid colour can bring any space to life, even a basement.  If you aren't lucky enough to have much natural or ambient light in your basement, you can still paint an accent wall or two with a vivid colour, and paint the remaining walls a lighter hue. We chose a deep red (Benjamin Moore "Rapture Red") for our accent walls, and painted the other walls a lighter colour. Another solution is to install lots of white trim for contrast.  And, don't forget that textiles and other accessories are a great way to add fun pops of colour!
Tip #5:  Make a statement!
Murals, wall quotes, chalkboards, gallery walls or a kids' art gallery…if you're like me, you've probably collected lots of fun decorating ideas from blogs like this one.  But perhaps you've been 'afraid' to try these on your main floor.  Well, your basement is the perfect area in your home to take some decorating 'risks'.   Infuse the space with whimsy and personality! For example, in our basement, we painted a door my favorite colour, robin's egg blue, and we created a special kids' art wall.  Allow the space to tell your family's story in creative and unexpected ways.
So there you are…my top five tips for creating a bright and cheerful basement space – that is both kid-friendly and a space that adults can enjoy too!  I hope you'll pop by and visit me at apopofpretty.com some time soon.
Thanks again to Tiffany for having me.

Have an awesome day!
Kerri-Lynn