This post was most recently updated on September 23rd, 2019
Want to know a great trick for making a pretty fabric-covered, large-scale bulletin board (i.e., cork board) inexpensively?
Use a shower curtain!
Fabric shower curtains are great for large-scale projects like this because buying designer fabric by the yard can get really expensive. And, let's face it, you don't need upholstery-quality fabric on a bulletin board! A cotton shower curtain will yield a lot of fabric for a decent price, and you can find them in some really great patterns these days.
I first used this trick last summer, when I pretty-ed up some regular old cork bulletin boards for my craft room-office by covering them with a black-and-white gingham fabric shower curtain that I found for just $20. In one shower curtain, there was enough fabric to cover the board pictured below with the feather wreath on it (size: about 2′ x 4′) as well as a larger one (about 4′ x 3′) that I used on another wall.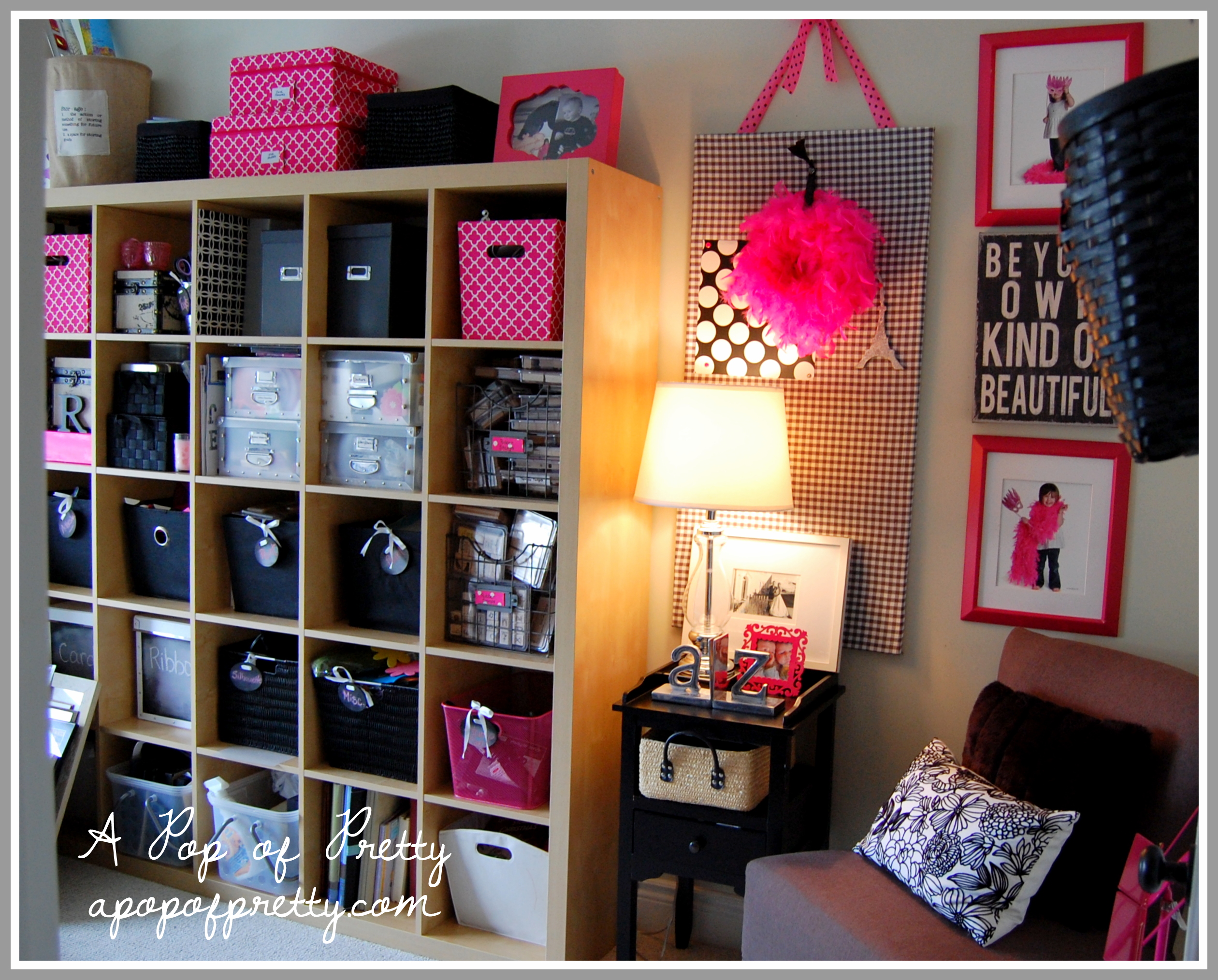 If you grow tired of the fabric you used, or if your room decor changes, you can easily change the look. You know where this is headed right?!? (OK, I gave it away with the first photo!) Well, we just recently re-carpeted and painted my craft room-office a nice gray color (Benjamin Moore Revere Pewter), and I wasn't loving the whole gingham look any longer.  I wanted something a little more large-scale and modern.
As luck would have it, I found another great fabric shower curtain for $20 – this time it was gray with a large-scale modern floral.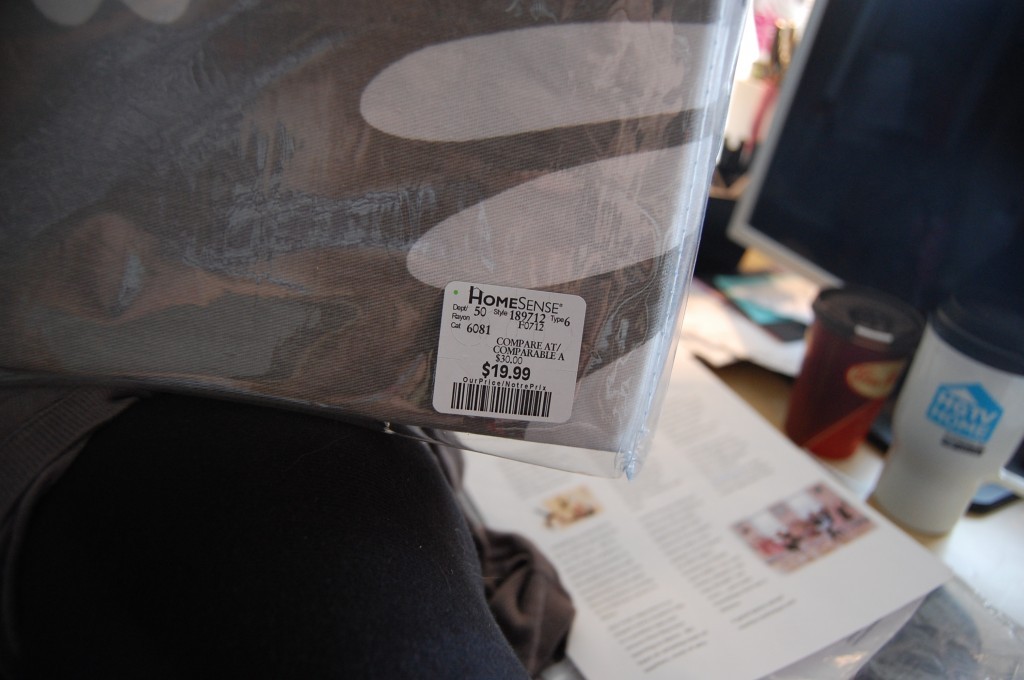 Since I had originally put the fabric on with a staple gun (vs glue) it was simple to remove.  Plus, it allowed me to salvage the whole piece of gingham fabric to possibly use for another future project.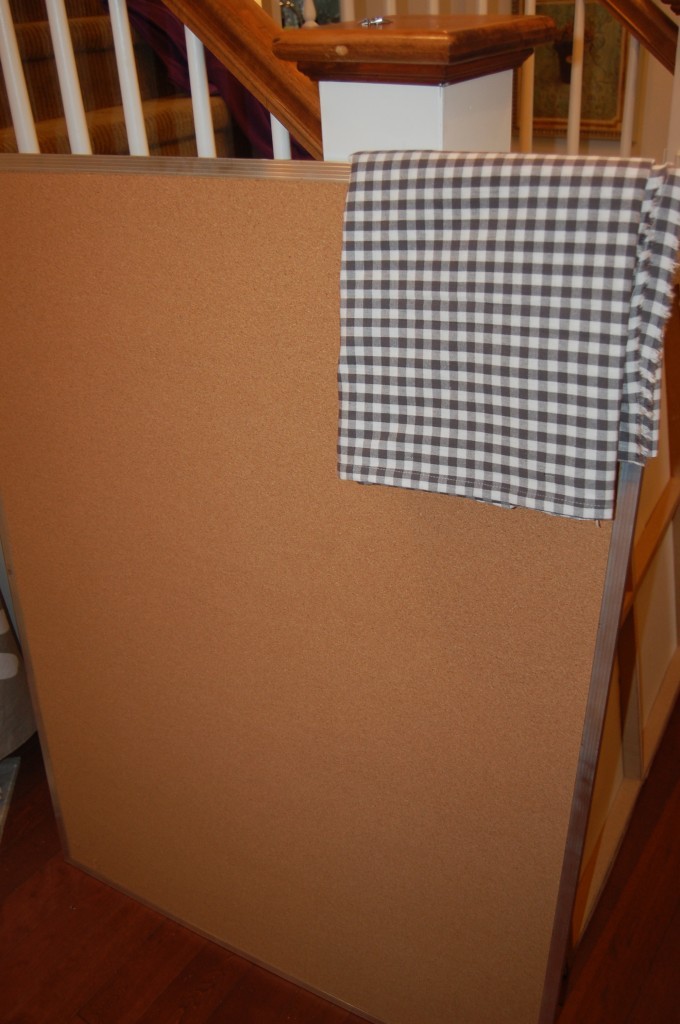 To cover the board, I just draped the (ironed) shower curtain fabric over it to get the placement of the flowers where I wanted them, and trimmed off the excess material.  To hold the fabric really tightly around the board while I stapled, I just used bulletin board pins on the back, and then pulled them out once I was done.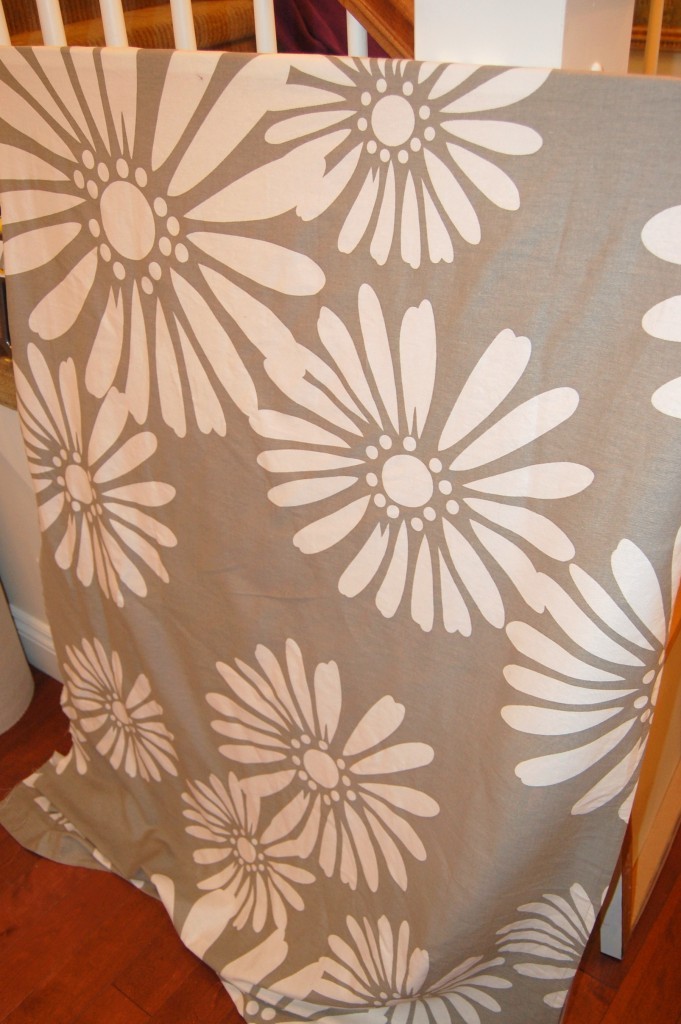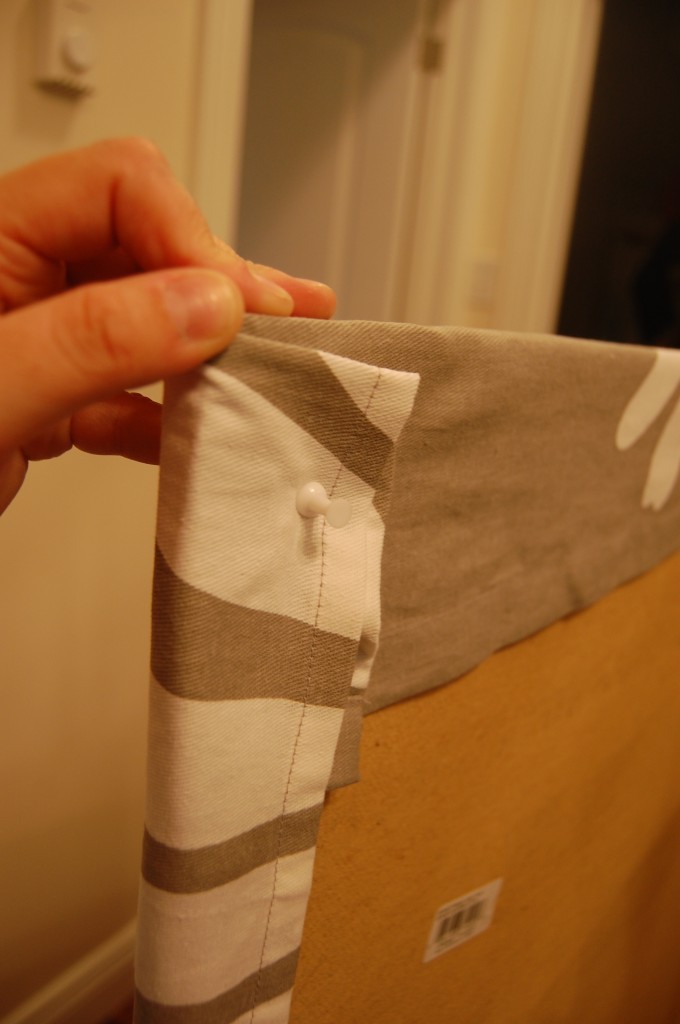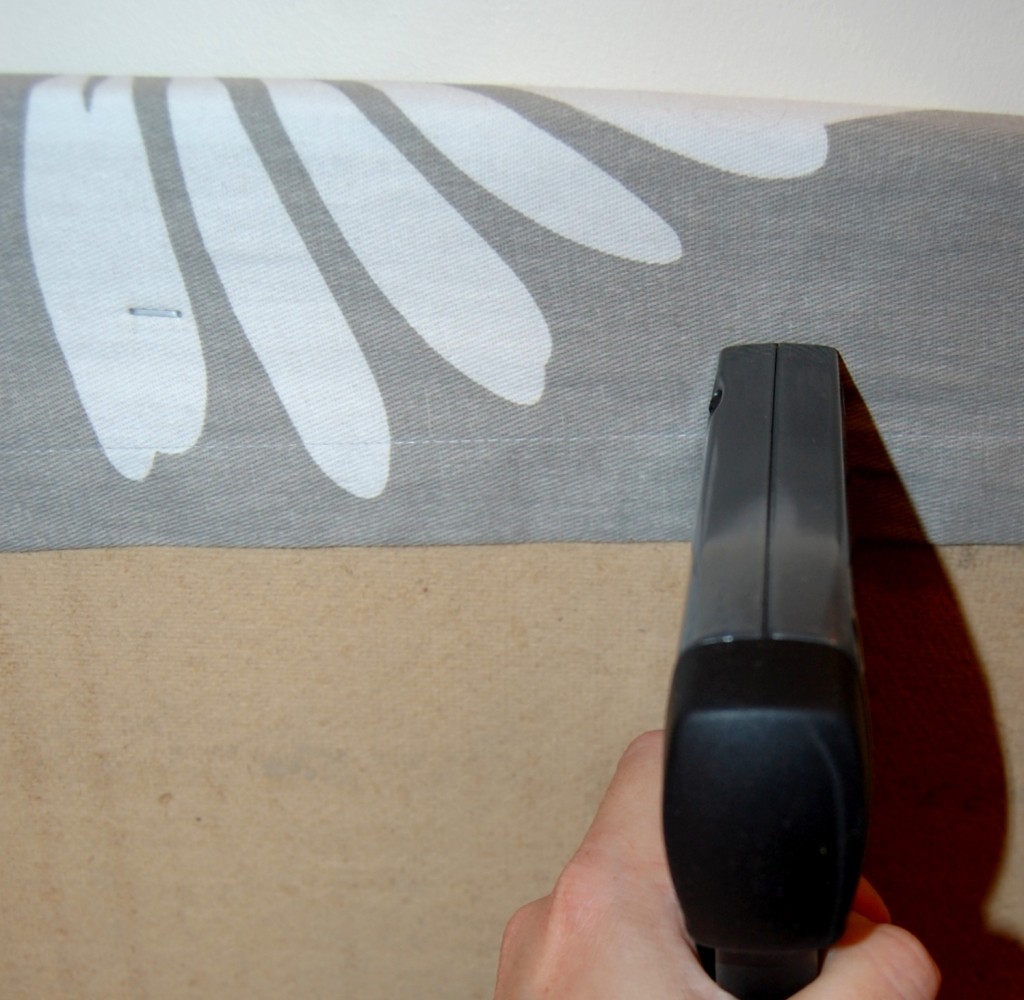 The whole tediously-complicated process (wink) took less than an hour. And, here's how it looks…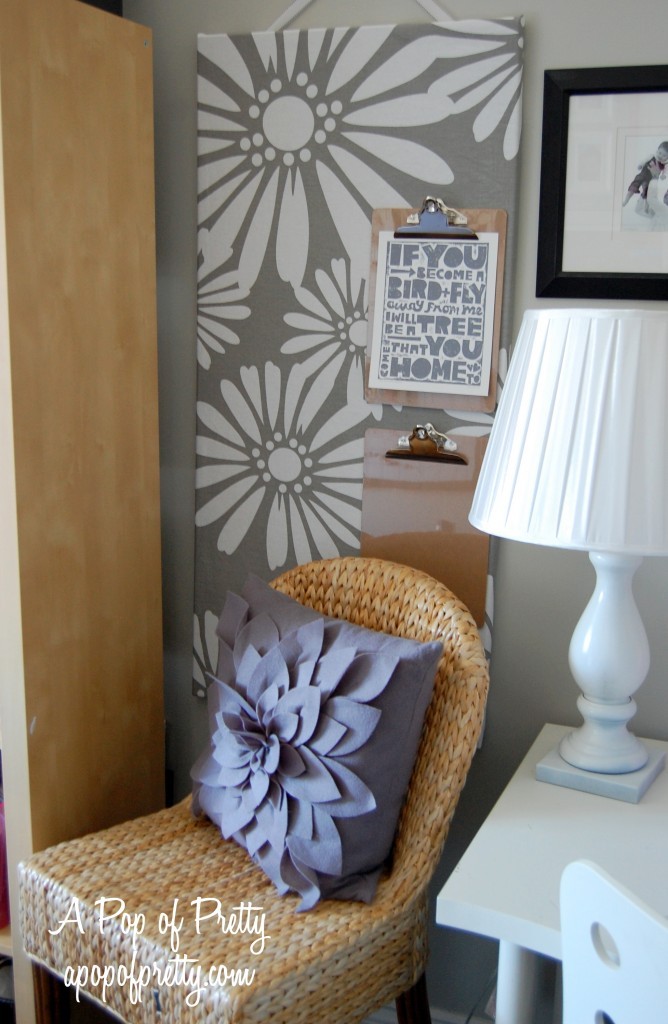 I think this would also be a great idea for a cork board that's in use in a main area of the house like a kitchen or a mudroom. Rather than using a plain old cork board, you could easily transform it into a pretty piece of art that fits in with your room's decor.
So the next time you're in the bed & bath section of your favorite decor store, keep your eye out for a great shower curtain.  It might be a pretty decor solution for a room besides the bathroom!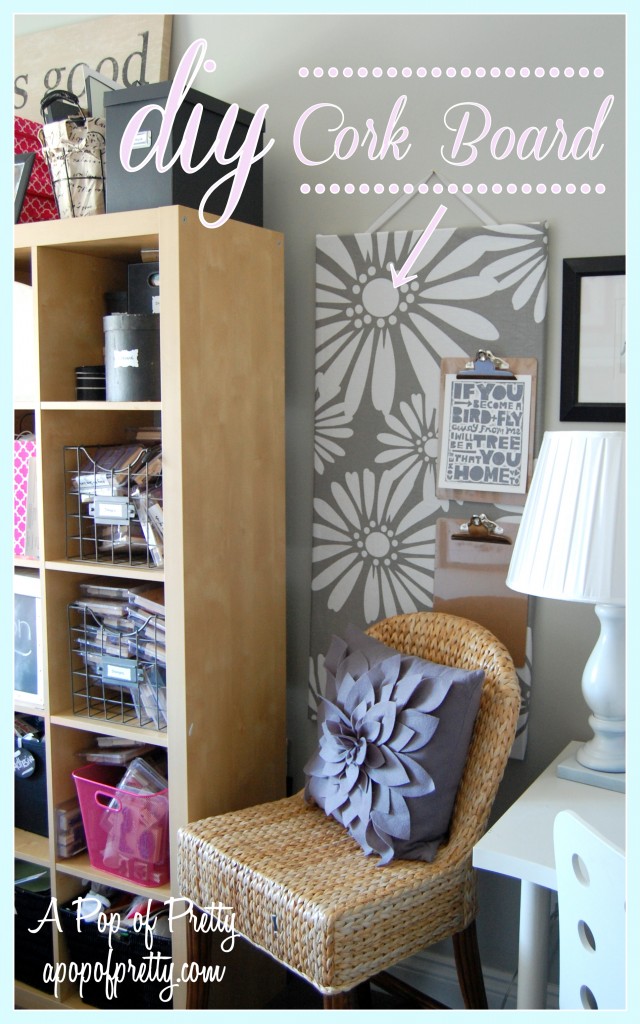 Until next time,