This post was most recently updated on September 22nd, 2019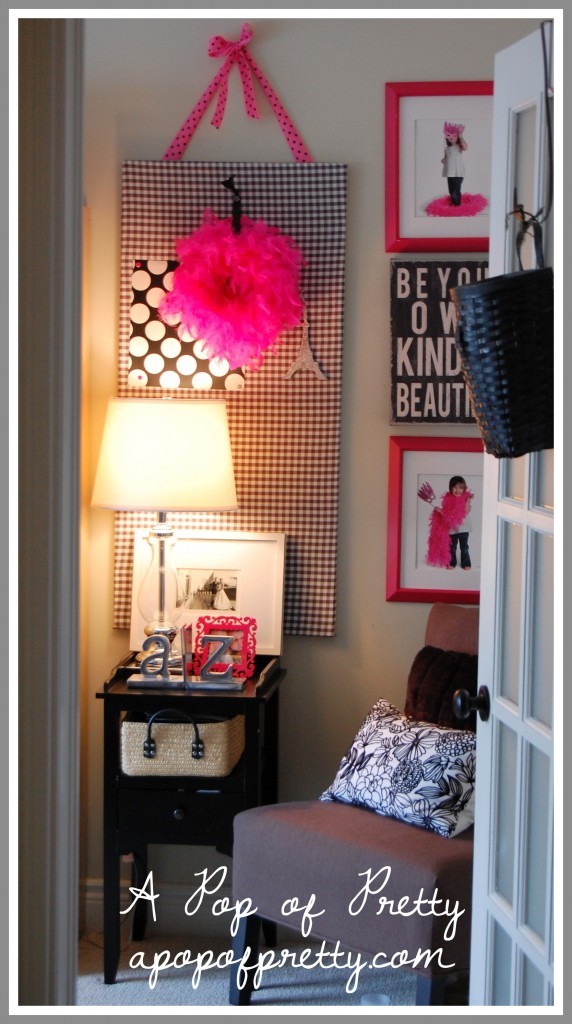 Over the past few weeks, I've been organizing and finessing my  (pink and black) craft room / office.  Those of you who have been following along here for awhile might remember that last summer I was finally able to carve out some space of my own where I could work and craft.
Once we developed our basement space, we were able to move our playroom down there, and that left a decent-sized room on the main floor for moi!
Ever since last summer, this craft room  / office has been a big ol' mess.  It never got fully organized, and soon became the dumping ground for 'all things new school year' and then 'all things Dr. Seuss Tree' and the 'all things Christmas'.  It didn't take long before the room felt like something out of a Hoarders episode.  OK, I exaggerate, but you get the picture.
In high school and university, I was one of those geeky Type As who couldn't start to study for a big exam until my desk was sorted and sparkly.  I haven't changed much because I still have trouble getting focused without order.
So one of my new years resolutions was to start 2012 (and, hopefully, end the year too) with an organized craft room / office.  And of course, it wouldn't hurt if it was kinda pretty too, lol.
Oh, who I am kidding!  I wanted it to be totally pretty.   My 7 year old daughter likes spending time in here too – drawing, playing computer games and practicing her singing. When he's not at the office, my husband prefers to works off his laptop in other areas of our home. So, I had the license to make it as girly as I wanted.
Last summer, when you first saw my craft room, I started out with lots of girly touches and pops of pink.  But I've amped that up even more! I mean, how many rooms in your home do you get to decorate with pink without any male interference at all?!?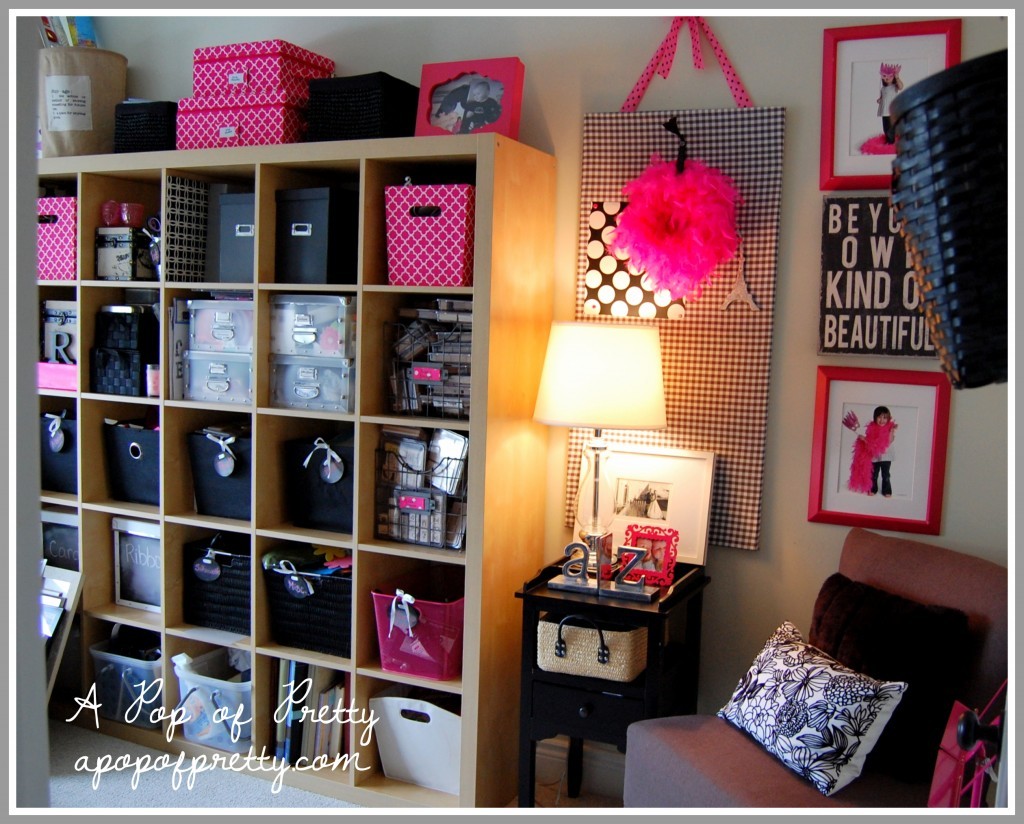 I added some whimsy  on the walls with bright pops of pink against a palette of black and white.
On one of the walls, I used portraits of my daughter that we had taken back when she was just 3, playing with a pink boa. I found this fitting word art ,"Be your own kind of beautiful" at HomeSense.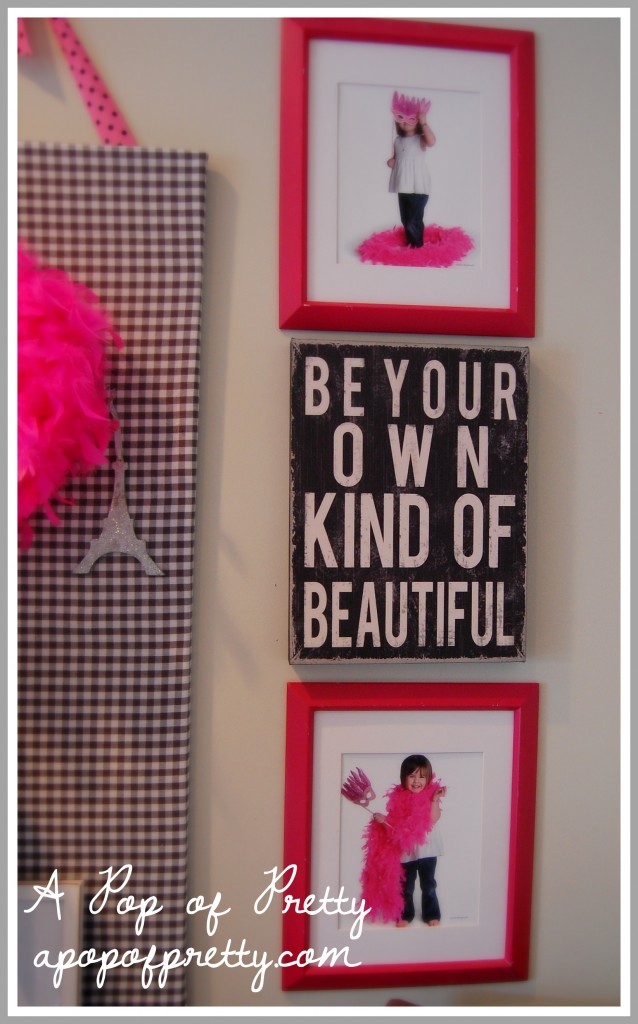 Amazingly, we still had the feather boa from the photo shoot which was almost 5 years ago.  (It's survived many a fashion show and concert around here!) But it was starting to lose its feathers, so I made a feather wreath out of it and hung it on my black and white gingham bulletin board (which I made from a shower curtain) right next to her photos.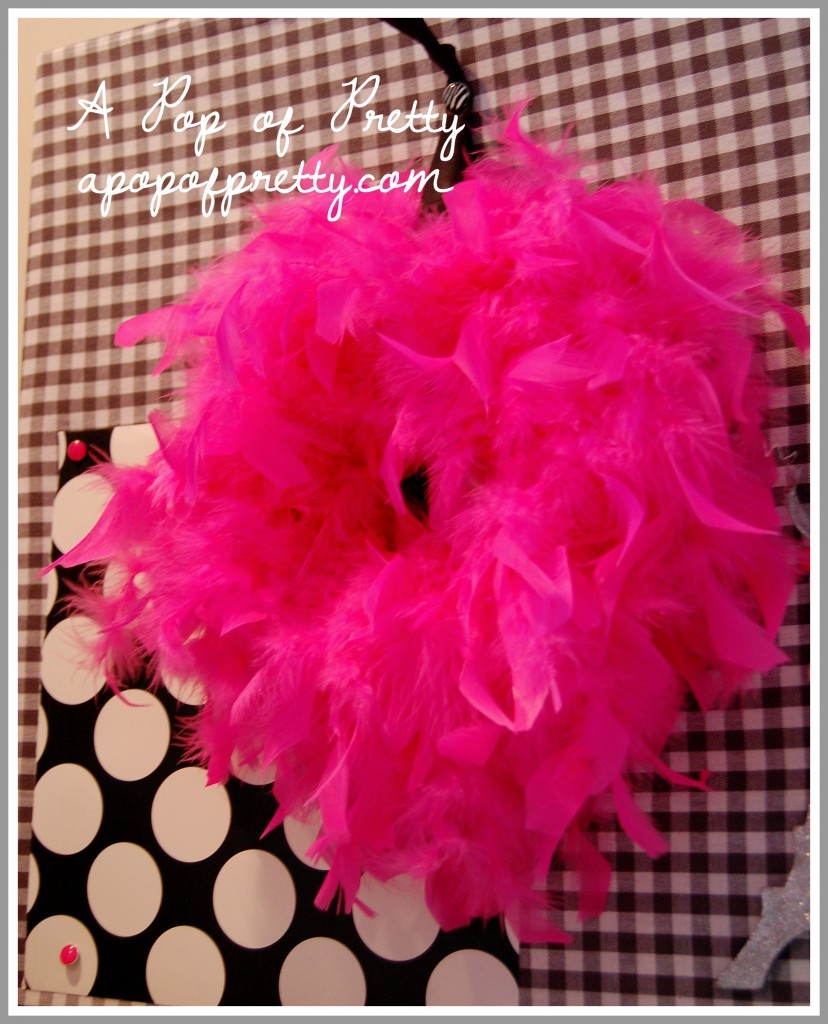 The storage unit is the ever-popular Expedit from IKEA.  I love how it stores ALL of my craft stuff (no small task, lol).  (We also have the Expedit storage system in our downstairs playroom, and it's been a life-saver at keeping things semi organized around here!)  The pink and black baskets and bins were collected over time.  Whenever I saw one that matched the room, I snatched it up.   I think I've finally traded out all of the old mismatched ones.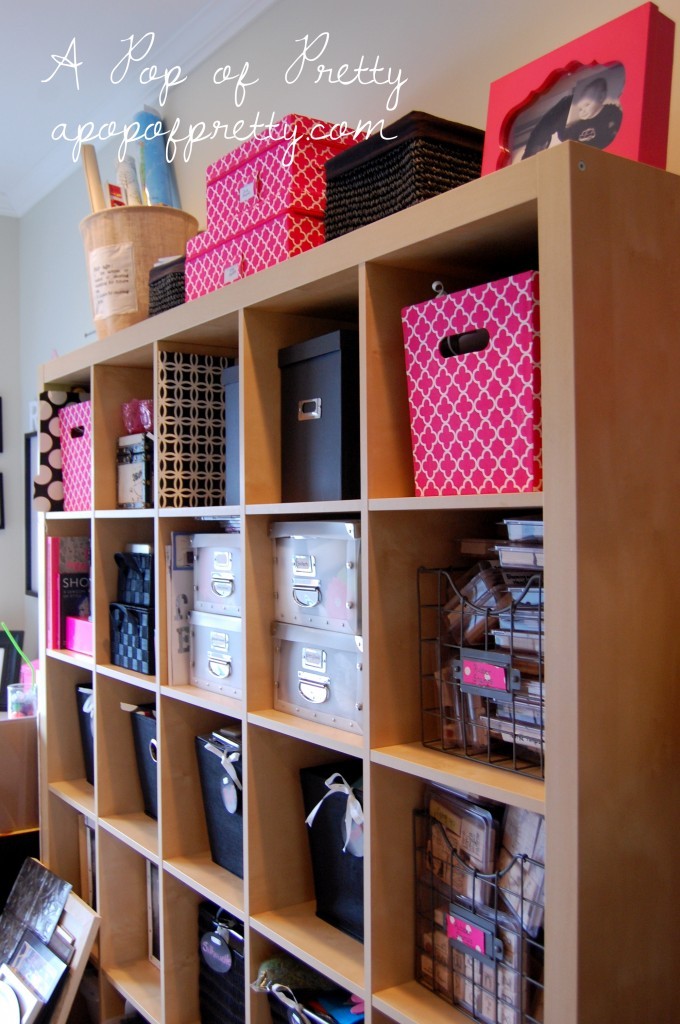 One of my faves is this cute burlap bin that is just the right height for storing wrapping paper.  I found it for $10.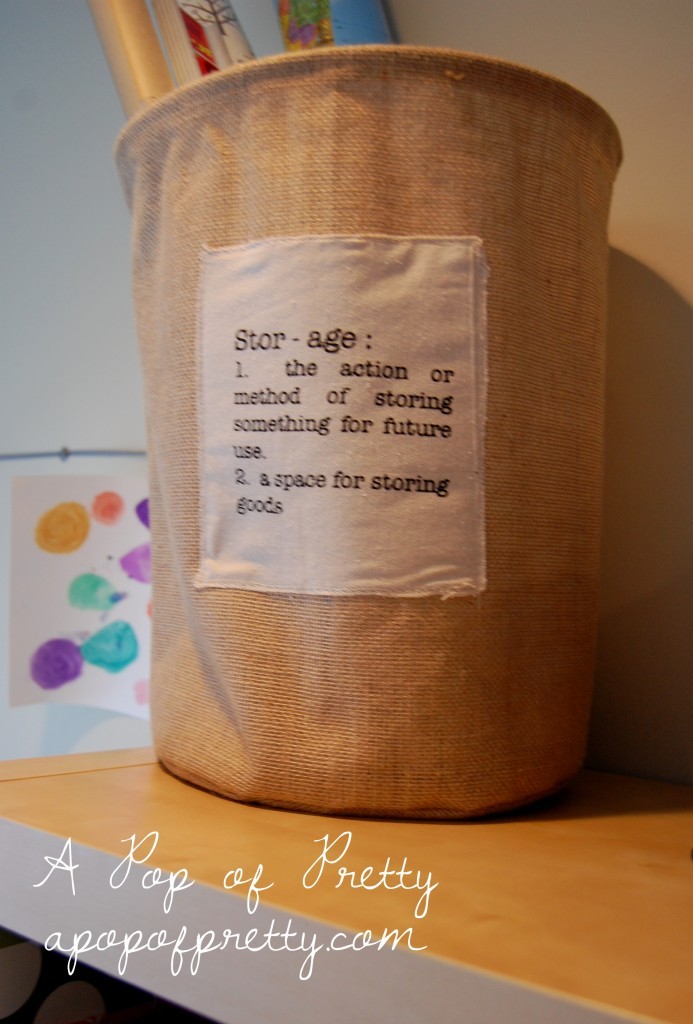 Here's how the room looks from the other side.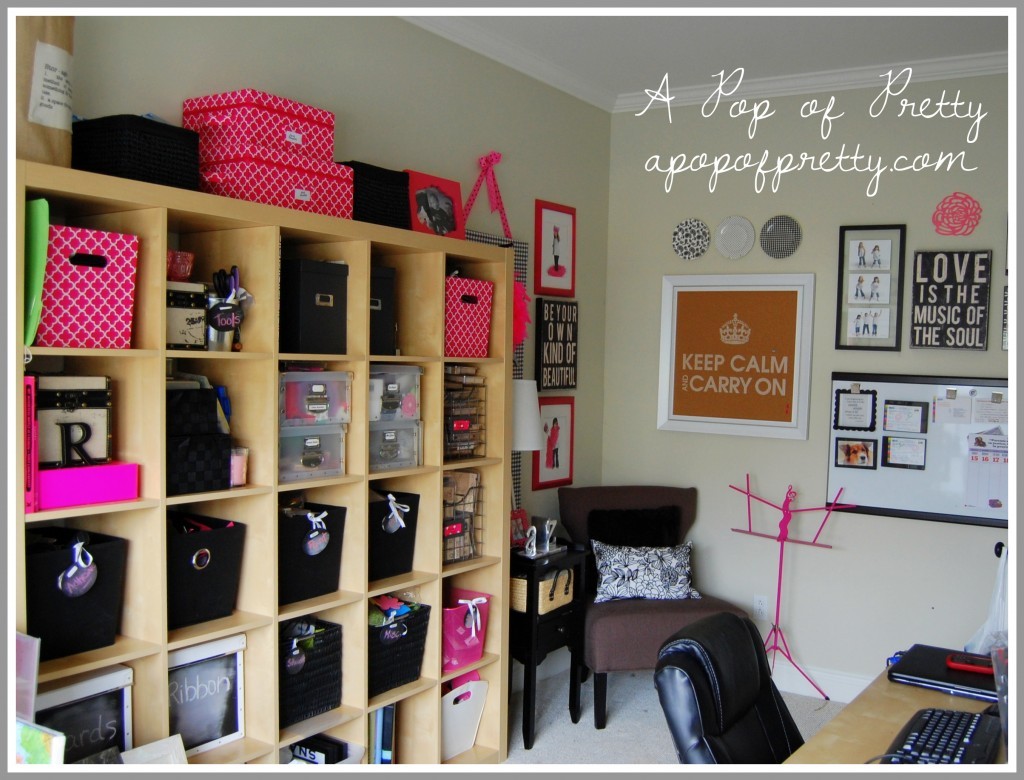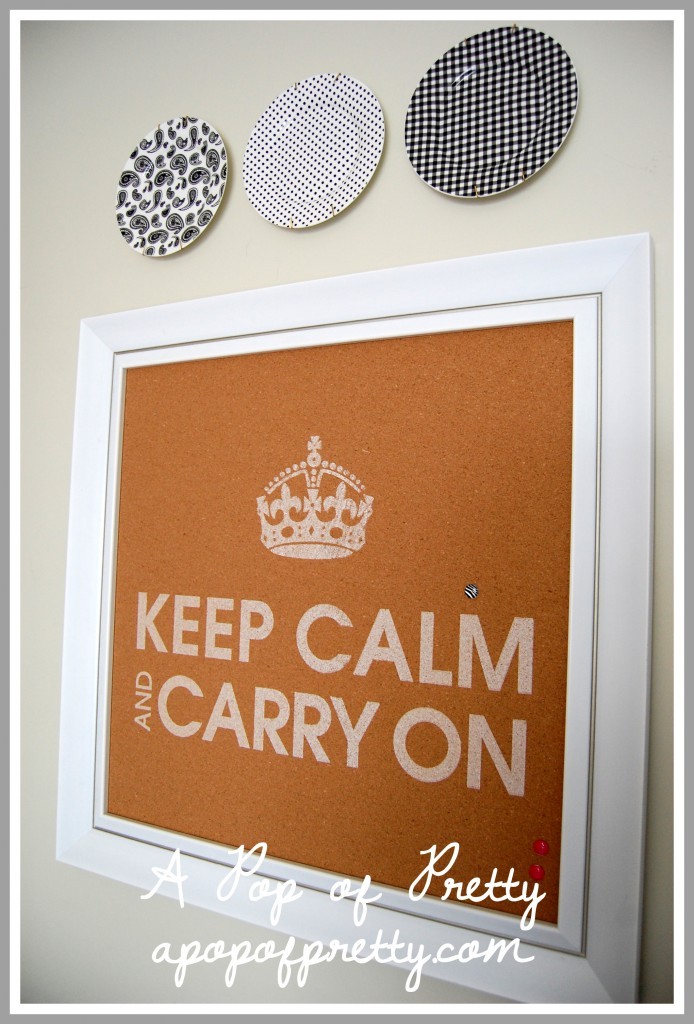 For whatever reason, since last summer I've gotten like a gazillion e-mails (OK, maybe more like 6, but still) about that "Keep Calm & Carry On" cork board.   I didn't stencil or paint it myself; I purchased it late last summer, again at HomeSense (here in Canada).  I like it so much that I don't even like to pin anything to it anymore, haha.  Oh well, so much for it being a useful bulletin board!
Here's a closer look at some of the other art that you'll find over on that wall.
I love the piece that says, "Love is the music of the soul" since my daughter practices her singing in this room.  Those awesome photos are of my daughter having fun with her cousins/BFFs.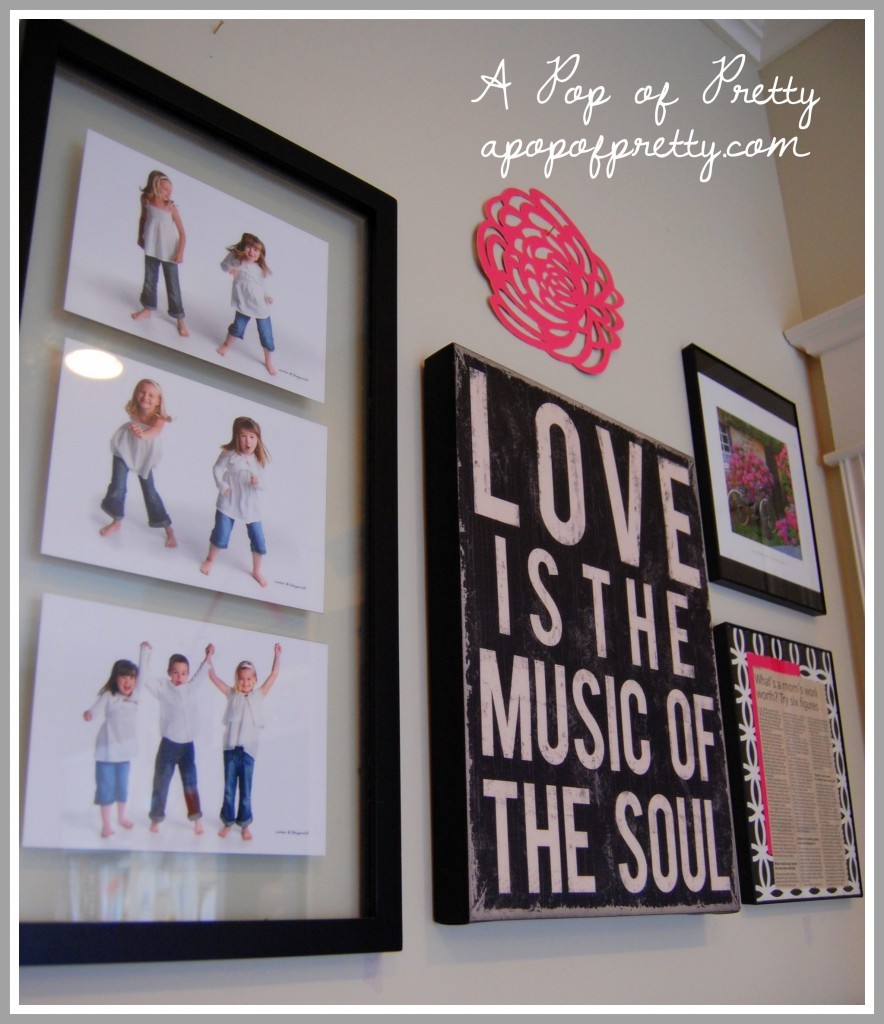 I've been holding onto this little newspaper article from the Globe & Mail since 2008.  I finally put it in a frame and hung it for all to see!  Yah huh! Enough said!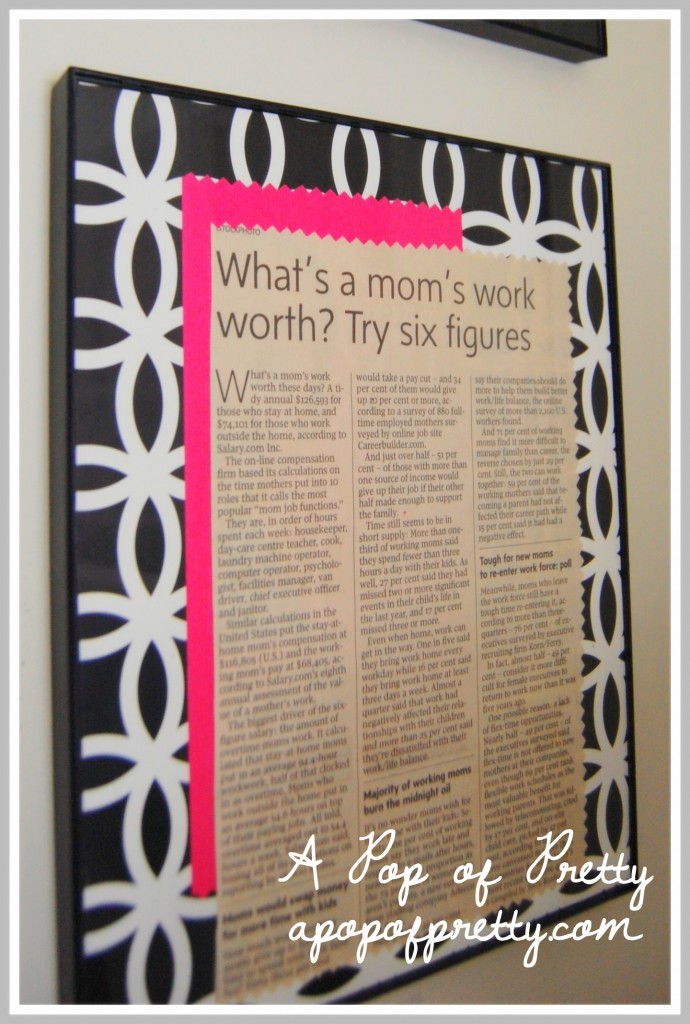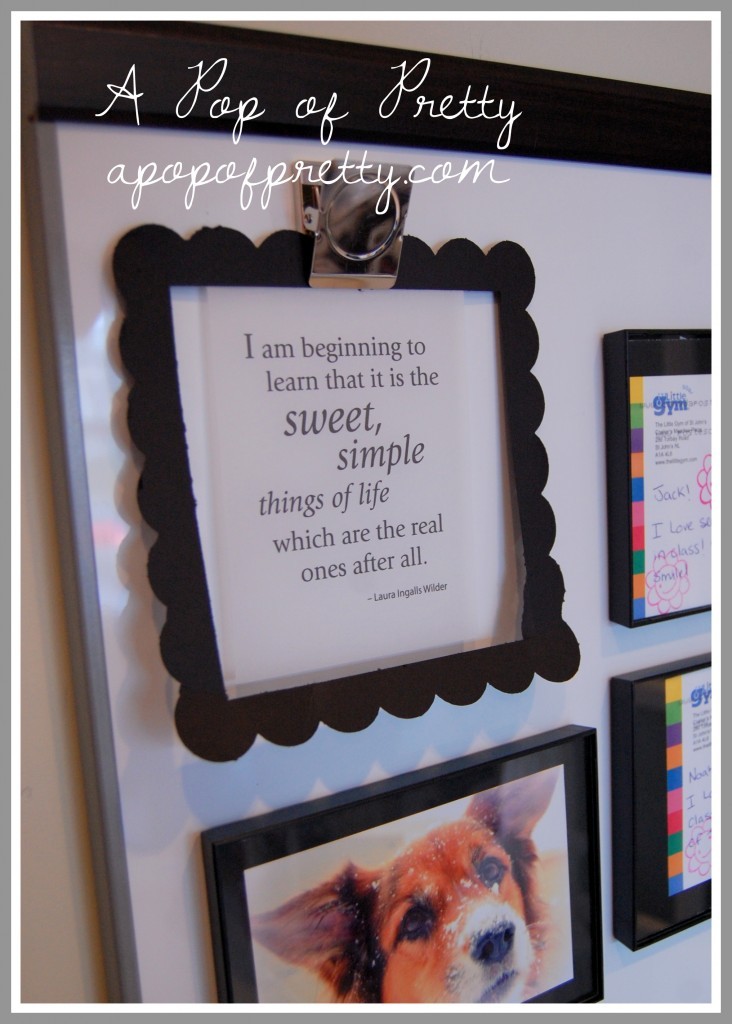 I think most of you have seen my craft desk area. It's usually covered in craft supplies, so maybe you haven't, lol.  It's also from IKEA and fits nicely in the corner.   Here's a shot of that corner of the room…along with my easy peasey scrapbook paper art, which I've posted about a few times.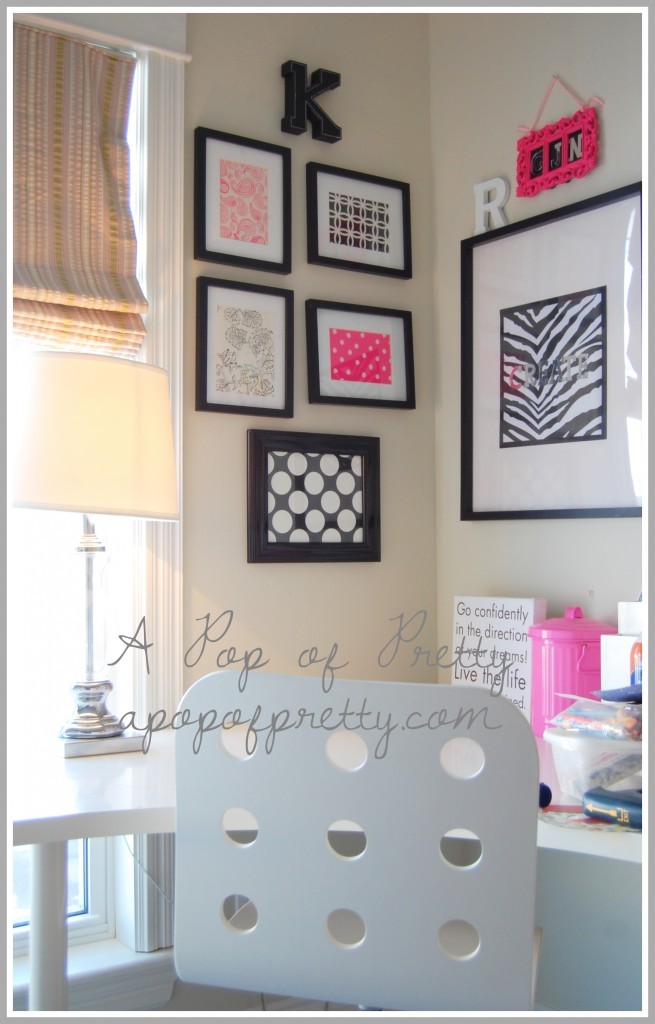 I am lucky to have a big floor to ceiling window in this room, but the only problem is that it offers little privacy.  My plan is to replace these roman shades with white shutters (installed on the bottom half on the window) so I can still get natural light, but my lovely neighbours won't have to suffer through seeing me working in flannel PJs.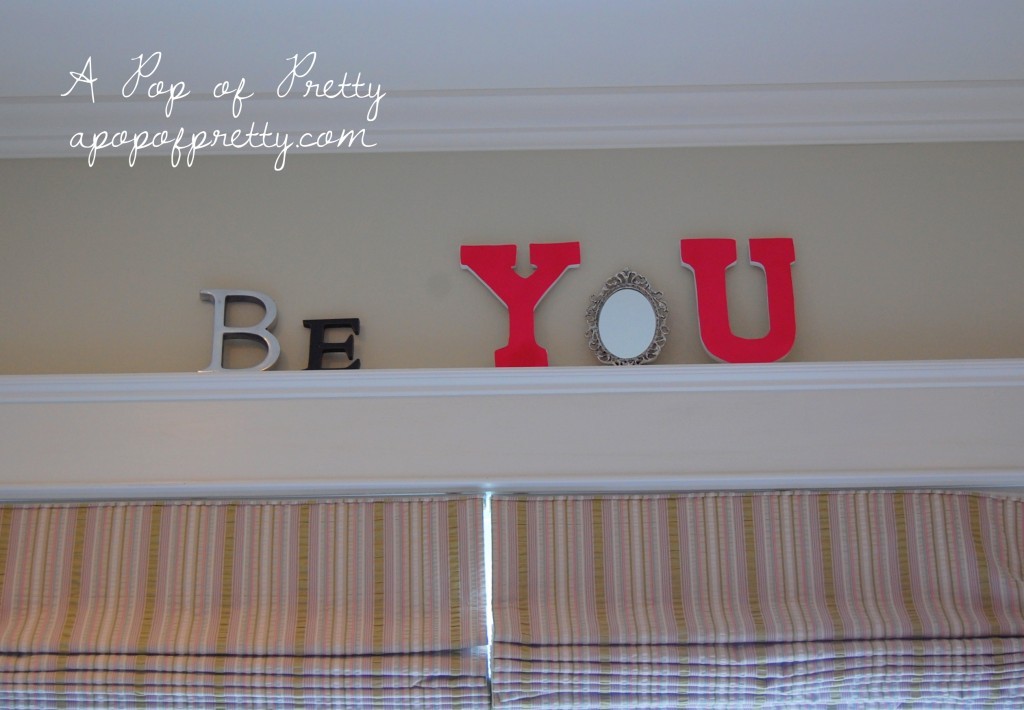 My daughter also uses the craft desk, so I added a little area on the wall to hang her masterpieces.  It was so simple.  I just attached thin ribbon to the wall with pretty tumb-tacks.  The little hooks that hang the art are from IKEA, but you could easily use hinged paper clips (bull clips).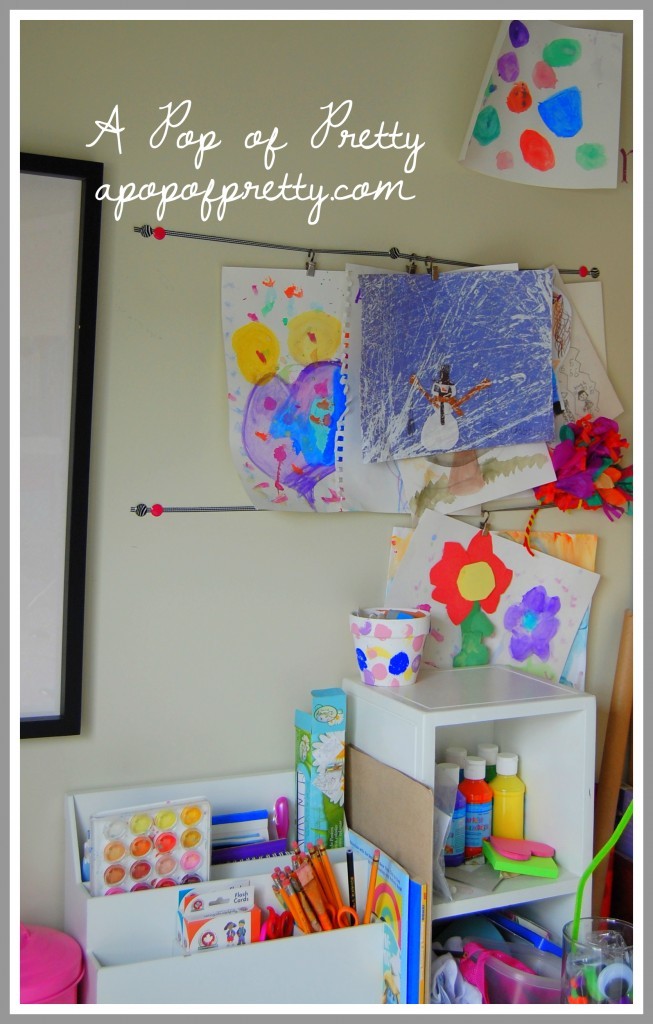 My computer / work desk is on the wall across from my IKEA shelving unit.  That wall is a little less sexy.  I put a massive fabric covered bulletin board (again, covered with a shower curtain) above the desk which keeps all my important notes handy.  The little ledge above my desk is a great place to add some pops of pretty.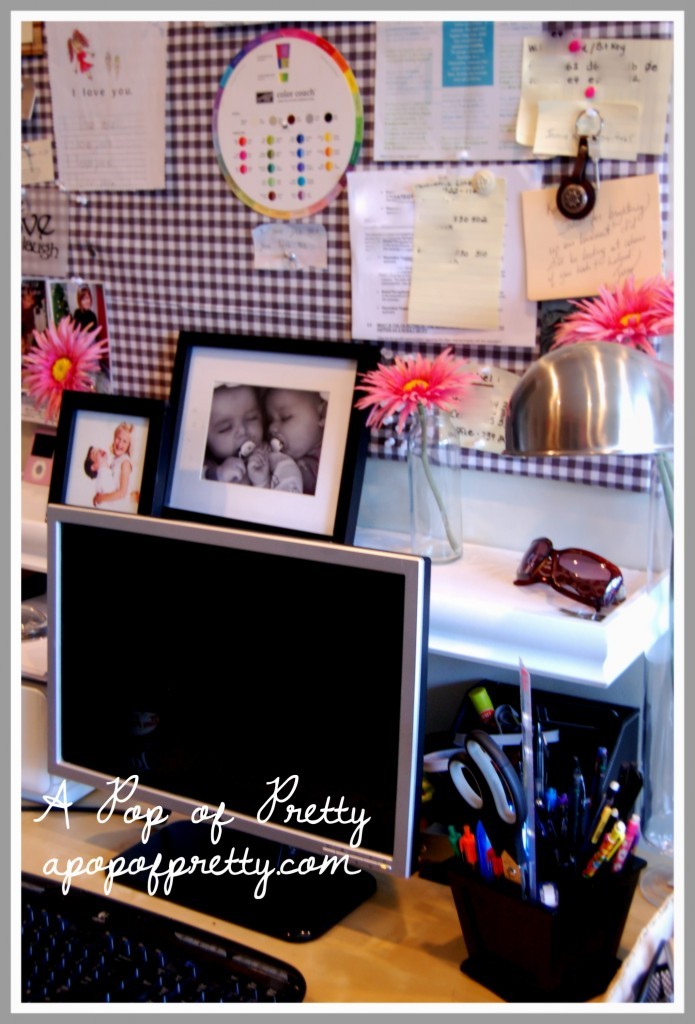 Now that it is both pretty and functional, my craft room / office is a space that I really love spending time in.  It's feels bright and happy.  Being surrounded by so many of my favorite things is definitely inspiring.
I think pink is good for the mind and the soul, don't you? 🙂
Hope you've enjoyed the tour!
Until next time,
Kerri
P.S.  I'm linking this room tour to the Craft Room showcase at Thrifty Decor Chick!