This post was most recently updated on September 23rd, 2019
Today's post about DIY Wall Art Ideas (the second in my "31 Days" Series) is focused on gallery wall tips.
I find that the best way to breathe new life into any piece of wall art I already own is to group it with other pieces I love.  I've created several of these 'gallery wall' groupings throughout my home. The effect is so much more dramatic than hanging one small piece of art. Plus, when grouped with other pieces, that wall art that I was growing tired of suddenly feels new again.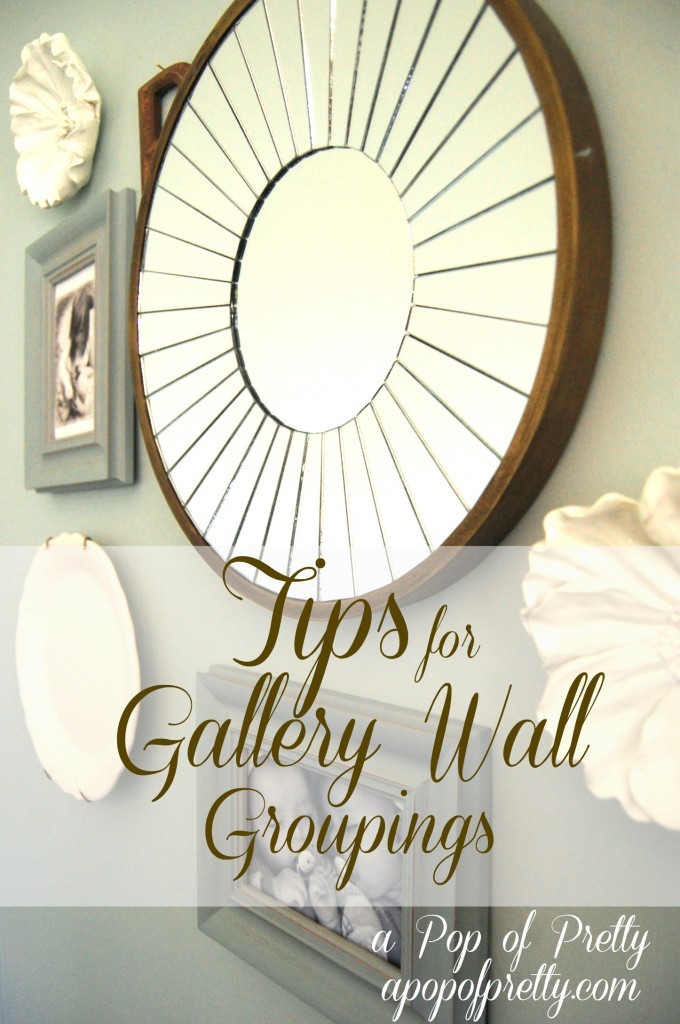 Gallery Wall Tips…
Just a few things that I've discovered seem to look best:
Group things in odd numbers: 3, 5, 7…
Use a variety of shapes and sizes.
Include at least one round piece – like a plate or a clock – to create 'movement'.
Mix textures for visual interest – e.g., a mirror and chippy wooden frame or  basket.
Choose a few pieces that have some consistency in color or texture  so it feels like 'a collection'.
Include a few meaningful photos rather than just pretty 'things' to keep it feeling warm and human.
Include something  a little unexpected to keep things interesting.
Switch things in and out when the mood strikes, or seasonally.
Decide on a visually-heavy focal piece (in size or in color), and work around it.
Be creative: there really are no rules, and it's all about your personal taste.  It's your home, after all!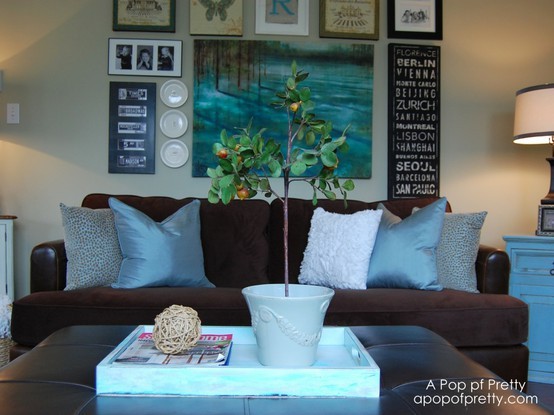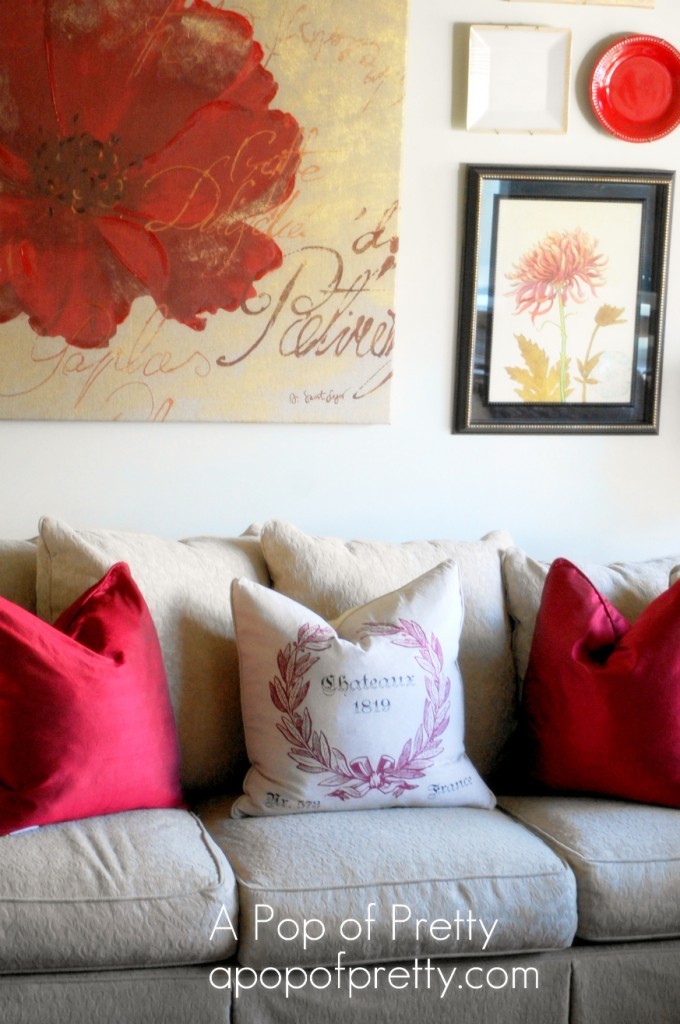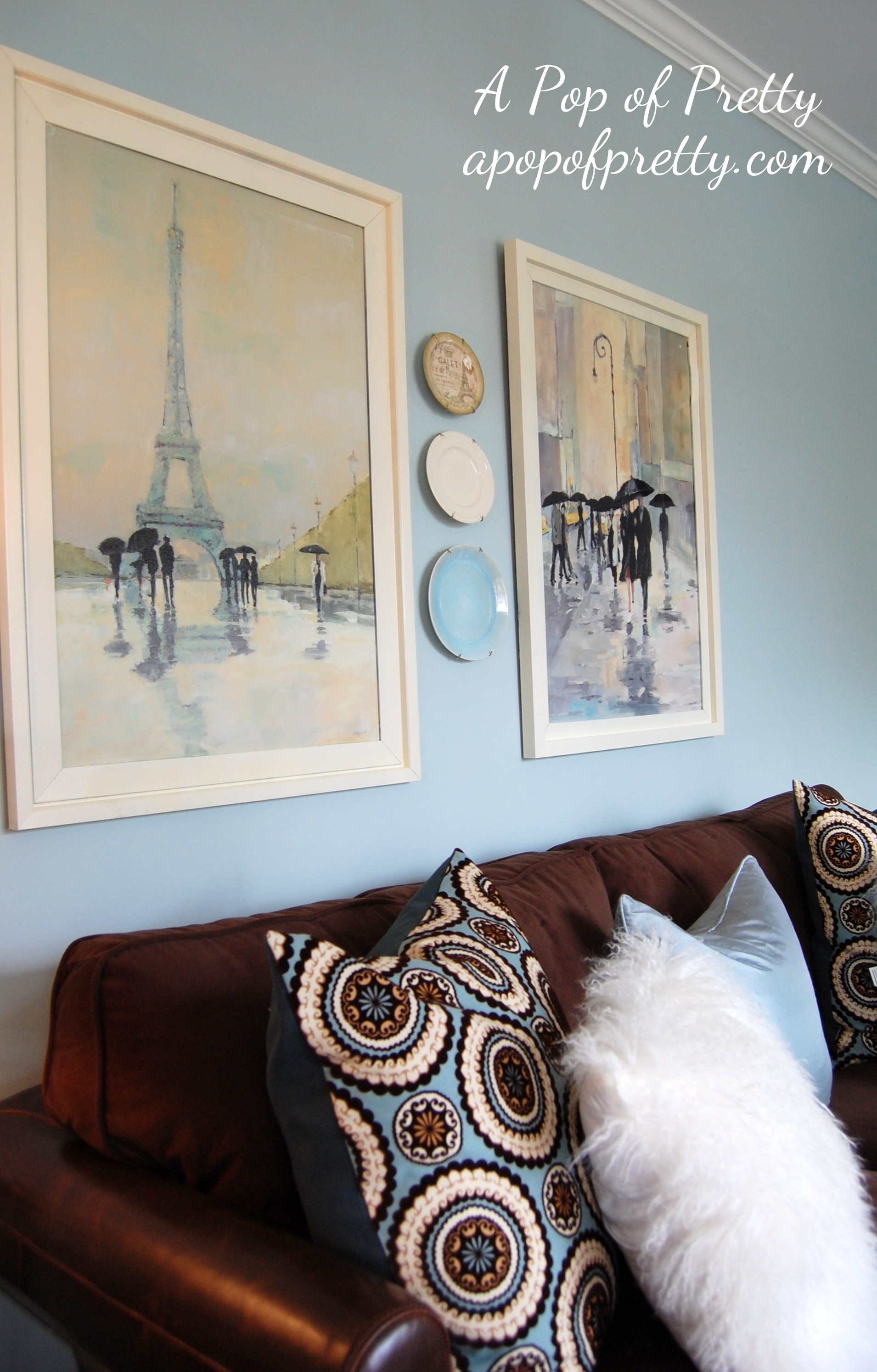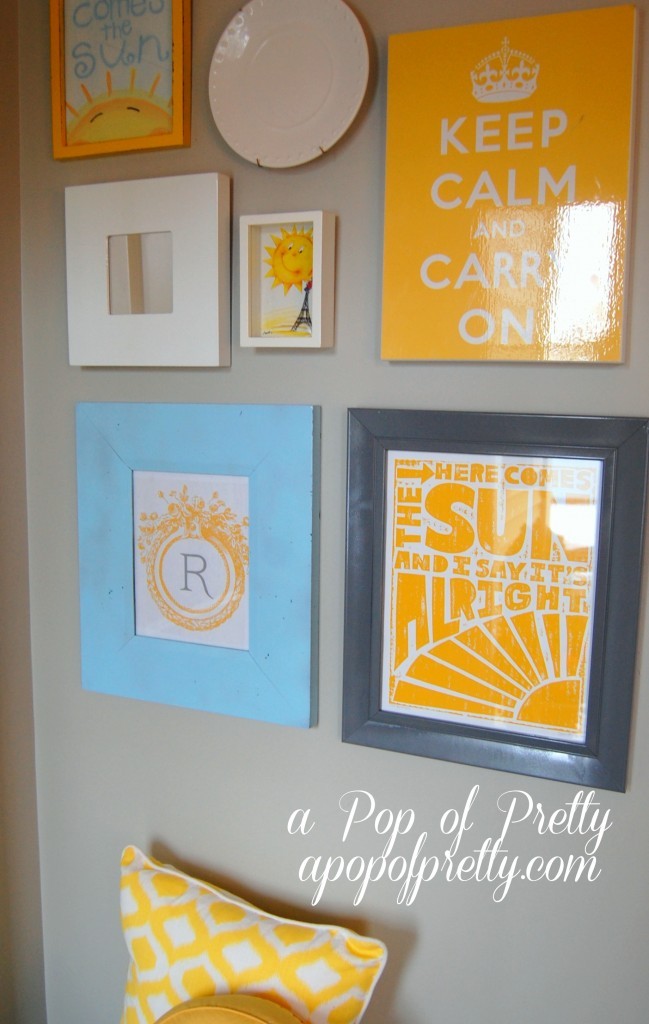 If you're nervous about creating a gallery wall because of the nail holes, you might want to try following a pre-designed layout. You can find a few examples in my Gallery Walls and Collections file on Pinterest.  Most of them include only standard, rectangle or square picture frames (rather than circles and odd-shaped objects), but if you're new at it, this is a great route.
Also, to avoid creating unnecessary nail holes, some people recommend cutting out your frame shapes in newspaper, and playing around with them with painter's tape on the wall before hammering any holes.  I've also seen templates cut from wax paper which provides a precise guide for the nail holes.  Personally, I'm not that patient, so I'm a "just-go-for-it" kind of girl.  I usually use a tape measure, but that's about it.  It just means I need lots of hole filler and touch-up paint on hand or I end up with a gallery wall that looks like swiss cheese ;-).  For me, a few easily-fixed nail holes are a small sacrifice because gallery wall groupings they are one of the best ways to add character and personality to a home.
So have you tried a gallery wall in your home?  What's holding you back?
See you tomorrow for DIY Wall Art Idea #3!
(P.S. If you missed yesterday's idea, you can find out how to create a free, family monogram here. Throughout October, I'll be posting lots more ideas in this DIY Wall Art series over here!)