This post was most recently updated on September 23rd, 2019
Tonight, as part of my 31 Days Series on wall art, I promised to talk a little about my love of Etsy.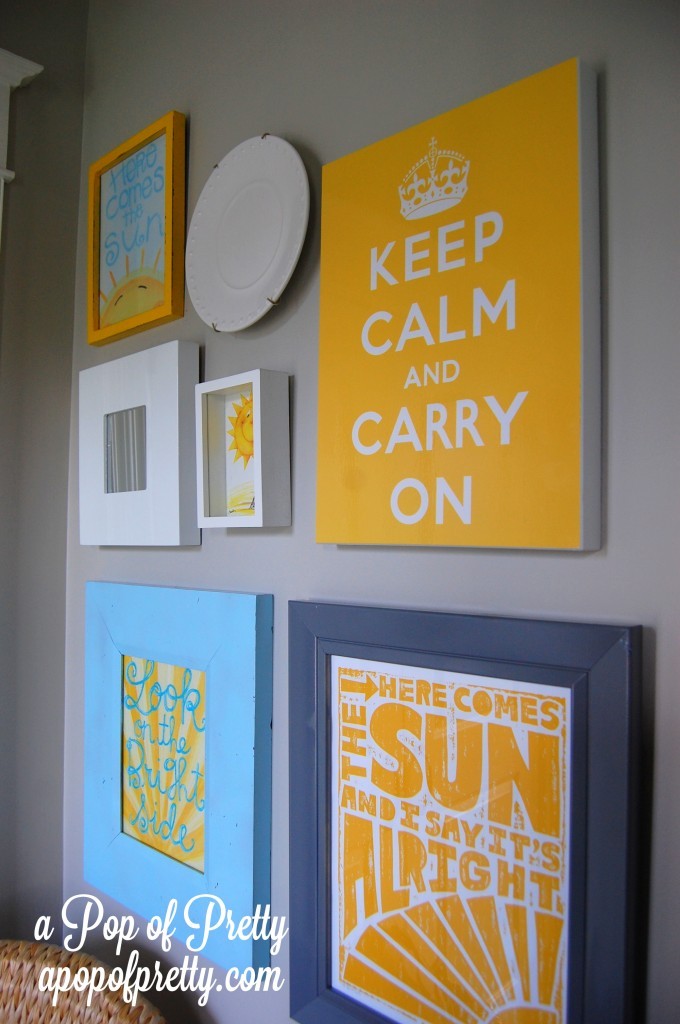 I know that if you are a decor blogger, or if you follow decor blogs, you already know what Etsy is.  But I'm betting there are still a whole lot of other readers out there who haven't discovered Etsy yet!
Etsy.com is an online market of thousands of creative merchants selling handmade and vintage items – anything from jewellery to furniture to clothing to wall art.  You can find pretty much anything your little heart desires on Etsy!
Over the past few years, I've bought lots of things (that my little heart desired :-)) from Etsy merchants – like pillow covers, wall art, and, most recently, jewellery – and I've always been thrilled by the quality the products.
One of my favorite things to browse for (and buy) are prints.  I just love the prints from Etsy merchants. It seems like I can always find a print on Etsy that works perfectly with my room decor or wall idea. That's probably because there are so many different shops to pick from! I also love knowing that I am buying directly from an artist or designer.  The care and craftsmanship of the pieces always reflect this.
My 'Sunshine-Inspired' Gallery Wall in my front porch is comprised of a number of Etsy-bought prints.  When I decided that I wanted to create a themed wall grouping around 'sunshine' (see why here), I went to Etsy and searched for prints that reflected the sentiment I was after.  I then framed them in salvaged frames that I spray-painted in gray, yellow and blue.  Overall, it was a pretty affordable way to create a cohesive wall decor collection.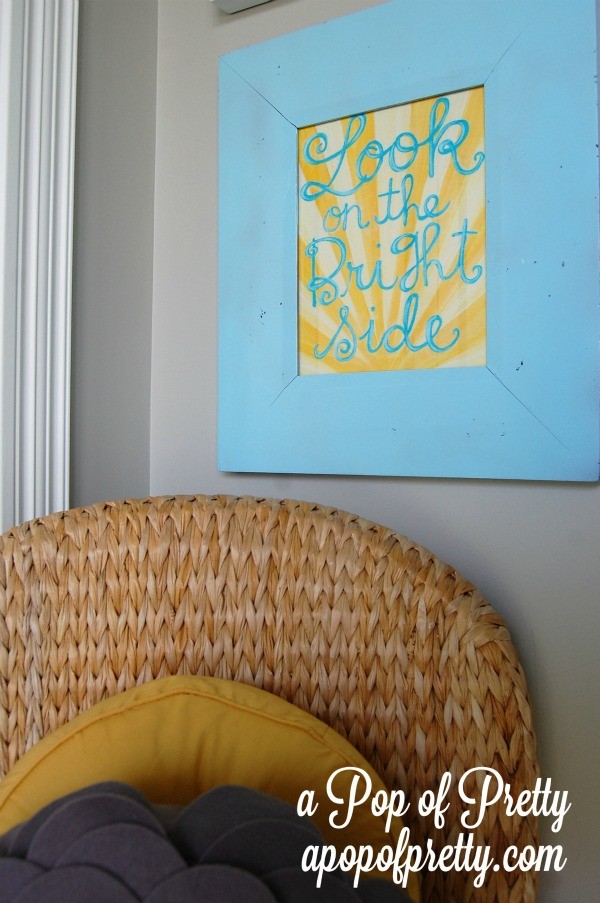 "Look on the Bright Side" Print Source: Whimsy Studios, Etsy.com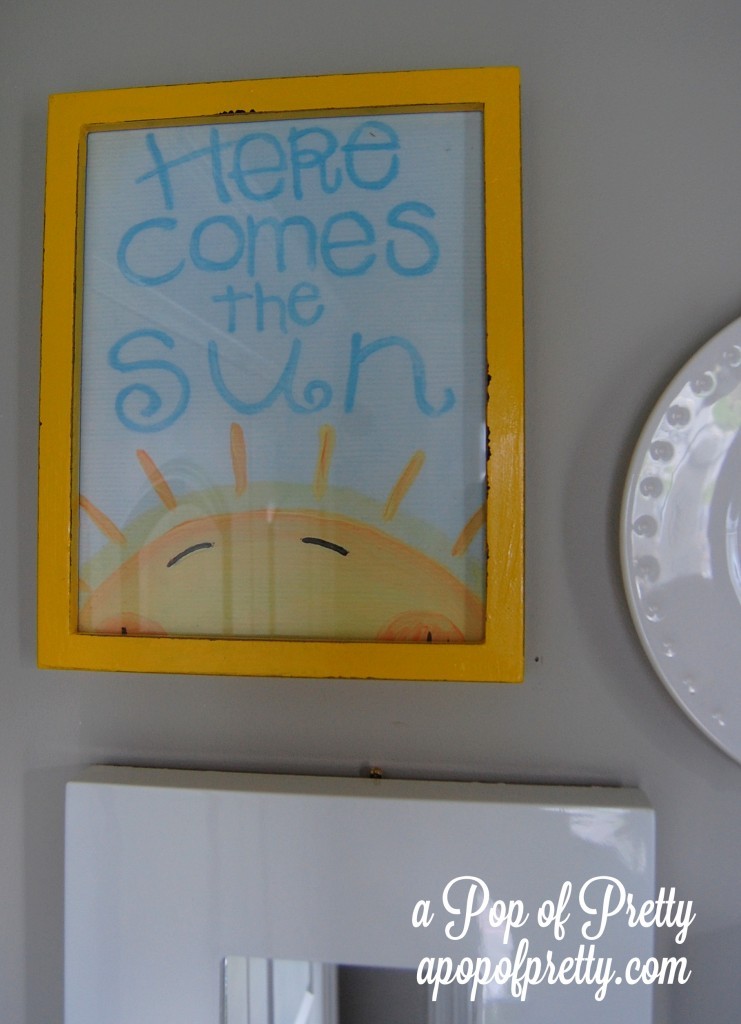 "Here Comes the Sun" Print Source: Whimsy Studios, Etsy.com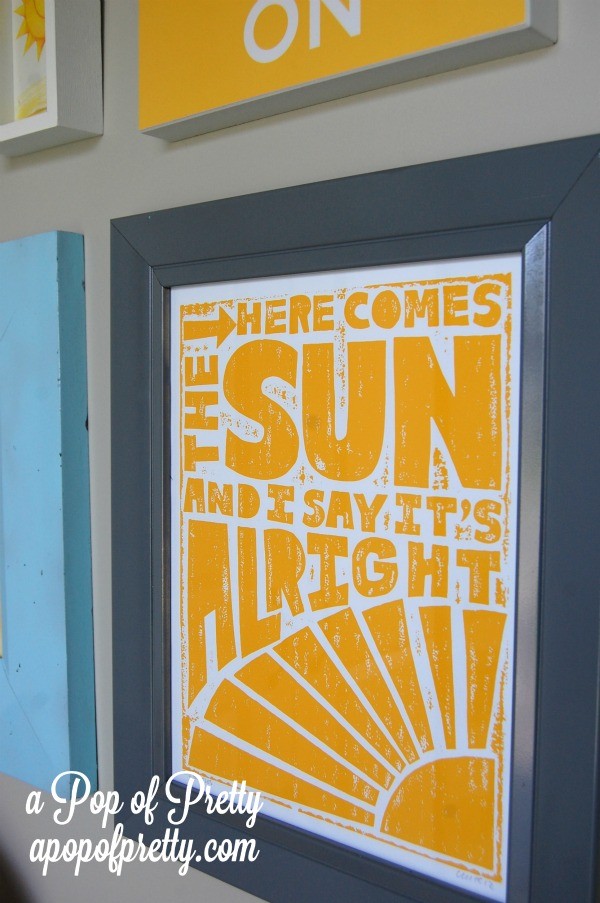 "And I Say It's Alright" Print Source: Raw Art Letterpress, Etsy.com
This grouping of happy wall art in our basement family room is also an Etsy purchase from one of my favorite shops, Studio Mela.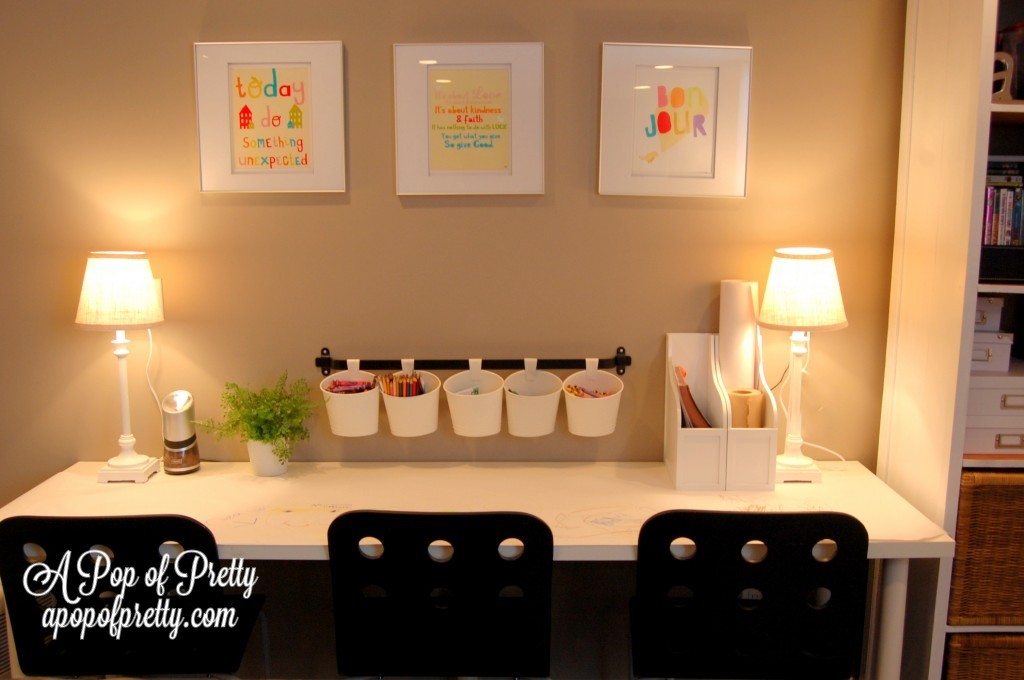 When I purchased these prints, the shop owner sent along a mini version of her (now famous)"Bird with a french fry" print, which sits on our basement gallery wall (which I talked about in yesterday's post):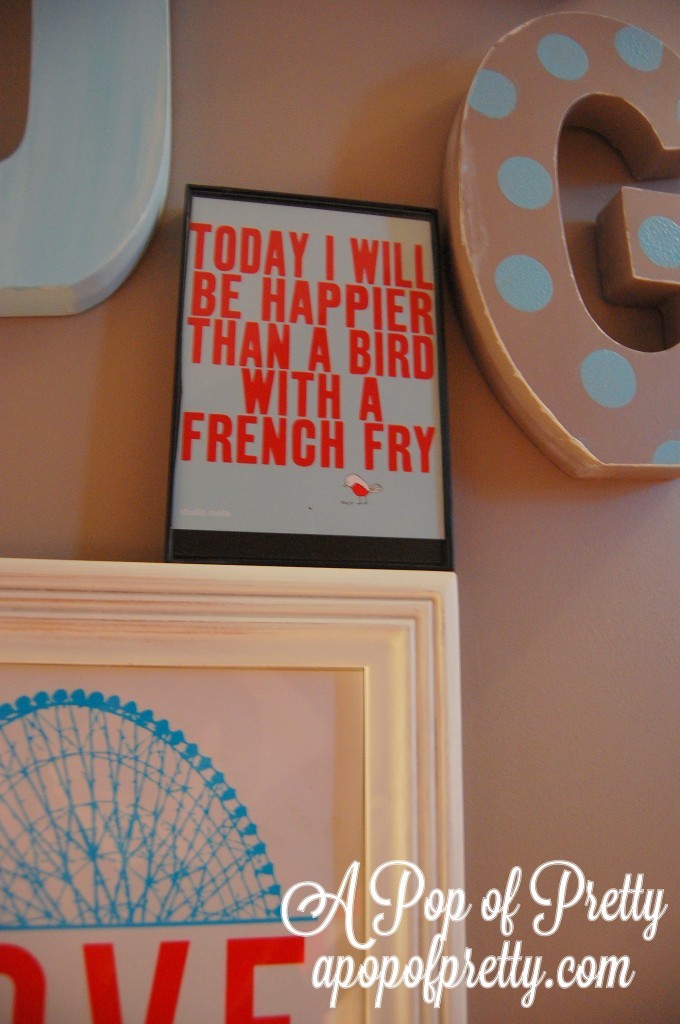 As you can probably tell by now, I'm a huge fan of light-hearted and whimsical art – much of it typographical in nature – but if you're into something different, Etsy probably has that too!  Just check out what Etsy's 'art' page looks like this evening: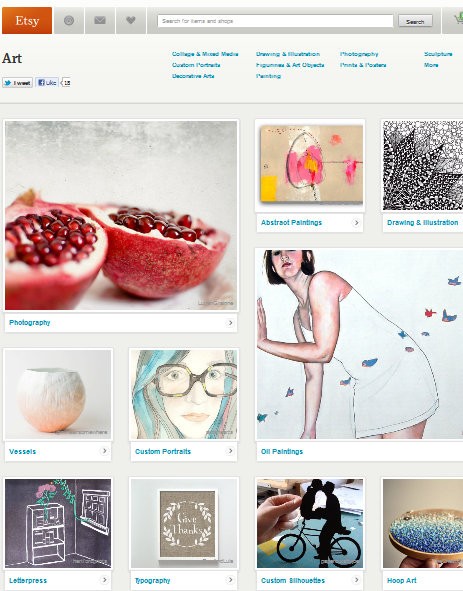 So, if you are considering creating a wall art grouping somewhere in your home, I'd highly recommend searching Etsy for prints that you can frame.  You'll end up with something truly special.
Note: This is not a sponsored post for Etsy.com, or for any of the merchants I've mentioned in this post.  I just love their products :-)!
Until next time,
(P.S. Throughout October, I'll be posting lots more ideas in this DIY Wall Art series here! You can also check out the running list of affordable, diy wall decor ideas over in my right-hand sidebar!)