This post was most recently updated on September 22nd, 2019
Well hello blog, and hello again 31 Days of Wall Decor Ideas!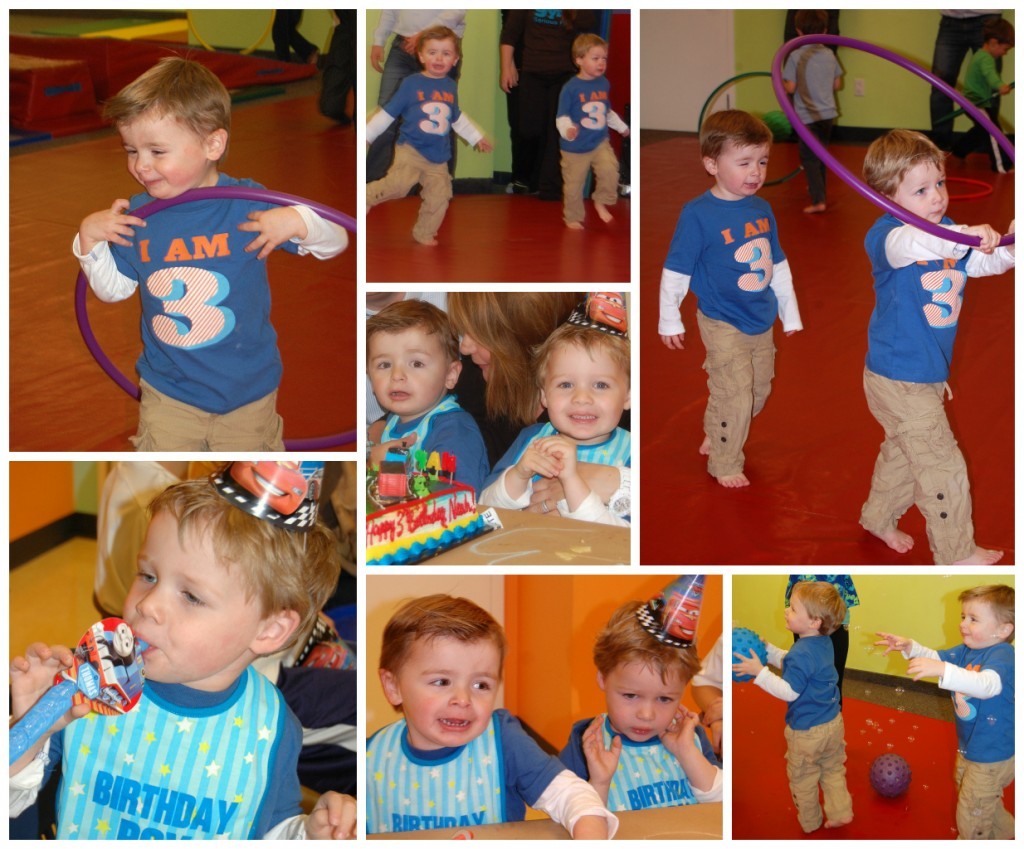 This week has been a little crazy for a few reasons, one of them being these shenanigans—–>
So, despite my very best intentions to blog every day this month for my "31 Days" series, real life has gotten in the way.  I hope to get it back on track from here, but let's be real: even without birthday party planning for two 3-year olds, our household is a gong show.  There might be a few more hiccups along the way, but I am enjoying all these DIY wall art ideas too much to give up on the series now!
So tonight I thought I'd throw a few more ideas into the mix by showing you the 'alphabet' inspired wall in our basement stairwell again.
You might notice that I've added a few new pieces to the wall since I first wrote about it last winter. I talked about the free printable art I used on the wall earlier in the series. But before I point out the other new pieces, let's add 'Letters & Numbers' to the growing list of do-it-yourself wall ideas which you can now find in my right sidebar!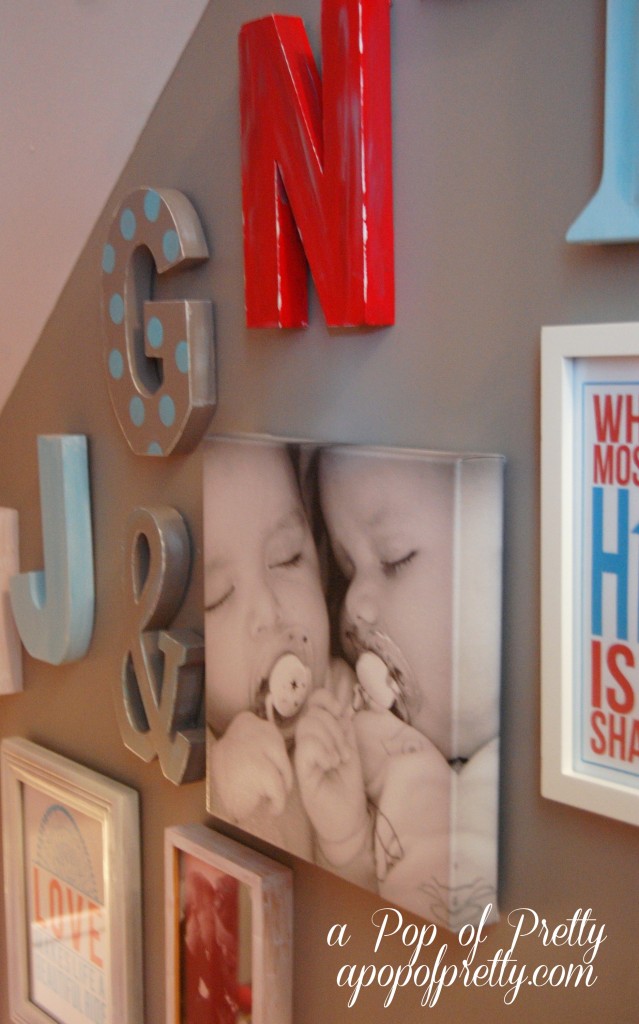 Idea #12: Letters & Numbers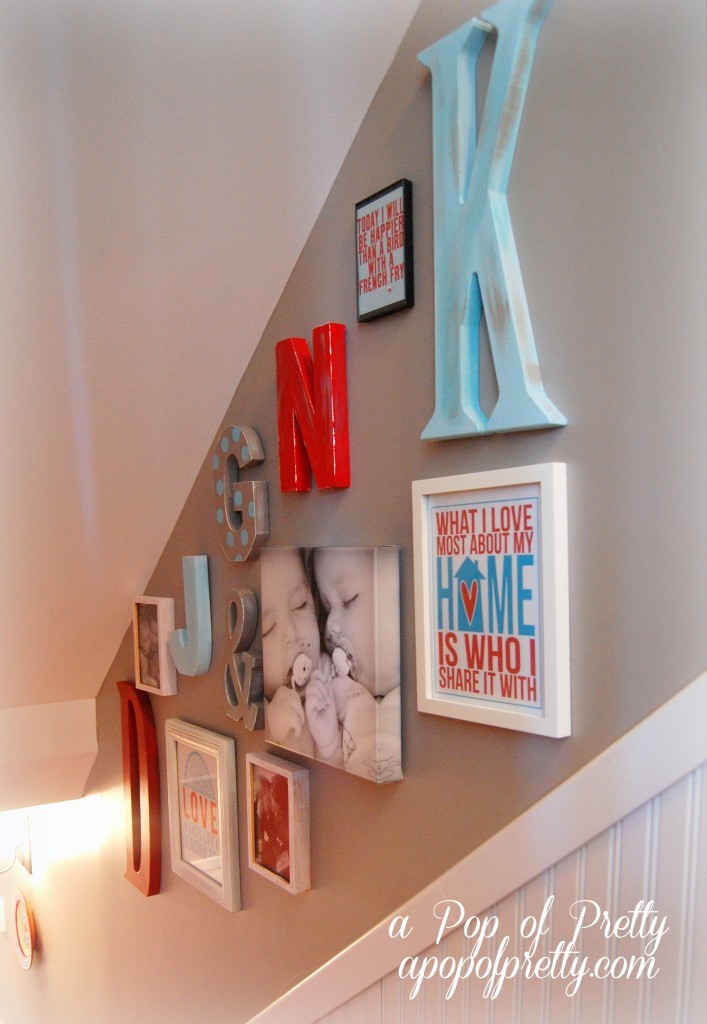 I've been a huge fan of using letters and numbers as wall art for awhile now.  (Check out my post from 2011 "I Wanna Buy a Vowel: Gaga over Alphabet Walls").  I've used letters in different spots throughout my home (like here in my living room), but  I haven't grouped them together like this anywhere else. They really add a happy, whimsical feeling to the space.
I collected each of them – which represent our family initials – over time.  I didn't want them all to look the same, so I waited until I found some giant ones (harder to find at a good price), to mix up with the smaller ones.  Once I had them all, I painted them in fun colors that matched the color-scheme of our basement decor. If you haven't seen that space yet, you can find the link in the post, "Featured at Apartment Therapy Family: Our Colorful, Play-Inspired Basement Family Room".
If you like this kind of a look too, then keep you eye out for wooden or metal letters at places like Winners or HomeSense (Canadian).  You can also find a range wooden letters regularly in stock at craft stores like Michaels.  I've also seen cool vintage letters and industrial letters on sites like Fab.com, but I've never purchased them there as the ones I've spotted were pricey.  If you are lucky enough to live near great antiques or thrift stores, you might luck into some cool letters there too!
Idea #13: Photo-to-Canvas Wall Art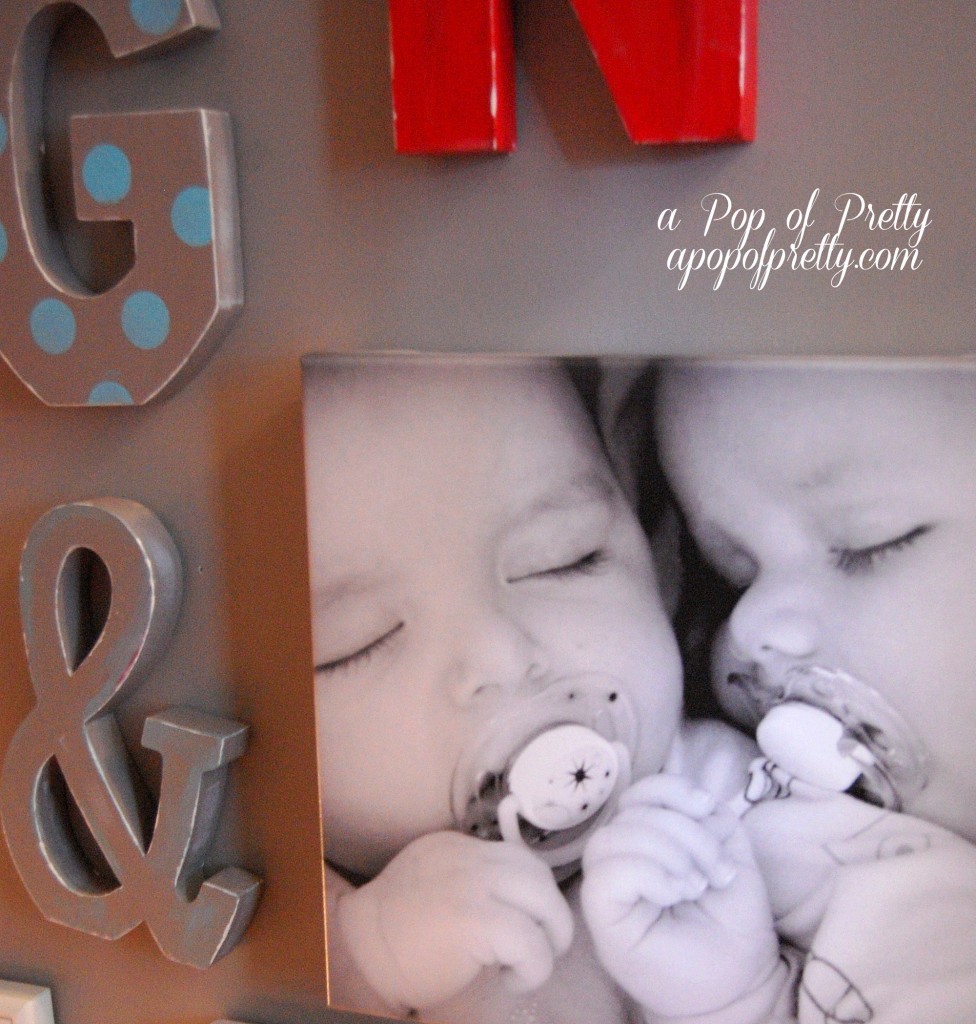 When I first posted about this alphabet wall back in the winter, a Canadian company called Posterjack contacted me to ask if I'd be interested in adding one of its photo products to the mix.
Until then, I hadn't really considered including more than our family initials on the wall, but it sparked the idea to add some of our cherished family photos.
One of my favorite ways to display art has always been on wrapped canvas, so I took Posterjack up on its offer, and tried out their photo-to-canvas option with a picture I took of our twin boys while they were  infants.When the piece arrived, I was giddy with excitement over how great the photo looked. The quality of the reproduction to canvas was outstanding, and it was wrapped around a sturdy wooden frame.
Even though Posterjack did the work of putting it on canvas, I've still included it as  a 'do-it-yourself' wall decor project here because I love the idea of creating highly professional-looking wall decor with photos you've taken yourself – especially if you are simply a recreational photographer like me.  If you live in Canada, Posterjack is a great option for having photos put on canvas.  If you don't live here, then I'm sure there are other suppliers in your country of residence as this seems to be an increasingly popular photo development option these days.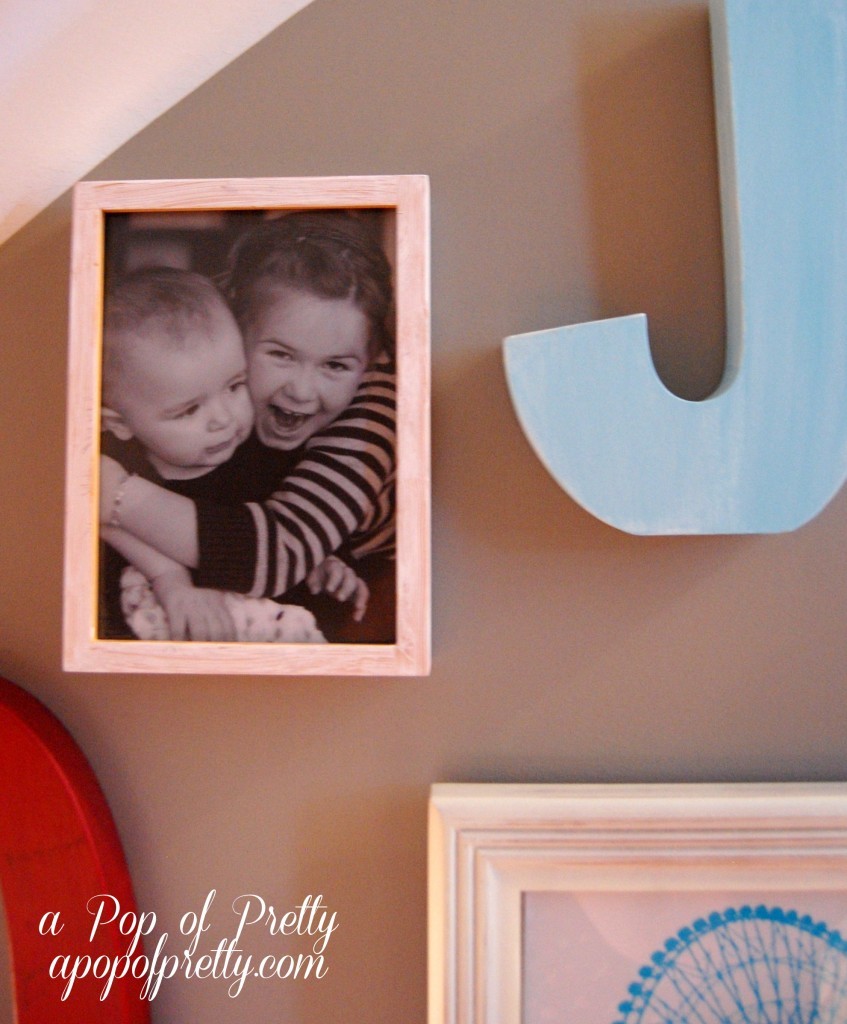 Once the canvas was hung, I also decided to include some other favorite photos in the mix, and I think they all helped to give the wall more personality!
Idea #14: Etsy Shop Prints!
Be sure to pop back tomorrow when I'll tell you a few of my favorite Etsy shops to buy wall art – like the adorable "Today I will be happier than a bird with a french fry" – print you'll find on this wall.
Until then,
(P.S. Throughout October, I'll be posting lots more ideas in this DIY Wall Art series!  You can now find a running list of ideas in my right-hand sidebar.)