This post was most recently updated on February 24th, 2020
Looking for gift ideas for home lovers? Well, I have a lot of weaknesses when it comes to home decor (hellooo pillow covers!). But I have to say that books about home are my biggest weakness.
My shelves are filled with books about everything 'home' related: decor, design, organization, entertaining, DIY and more. For the most part, many of the books I purchased years ago are the ones that I still reach for today.
There are so many books for home lovers out there that it can be overwhelming knowing which ones to buy. There are books that are purely for reference, filled with step by step projects and guidelines like Martha Stewart's latest, The Martha Manual, which btw is awesome. Then there are 'coffee table books' (here's my latest fave) that have beautiful photos of dreamy rooms.
However, my favourite books for home lovers are those that are soul-feeding and written with a story-telling perspective. The books that inspire me the most are the ones that recognize the true meaning of 'home', and that acknowledge our homes are not simply a mix of posts and beams and furniture and paint chips. Not surprisingly, many my faves in this category are written by bloggers who I follow regularly.
12 Perfect Books for Home Lovers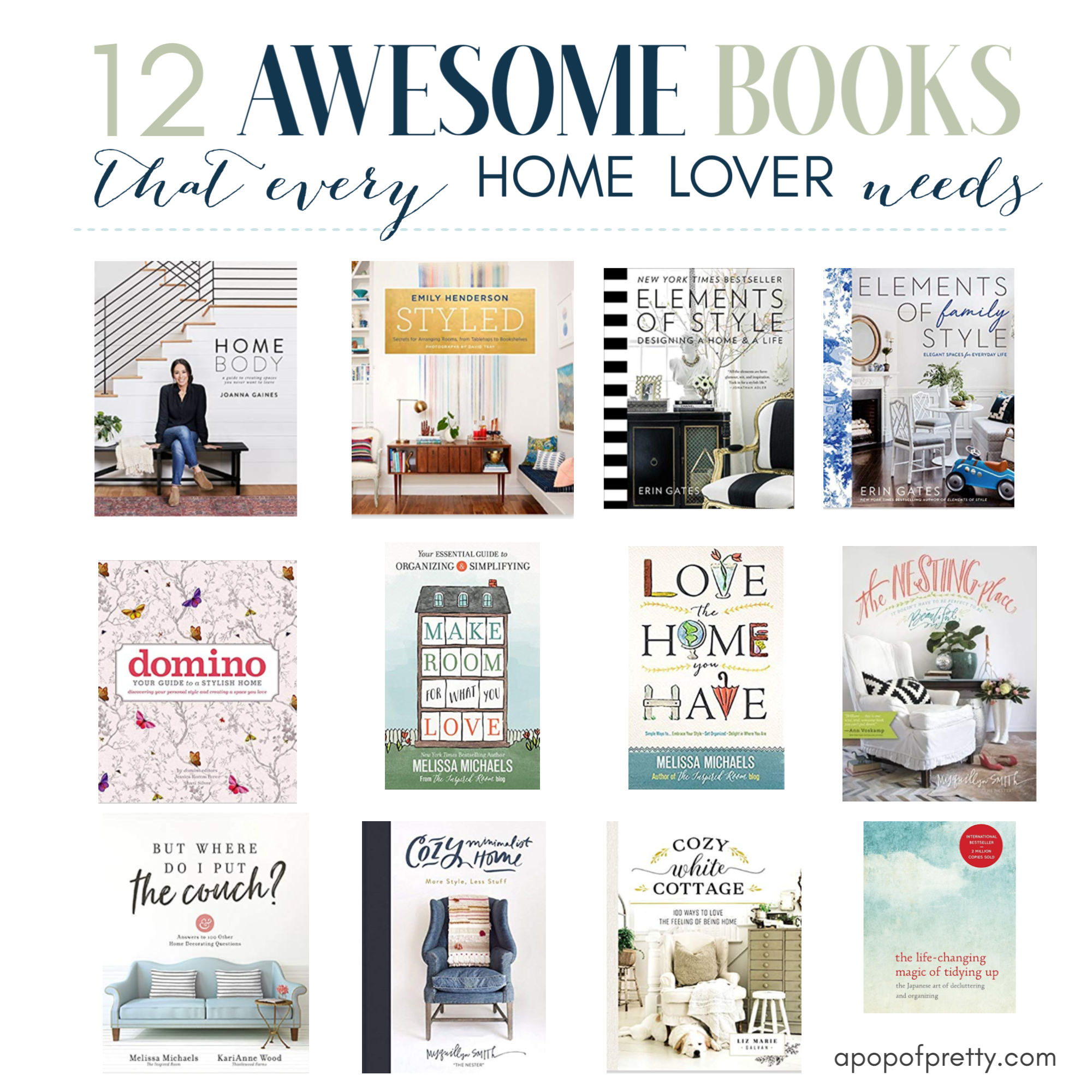 If you know somebody who loves to decorate, or who simply loves their home, I've rounded up 12 books that would be perfect gifts for home lovers. I own all of these books with the exception of two of the newest ones that are on order (#9 and #11). Any of these books would make an awesome Christmas or birthday gift.
For ease of finding each book, you can click any in the below list to take you to Amazon. Or, simply search for the title in your favourite online bookstore, like Chapters-Indigo in Canada.
(Note: As an Amazon Associate I earn from qualifying purchases from links like these. Read about affiliate links here).
Gift Ideas: 12 Books I Love
3/ Elements of Style: Designing a Home and a Life – Erin Gates
4/ Elements of Family Style: Elegant Spaces for Everyday Life – Erin Gates
5/ Domino: Your Guide to a Stylish Home
6/ Make Room for What You Love – Melissa Michaels
7/ Love the Home You Have – Melissa Michaels
8/ The Nesting Place: It Doesn't Have to Be Perfect to Be Beautiful – Myquillan Smith
9/ But Where Do I Put the Couch – Melissa Michaels and KariAnne Wood
10/ Cozy Minimalist Home: More Style, Less Stuff – Myquillan Smith
11/ Cozy White Cottage: 100 Ways to Love the Feeling of Being Home – Liz Marie Galvan
12/ The Life-Changing Magic of Tidying Up – Marie Kondo
Until next time, happy reading!
K.