This post was most recently updated on January 1st, 2020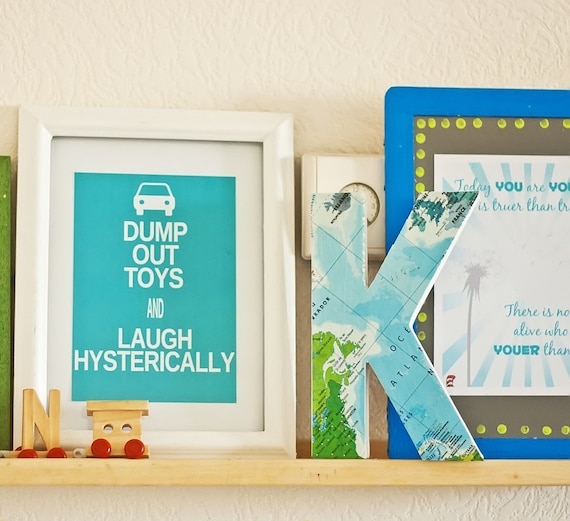 Happy Saturday!  I thought I'd end off the week with ten pretty toy storage ideas (or alternatives to traditional toy boxes / toy chests) that I've been collecting for awhile.
When I came across this art from an Etsy shop, I couldn't help but chuckle! The poster's creator must have met our two-year old twin boys!    —>
(All photo credits to Etsy shop, Callaloo Soup. )
Have you ever noticed how toddlers like to round up a million random toys and hoard them in a 'top secret hiding place' which just happens to be clearly visible to everybody else?  So cute….well, until you step on a lego, that is!
I've tried a bunch of different ways to organize toys in our basement playroom, but none quite as pretty as these!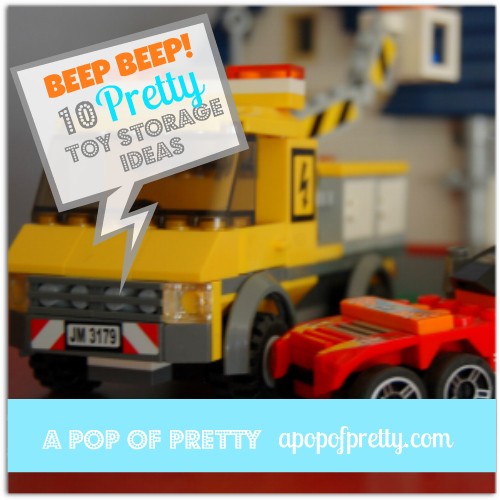 1. Dinkie Storage on magnetic strips.
(Looks kinda cool too, yes?)
2.  Barbie Storage in a Shoe Organizer
I'm a sucker for Barbie – she's always been my fave!  Lucky for me, Miss G loves Barbie too! Here's a great way to store them, and to keep them looking pretty!
3.  Book Storage in an Antique Wagon
Create a fashionable library cart that can be wheeled from room to room!
 4.  Dress-Up Storage in an Upcycled Dresser
Remove the drawers and add a little paint decoupage/wallpaper and hooks, and you've got a pretty way to store costumes!
5.  Book Storage in IKEA Spice Racks
I've seen this idea a few times on home decor sites (another similar one is storm gutter book shelves), and its such a simple and pretty way to display kids' books.  Not to mention, easy access!
6.  A Wheeled Basket
An easy way to pull the toy basket around from room to room!
7. Baskets for Everyone!
This idea applies to a lot more than toys. I love the concept of having a pretty basket on the stairs for each family member – basically, a place where their random things get tossed throughout the day.  Now if only I could convince everybody to take their basket and put everything away?!?
8. 'Small Stuff' Storage
Paint some plastic animals and glue them to jar lids for a fun place to store crafty things or small collectibles…
9. Soda Crate Storage for Lego
Love this idea of using old soda crates, from Holly Mathis Interiors.
10. Wire Garden Planters!
Hope you found some toy storage inspiration!
If you have young kids, you might also enjoy these older posts:
Until next time,