Home decor blogs are such a great source of inspiration for me. As a home decor blogger myself, I visit other blogs regularly to read about projects, tutorials and room reveals. But, did you know that many decor bloggers share additional content on Instagram that you might not find on their home decor blogs?
Following your favourite home decor blogs on Instagram is a great way to get immediate gratification and additional inspiration. Most home decor bloggers also announce on Instagram when they've posted something new on their blog, so it's also a great way to stay in the know.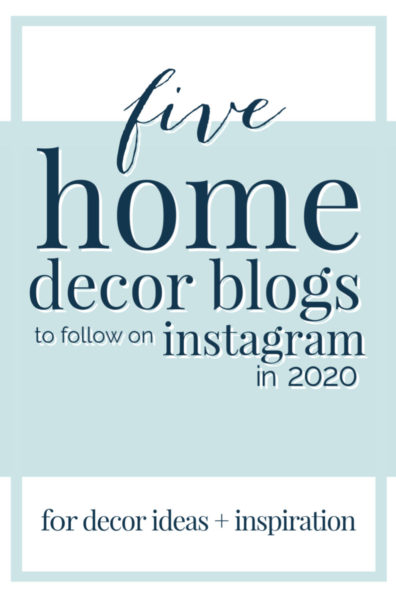 A Pop of Pretty on Instagram
On A Pop of Pretty's Instagram feed, you'll find a lot more home and cottage photos, extra home decor ideas and tips, and 'behind the scenes' Instagram stories. It's just quicker and easier for me to post a pic to Instagram than it is to create a full blog article on a home decor topic. So, if you're not following me on Instagram yet, here's where you can find me: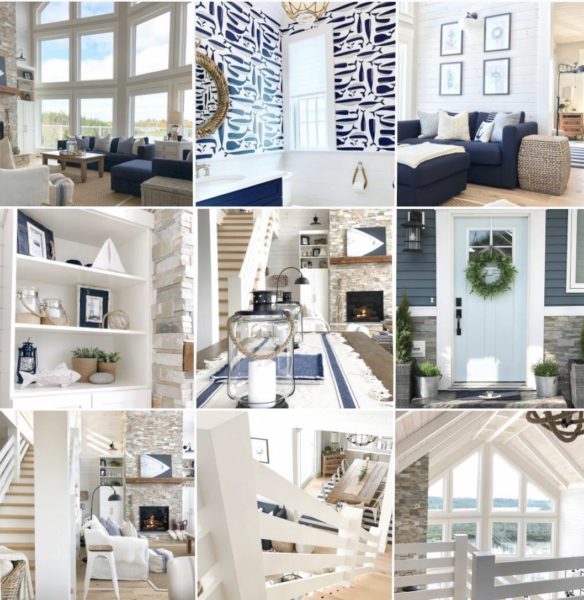 Inspirational Home Decor Instagrams to Follow in 2020
In 2020, I thought I'd start sharing some of my favourite Instagram accounts. So, on Fridays throughout the year, I'll let you know about five great Instagram accounts I follow. Then you can add them to your own feed for inspiration. I'm going to share my favourites in home decor blogs, interior design studios, home builders and renovators, and more!
Five Favourite Home Decor Instagrams
This Friday, my five faves are all home decor blogs. I have to admit, I spend an embarrassing amount of time on Instagram looking at home decor inspiration. (Hangs head in shame, lol.) I tend to follow accounts with light, bright and airy spaces, coastal-inspired styling, and a modern cottage or transitional design aesthetic. No surprises there! And, I find that the content that these five home decor blogs share on Instagram is consistently great.
1. Rambling Renovators
My friend Jen, from Rambling Renovators, has been a source of inspiration for me for many years. She is a fellow Canadian home decor blogger, and describes herself as a mid-lifer, plaid lover and slow home renovator. Her home decor blog is focused on modern traditional design. I especially love her coastal style leanings, her craft room of dreams, her summer cottage content, and her recent master bathroom renovation.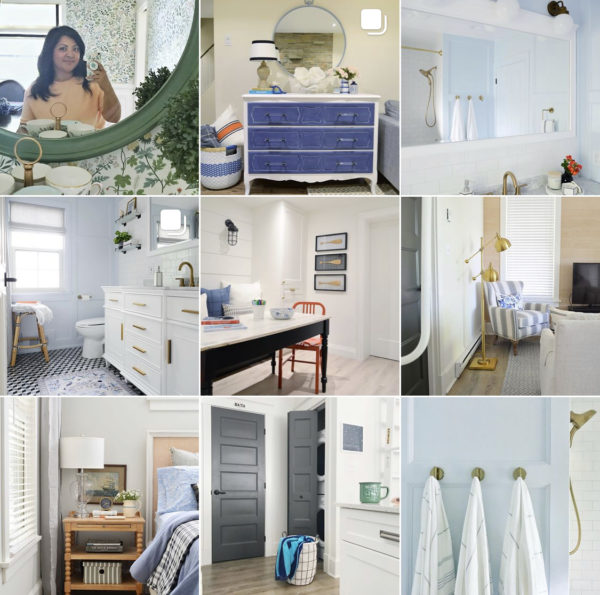 2. Life on Virginia Street
Hands down, Life on Virginia Street has been one of my favourite Instagram accounts for years. Sarah blogs at her home decor blog Life on Virginia Street, and her Instagram account is an absolutely stunning mix of her light and bright modern coastal home and her casual-preppy fashion finds.(Think: casual, uncomplicated pieces with modern preppy flair.) I absolutely LOVE her round ups and her shopping links, and I want pretty much everything she recommends, lol.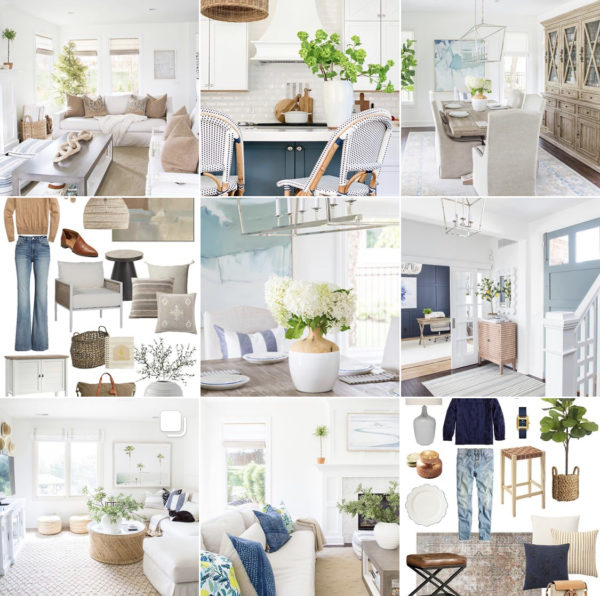 3. The Lilypad Cottage
Kelly's home decor blog, The Lilypad Cottage, has been another one of my favourite blogs for years. I love her gorgeous Michigan lake house and modern coastal design aesthetic. In fact, when we built our own lake house, her Instagram feed was one of my sources of inspiration. Kelly describes herself as "documenting our life on the lake one project at a time". Her feed is an absolute treasure trove of drool-worthy spaces with a casual, coastal vibe.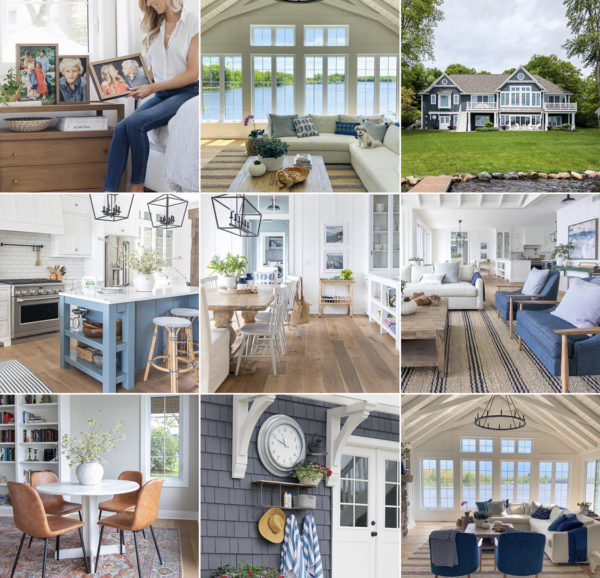 4. Plank and Pillow
Home decor blog, Plank and Pillow, is a relatively new source of inspiration for me, but I'm hooked! Brooke and Henry have a stunning custom built modern farmhouse with the dreamiest, light and bright decor. Some of my favourite posts in their Instagram feed are about their fabulous outdoor spaces / porches – especially with their custom built hanging swings. (I haven't shared it here yet, but we recently had one built for our cottage using their blueprint. Yay!) So much inspiration to be found there!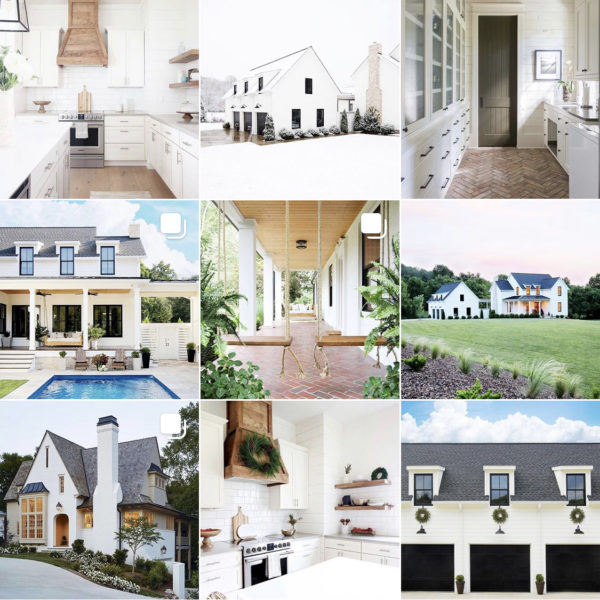 5. Finding Lovely
Jackie's Instagram feed is one of the prettiest you'll find. It's filled with soft palettes, white washed wood, and hints of blue and grey. She blogs at her home decor blog Finding Lovely, and describes herself as "a California shivering in the Boston burbs" (lol) and "capturing the lovely in every day ordinary". It's no wonder I appreciate her Instagram feed so much. I love her philosophy on life and design.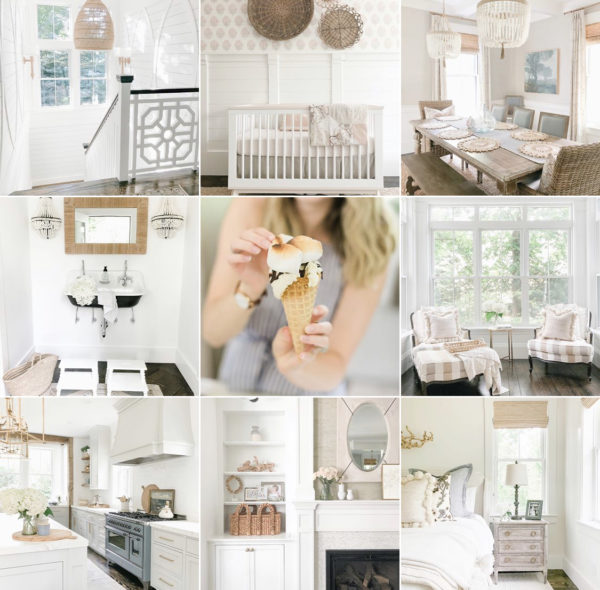 So, go forth and follow these inspirational home decor blogs on Instagram! Stay tuned for more of my Instagram favourites on Fridays throughout 2020. Next up: interior design studios!
Have a happy weekend,
K.
P.S., While you're here, you might enjoy these recent blog posts: