This post was most recently updated on September 22nd, 2019
Shortly after the sheer panic of finding out I was having twins (who are now 3…as in 3 years old, not triplets, lol ) had subsided, a song that I heard as a child in the early '80s kept popping into my head. It  was the theme song to 'The Elephant Show' which aired on the CBC (I think?),and was hosted by famed Canadian children's trio Sharon, Lois and Bram:
"One elephant went out to play,
Upon a spider's web one day.
He had such enormous fun,
That he called for another elephant to come."
(Yup, peeps, pregnancy messes with your head.)
Well, I thought the song was perfect for twins, and since it had some nostalgic attachment for me, my pregnant mind decided that I really wanted to put it on the wall in their nursery.
However, the likelihood that this wall quote already existed as a stocked item was pretty much zilch.  I couldn't imagine that any companies out there specializing in vinyl wall quotes had manufactured one based on a verse in a Canadian song that I'd listened to in the '80s!
Come on, take a look, I know you wanna…
But, still I was determined to have it! (Hormonal, pregnant women are like that, teehee.)
So I investigated options for creating a customized wall quote.  At the time, I didn't have a vinyl cutter; but now that I do, I have to admit that I would never have attempted such a huge job  on my Silhouette.  (I've never really mastered that machine, but that's another post.) So, my only real option was to find a company that could create this massive quote for me at an affordable price.
I ended up finding an online supplier where I could simply input the quote, select the font and the color, and voila, I had instant custom wall art!  I can't remember exactly how much I paid, but I do recall that it was very economical; considering that it filled a whole wall of this size.
The process of applying such a large vinyl quote was pretty easy, but definitely tedious in order to ensure it came out straight.  Let's just say my center of gravity was off, standing on a step-stool, 7-months preggers with twins. But it was nothing that a level and a pencil couldn't handle.
The company I used at the time was called WallQuotes.com, but I am sure there must be other great customized vinyl quote cutters out there too. The addition of the mod elephants, birds and spiders in the little elephant parade were sourced from another supplier, vinylwallart.com.
I think customized wall vinyl is a great diy wall decor idea, especially for a child's room.  There are certainly bucket loads of stock vinyl quotes out there on the market, but there's something special about using something that has real sentimental value.  I recently transitioned their nursery to a toddler room (which I'll blog about soon), but I just couldn't part with the quote (yet).
One of these days when they're 13, I'll remind them about the silly quote on their wall back when they were babies, and I'll force them to watch that goofy 'Elephant Show' video clip from when Mommy was a kid in the ancient '80s.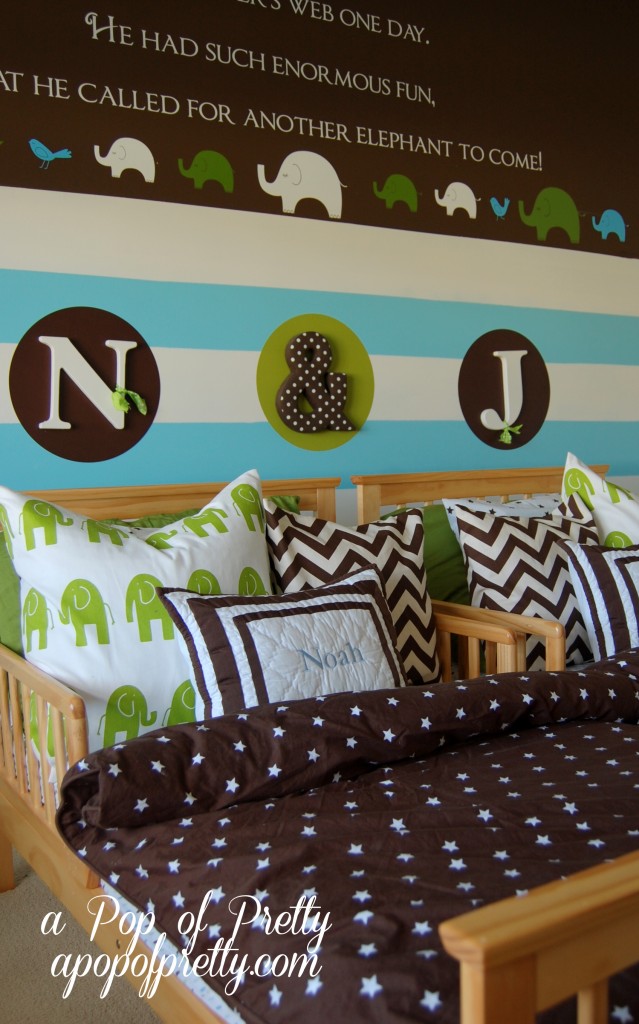 Please note: This is not a sponsored post.
 Until next time,