This post was most recently updated on January 1st, 2020
Bonjour my decorating friends! Well, if you've opened a decorating magazine in the past year, you've certainly noticed that graphic wallpaper is all the rage. Despite my own wallpaper trauma and aversion (resulting from our first fixer upper), I've been so wooed by these new wallpapers that I even decided to create a wallpaper accent in our master bedroom which I shared awhile back. (Picture posted below.) I absolutely love the visual interest and style statement that geometric wallpaper like this makes, but the best wallpaper for creating warmth doesn't come in a bold pattern.
Yup, there's an unsung hero in the world of wallpaper. Unlike geometric wallpaper, it's not particularly sexy. Some might even say it's boring. But I've found that the best wallpaper, hands down, for creating coziness in a room is simple texture wallpaper. Textural wallpaper, like grasscloth for example, can make just as big an impact, but in a quiet, understated way.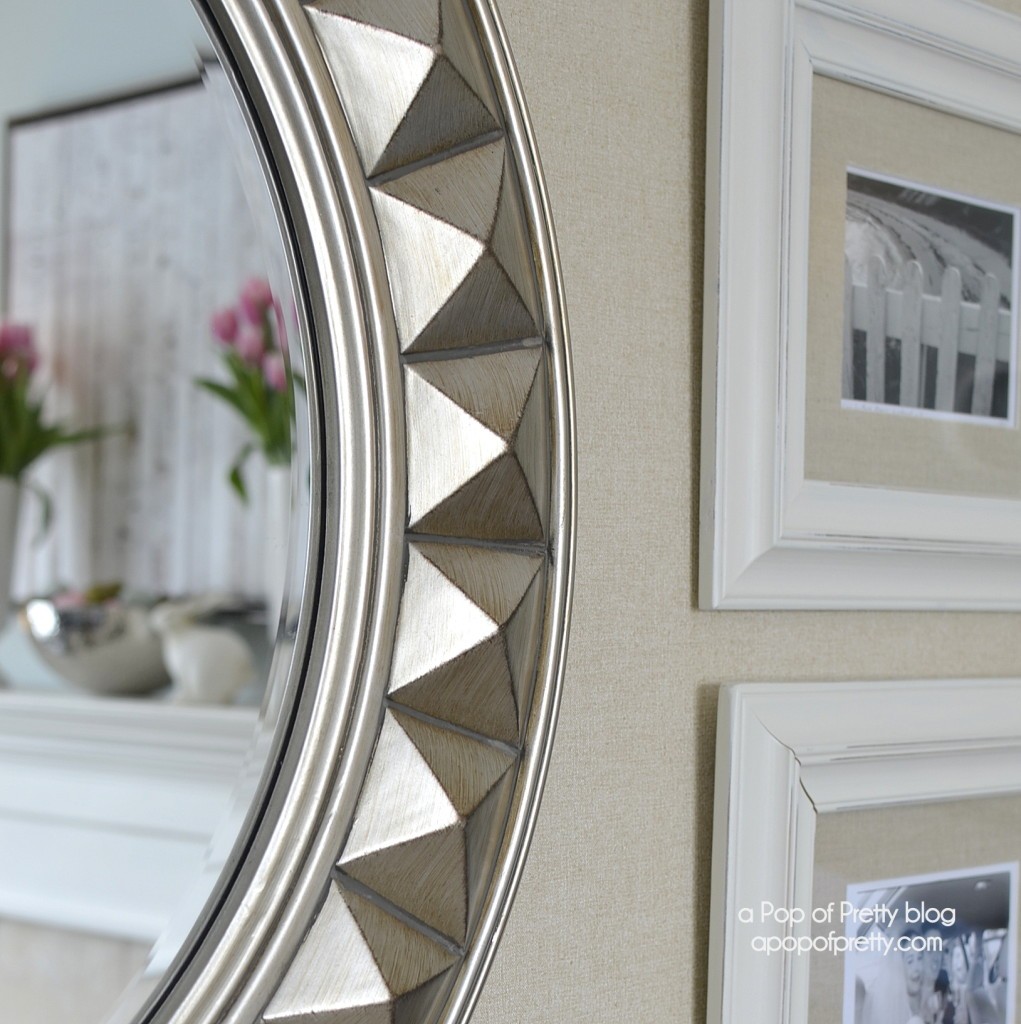 Last weekend, I wallpapered one long wall in our TV room with a neutral, linen 'grasspaper'-style wallpaper.   (Note: Authentic grasspaper wallpaper is made from natural grass products, but the one I chose was vinyl replication of the look/texture, which is easier to work with and maintain, and less costly.)  I'll admit, it's not a wallpaper that I'd normally go for (or even notice, for that matter), but as it turns out, this quiet wallpaper was exactly what our TV room needed.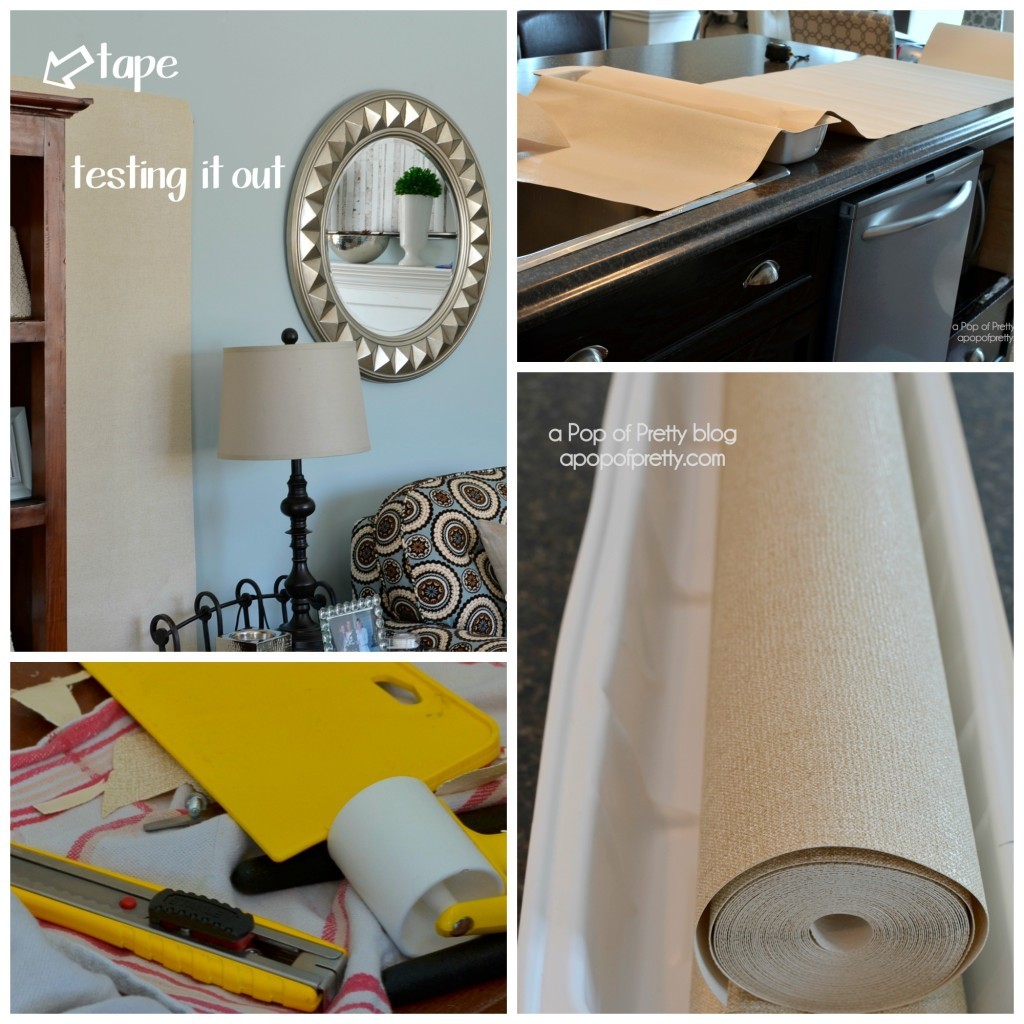 The result was pretty dramatic.  Before I used this wallpaper, the TV room felt a little cold and uninviting. The room is painted Benjamin Moore Woodlawn Blue from when our living room was in this space (catch the back story here), but the cool hue, coupled with our leather TV room furniture, left it feeling uncozy. I tried different ways to warm it up – throws, pillows, etc. – but it didn't make the impact I was looking for.  Who knew that the texture in this simple wallpaper would create an overall softness to the room that's been missing all this time.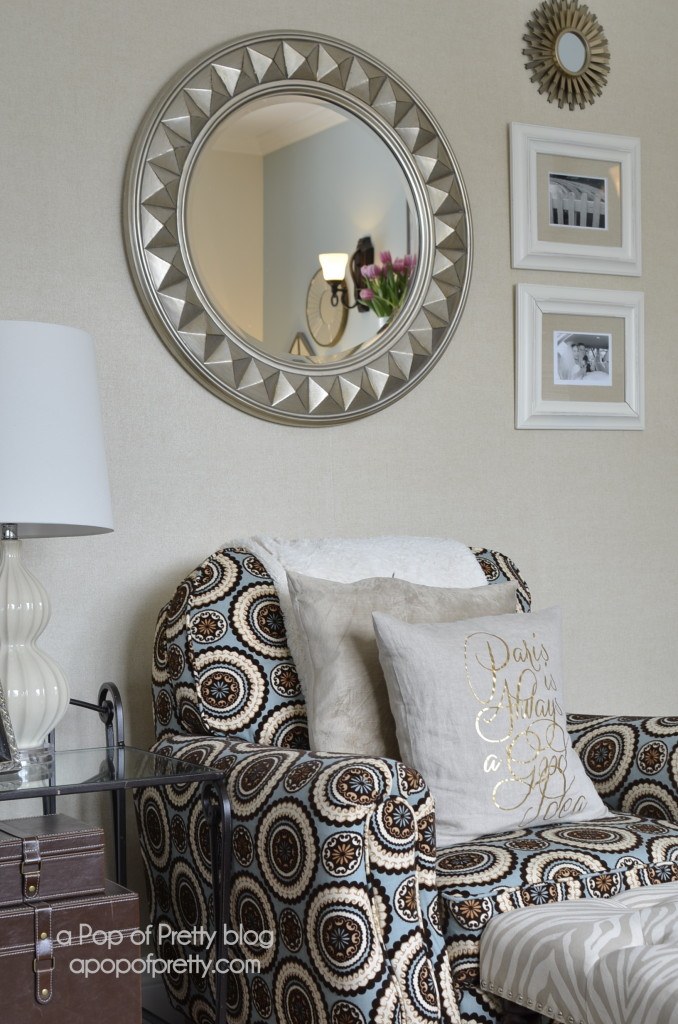 I particularly love how it looks in the day when the sun hits it. It's like a big sheet of linen on the wall. I spent lots of time and money on accessories that couldn't achieve the warmth that this texture wallpaper did…which made me wonder…why didn't I think of it sooner? Oh right….because I'm constantly distracted by all that bold, graphic wallpaper in the wallpaper display!  But the best wallpaper solution for this room was quietly hiding there all this time, which goes to show that sometimes the simplest solutions are the best.
If you are looking the best wallpaper to create softness or warmth in a room in your home, consider using a neutral wallpaper with subtle texture like this one. It works particularly well in a room where there's other graphic interest (like a patterned accent chair or toss pillows).
Until next time,
K.