This post was most recently updated on September 23rd, 2019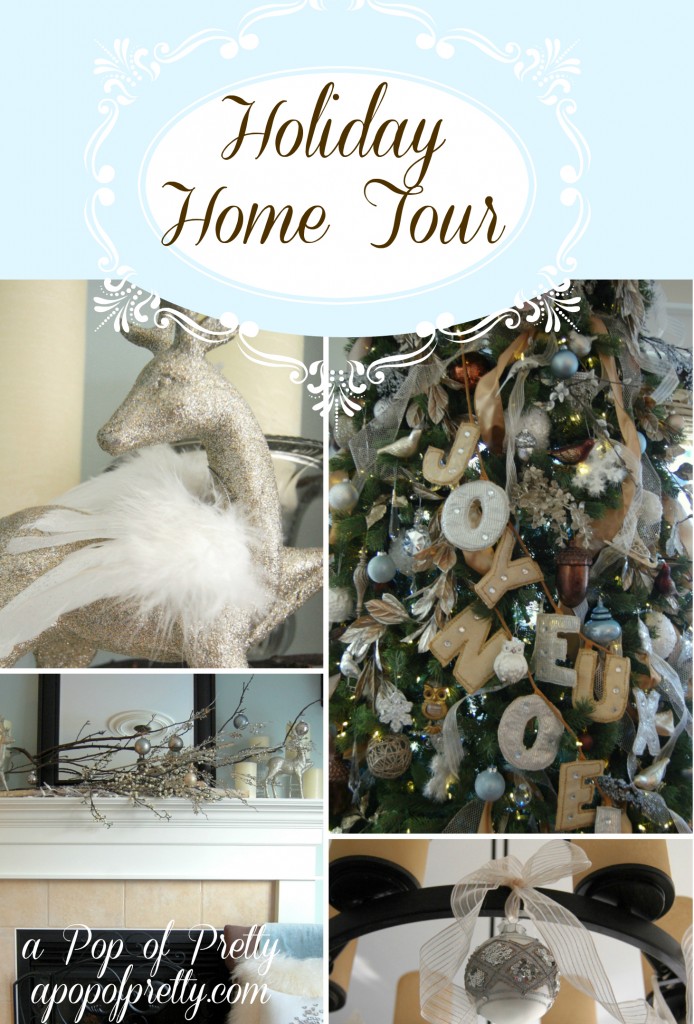 OK, so I *think* I'm done with the Christmas decorating.  When it comes to seasonal decorating, I have a slight problem, in case you haven't noticed by now.   I have to make a full stop; otherwise, I could keep going until the 25th! But then I'd have way too much to take down later.  Plus, I have to move on to a million other things on my Christmas to-do list.  Like, for example, I haven't wrapped a thing yet.  Nodda.  I like decorating so much more than wrapping.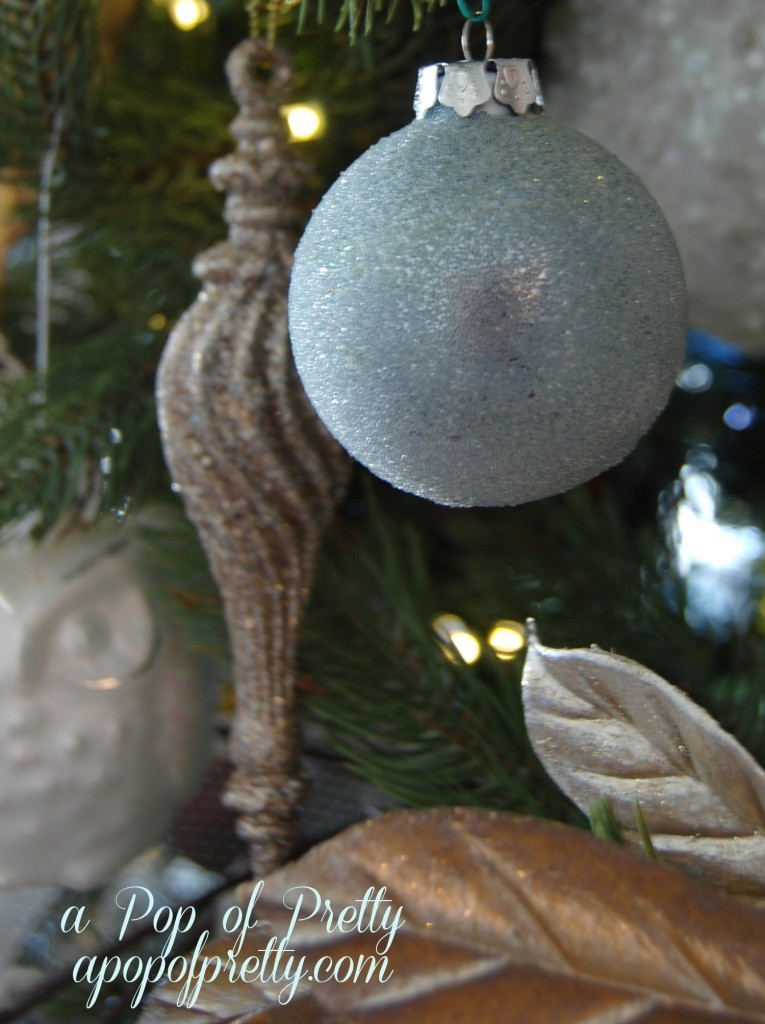 So tonight, to procrastinate on the wrapping a little longer ;-), I thought I'd pull together a summary of all the random Christmas decorating blog posts that I've shared over the past month.  In the home decor blogging world, that kind of blog post is usually called a "Holiday Home Tour". That label is a little misleading in my case.  I am only going to show you the areas of my home that are presentable at the moment.  Unlike a real home tour, I'm going to shield you from the mess of Christmas bins (and glitter) that still needs to be put away!
The Porch
Our front porch is decorated with real greenery, white lights and traditional Christmas colors.  I usually stick to red out there because it's such a festive color, and is easily seen from a distance.  For the first time in a decade, I also used some gold in my Christmas decor this year.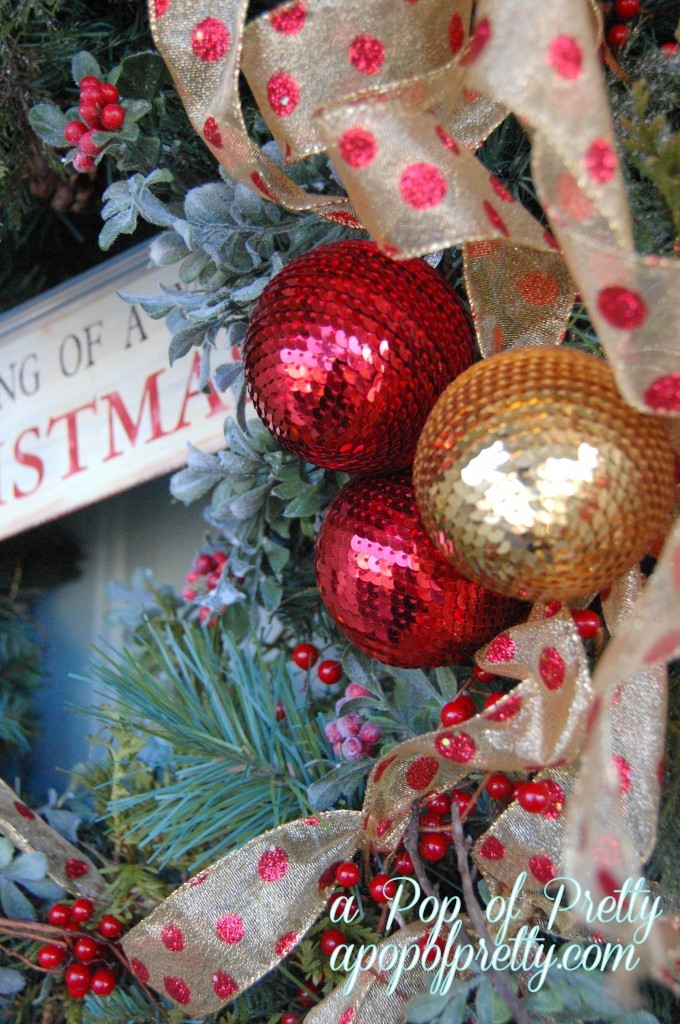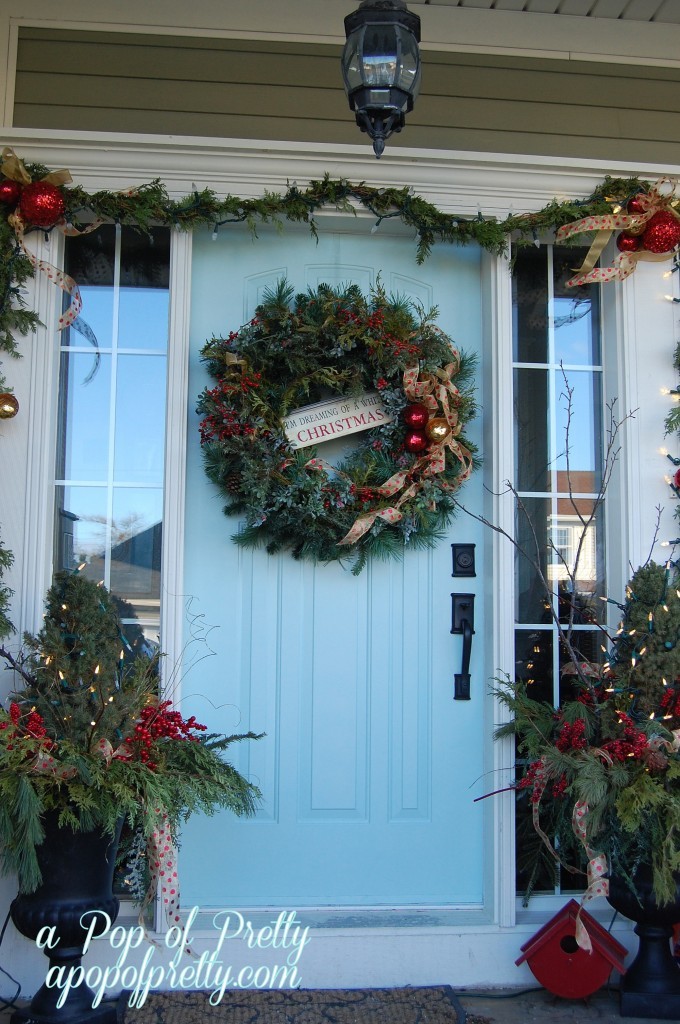 The gold and red polka dot ribbon that I used is traditional, but fun.  I'm a big fan of polka dots!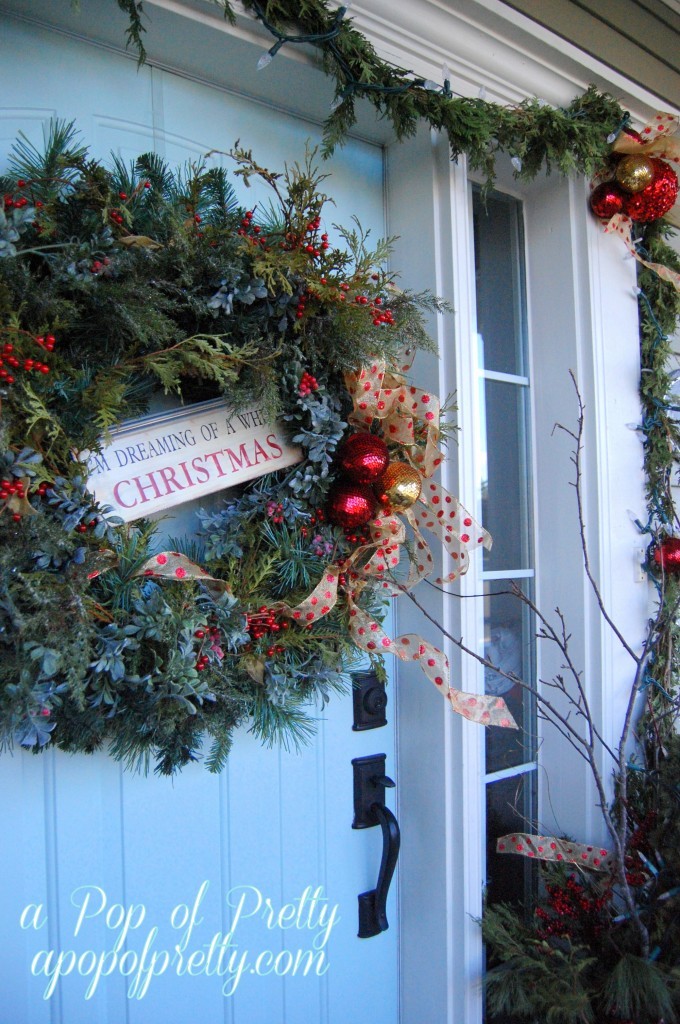 Earlier in the month, I posted a tutorial on how to makeover an old artificial wreath, and create the look of real greenery using just a few sprigs of cedar.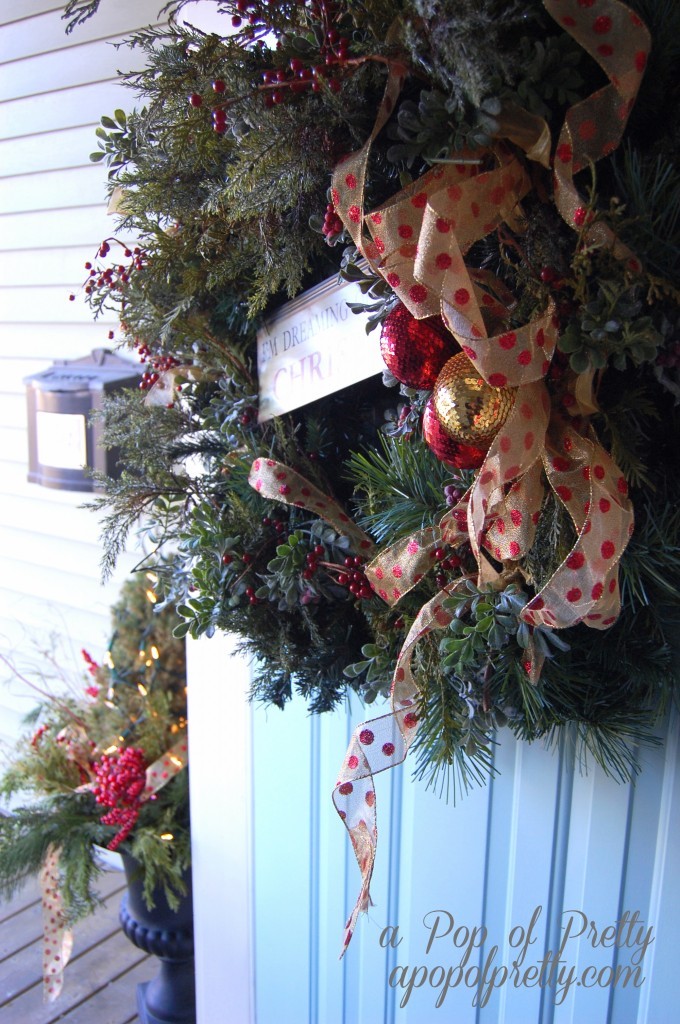 The Tree
Our Christmas tree sits right in the center of our open concept Living Room / Kitchen area. For the first time, I decorated a 100% neutral Christmas tree this year, using champagne, white / cream and chocolate brown.
I also gave a little Christmas decorating tip / tutorial on how I added ribbon to my Christmas tree, which was a little different than in previous years.  Last year, my tutorial on how to decorate a Christmas mantel (including how to add ribbon to a Christmas mantel) was really popular, so I thought this might be helpful too!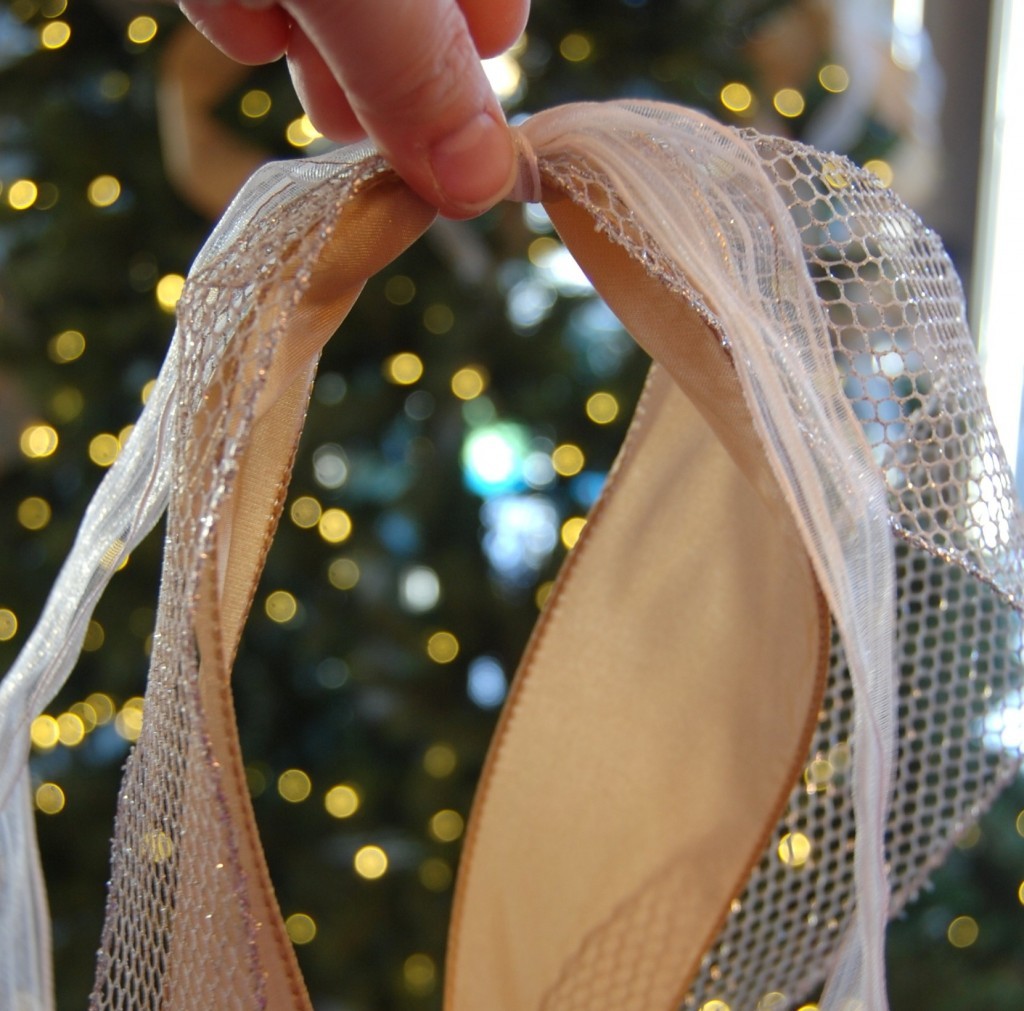 Our 100% neutral tree only lasted a few days! "Neutral"became "bleu-tral" when I added a pop of muted blue to the tree.  It still feels pretty neutral, but the touch of blue blends so much better with the room.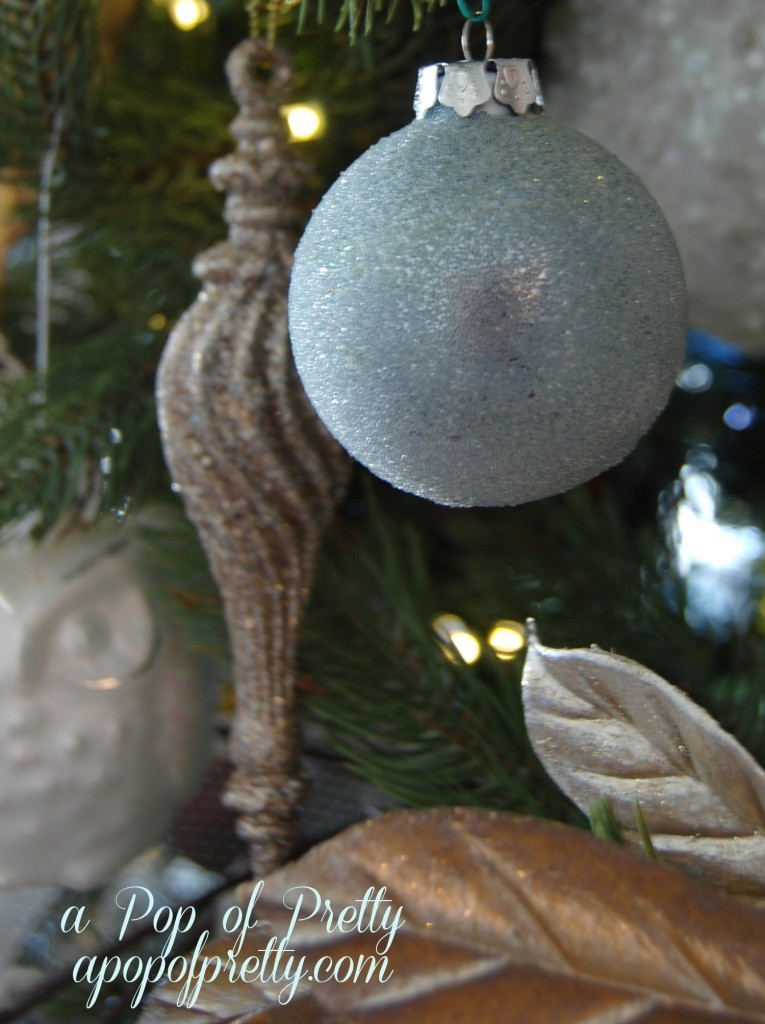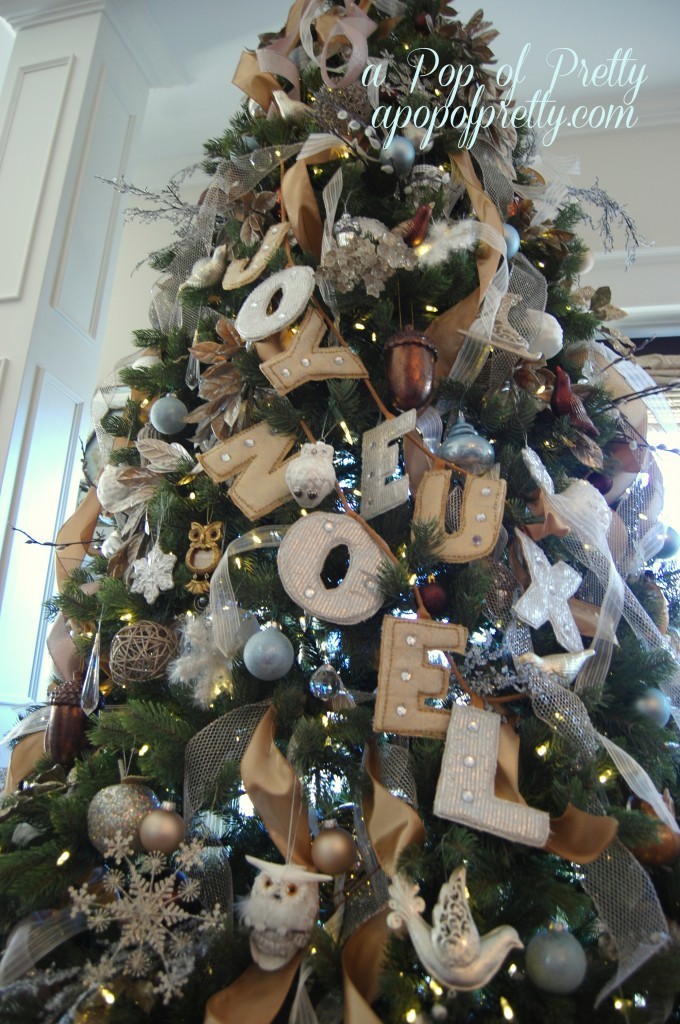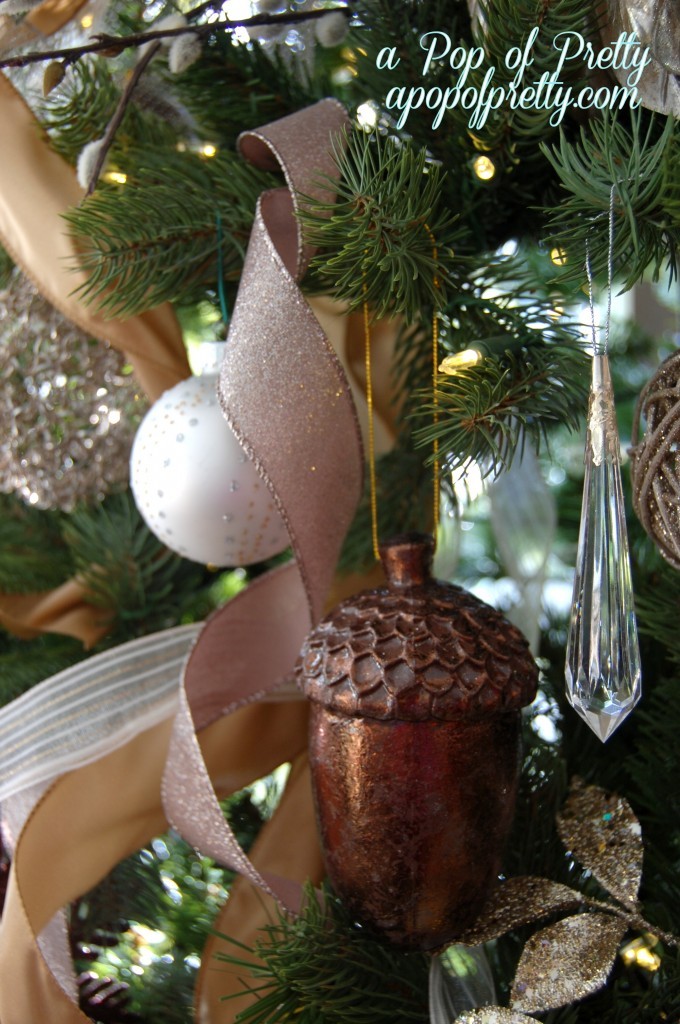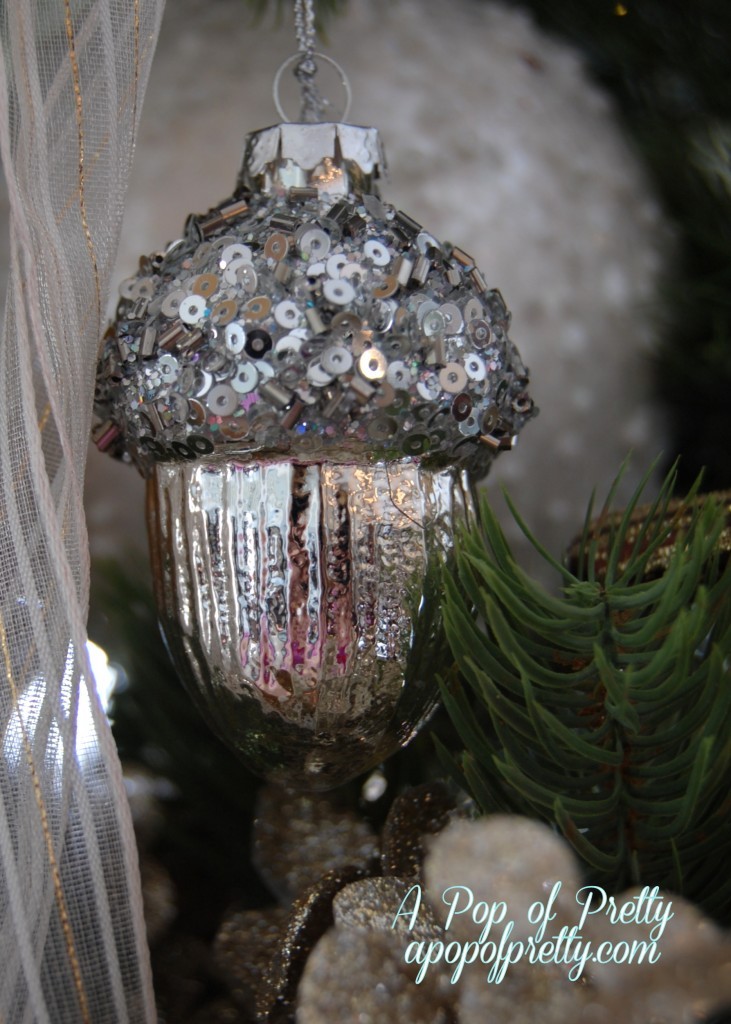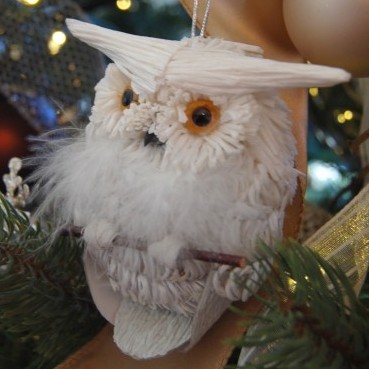 The Foyer
I carried the primary tree colors of champagne and blue through my other Christmas decorating on the main floor.  The bannister on our staircase in the foyer is decorated with greenery, ribbon and glass bulbs.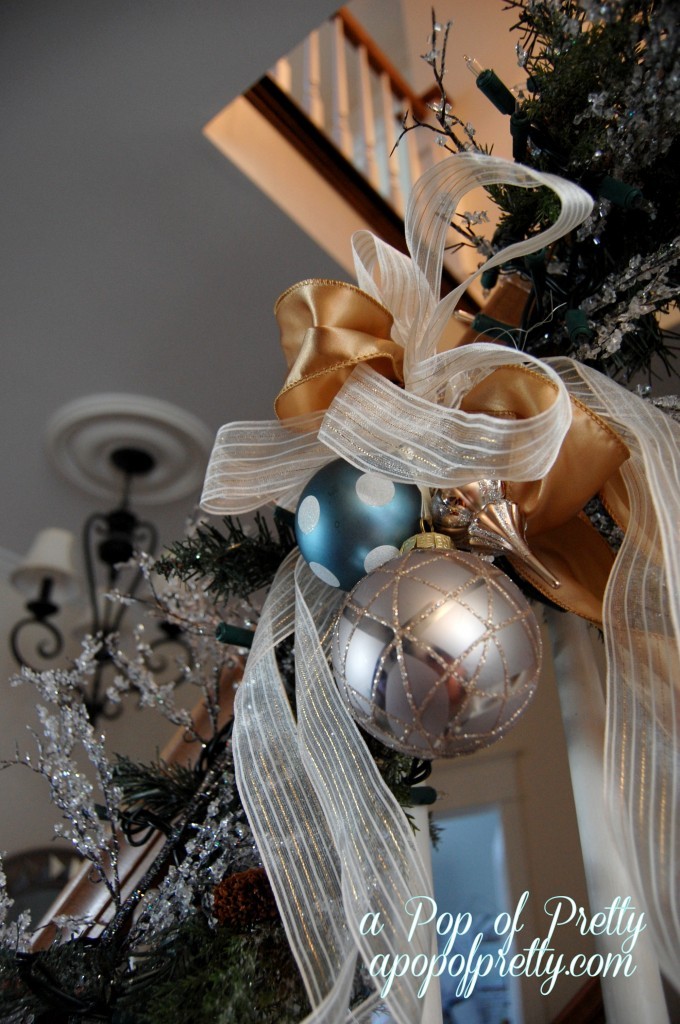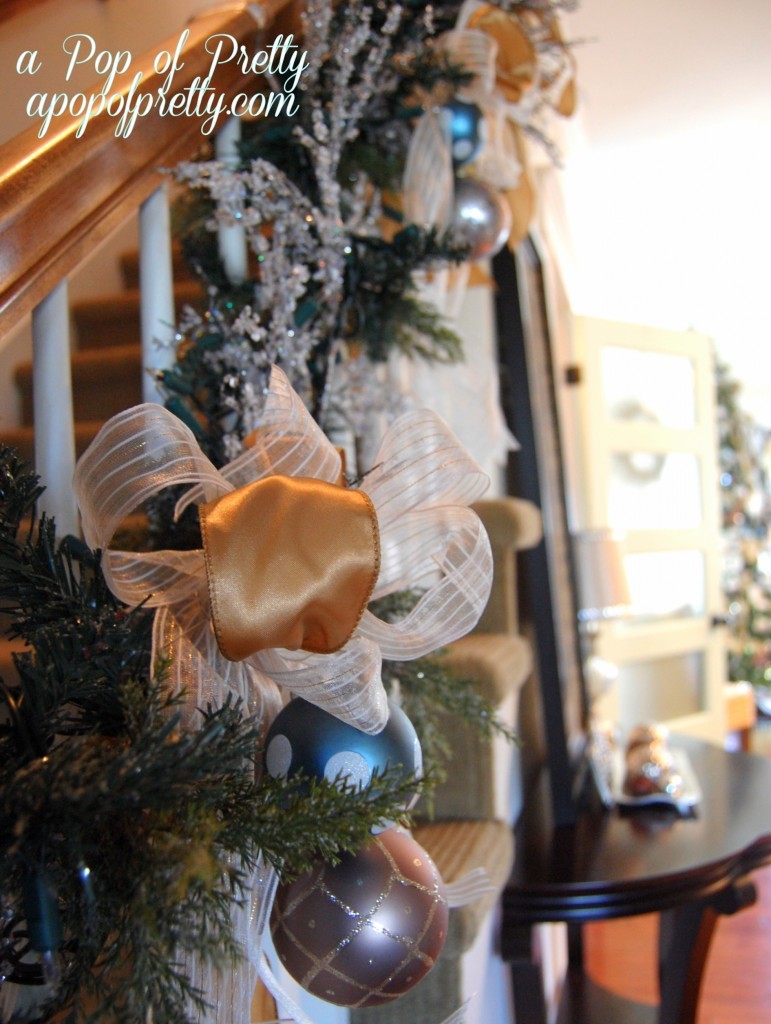 This little tray of shiny baubles sits on our foyer table.  None of them are breakable.  Believe me, with 3-year old twin boys in the house, they've been tested once or twice!

The Living Room / Dining Area
A similarly muted color scheme can be found in our open concept living room / dining area too.  I blogged about our Christmas mantel, decorated with branches and bulbs and glittery reindeer, a few weeks ago.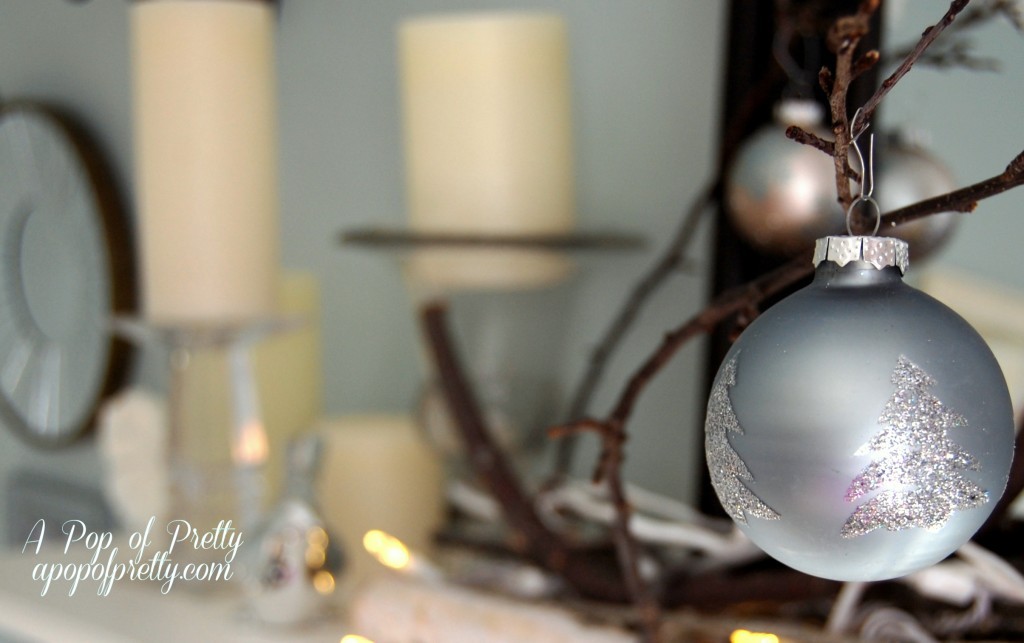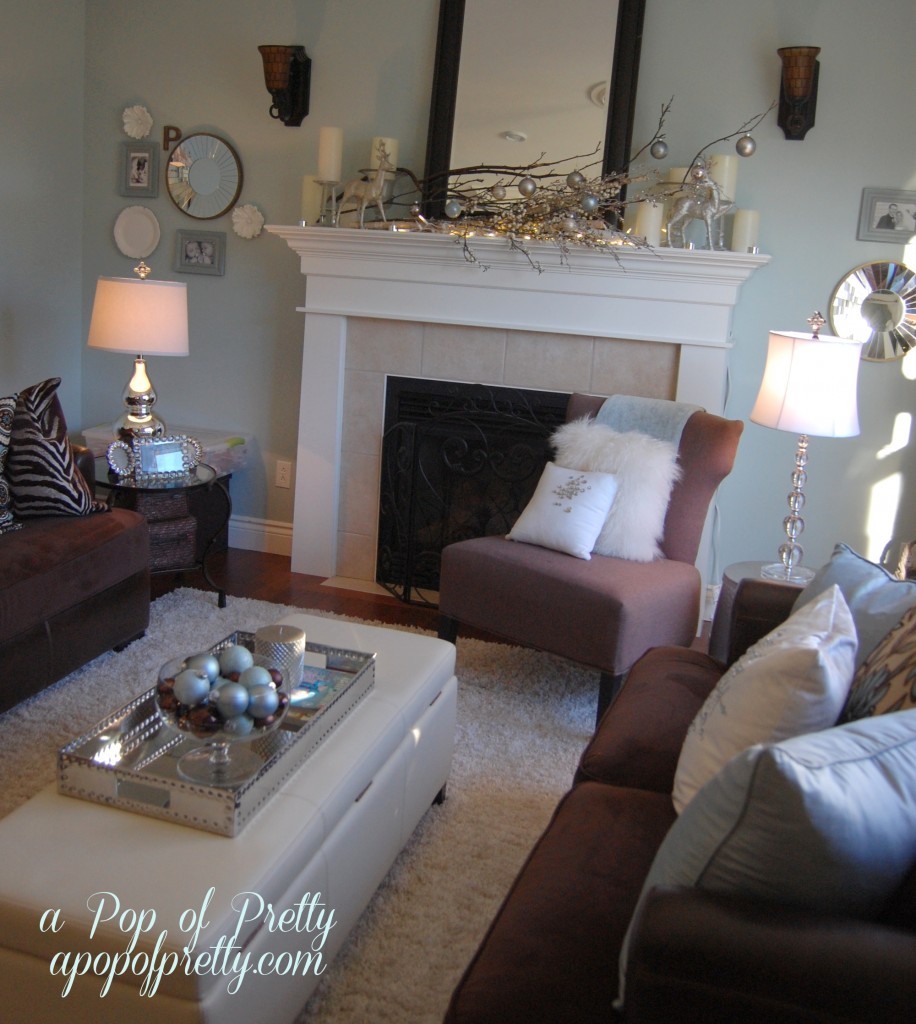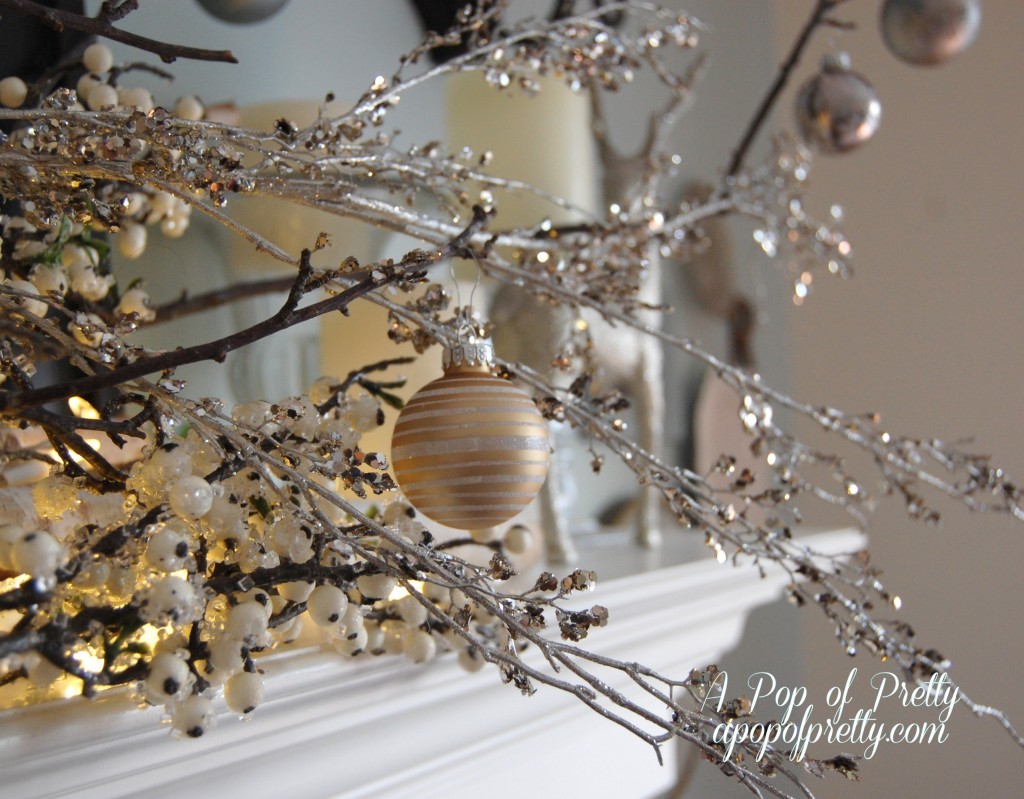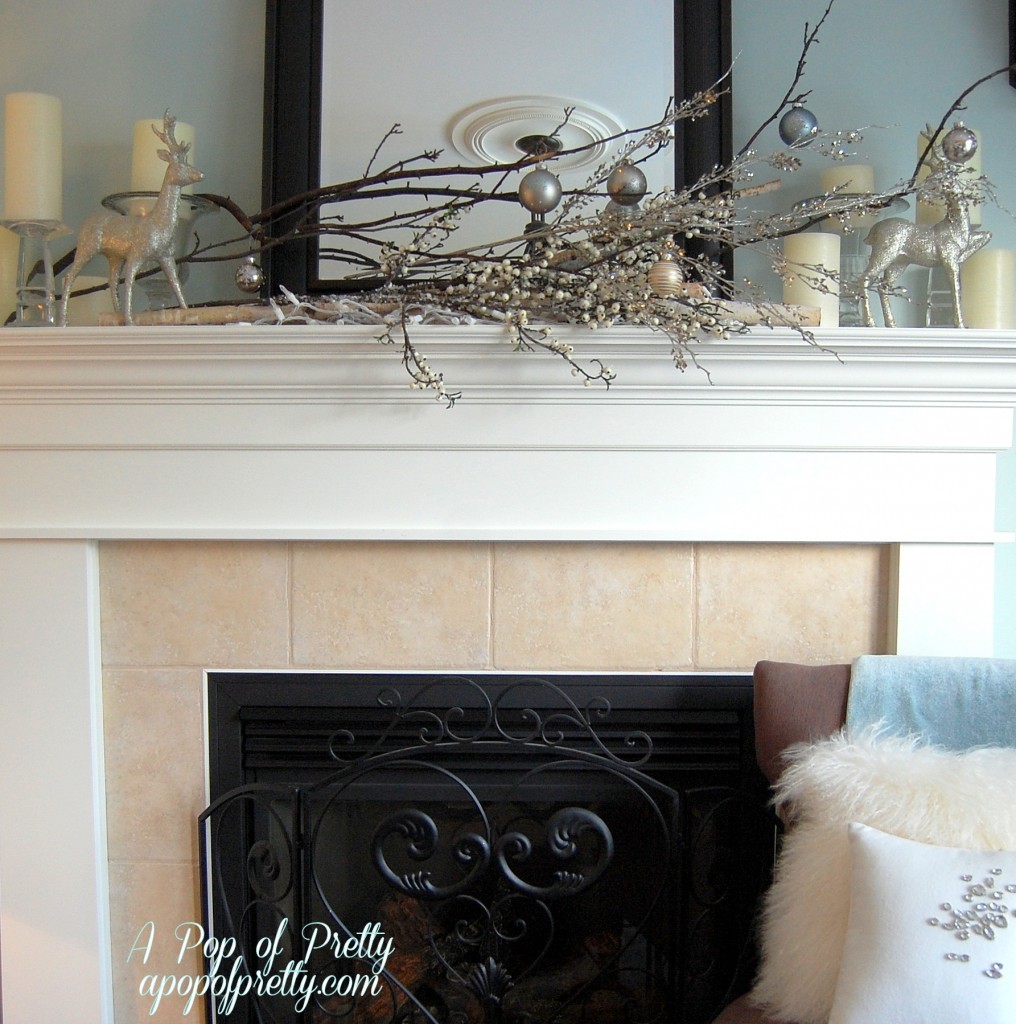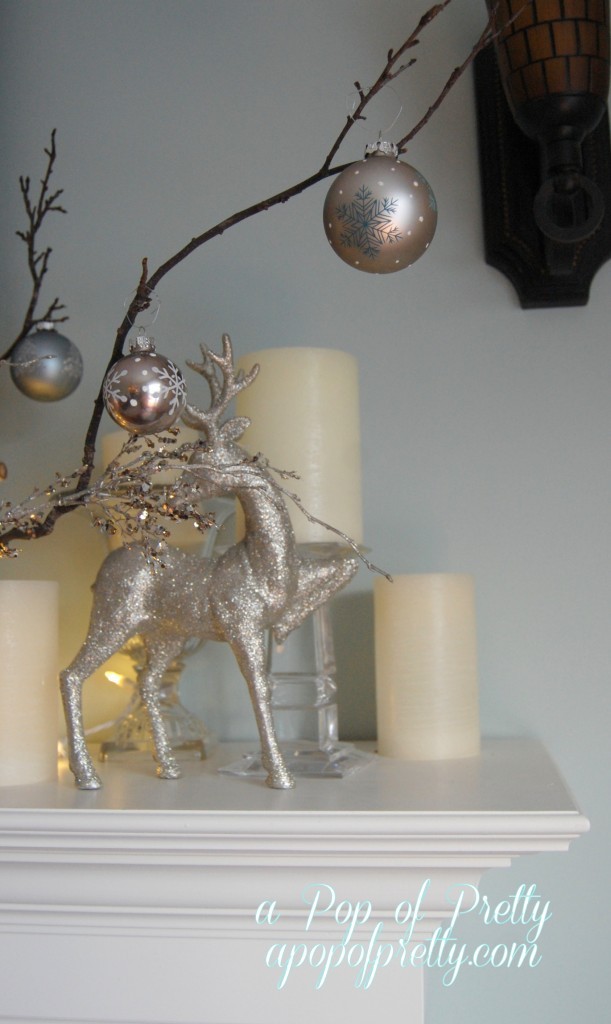 Since then, I've hung our stockings, and added some feathery angel wings to the reindeer!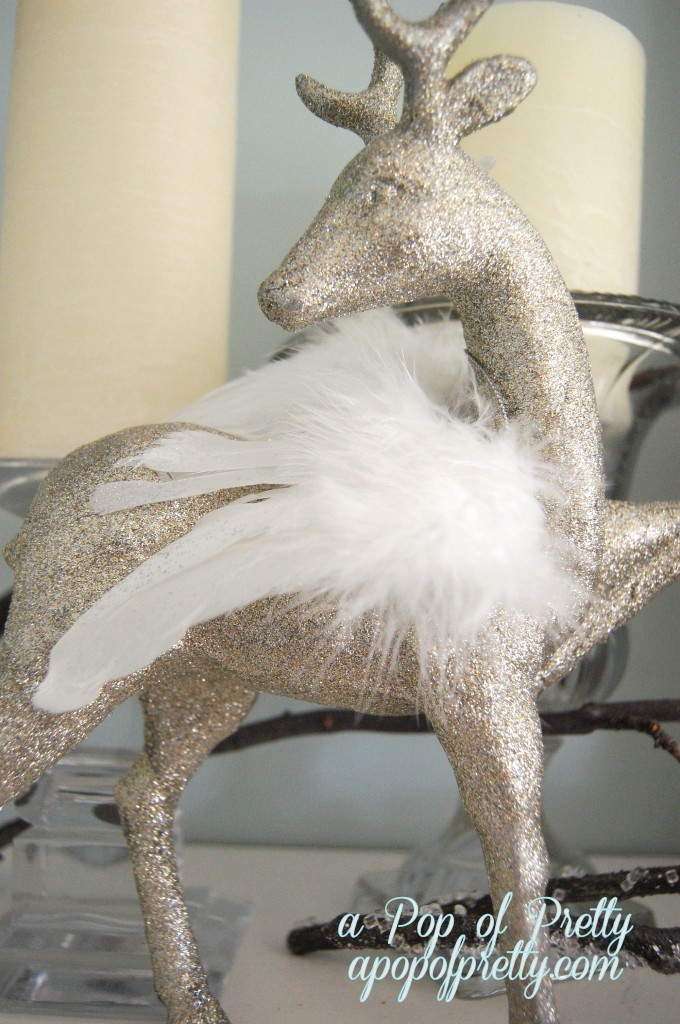 I also hung some some pretty glass bulbs from the chandelier in the living room.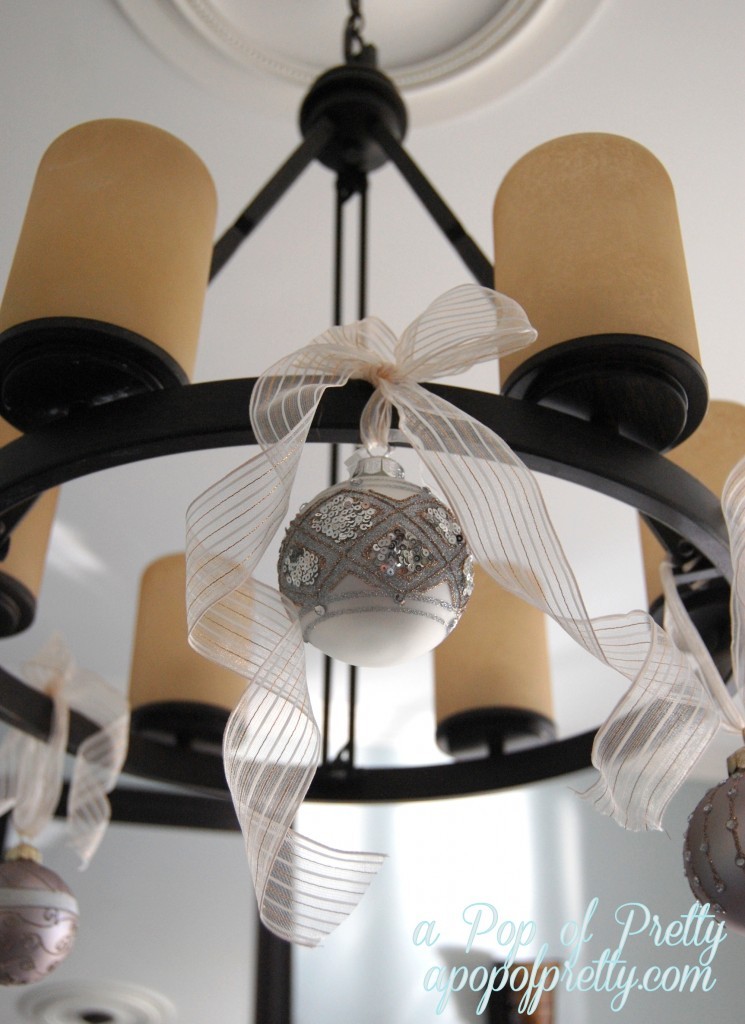 And, here's a little vignette of foliage and 'floating' bulbs that I added atop a cabinet in the room.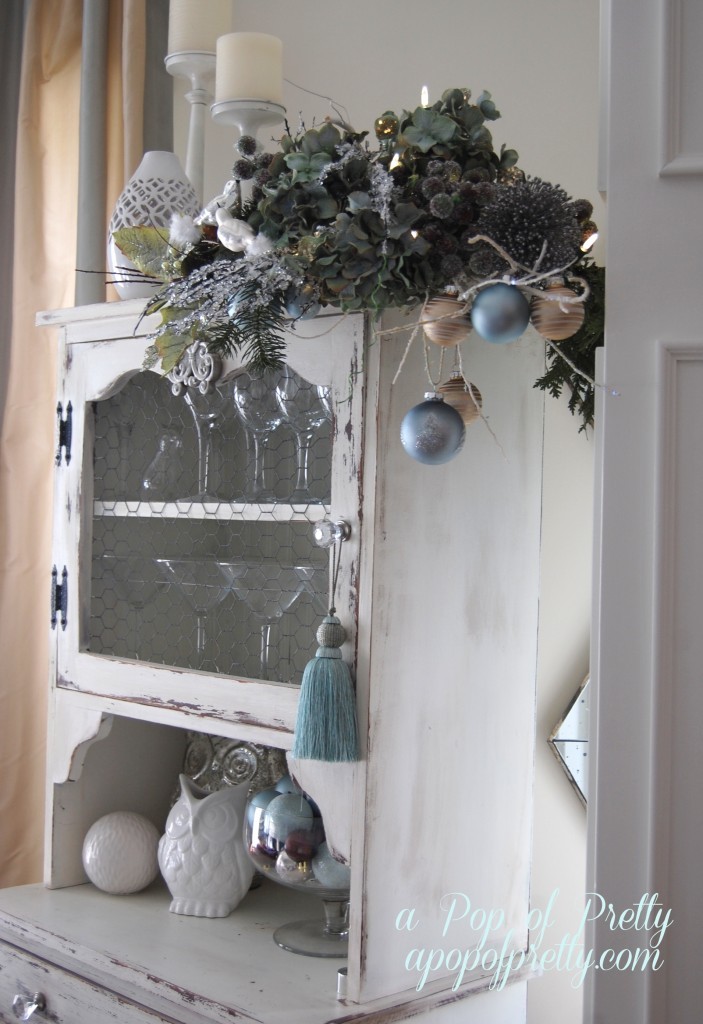 You can see how our tree is just behind the post in our living room.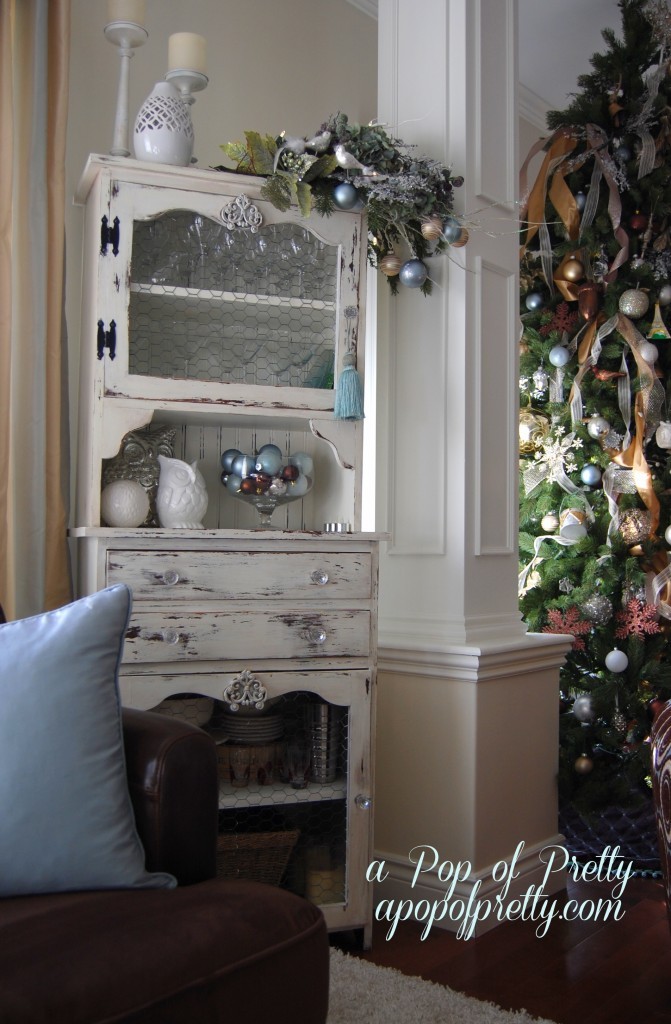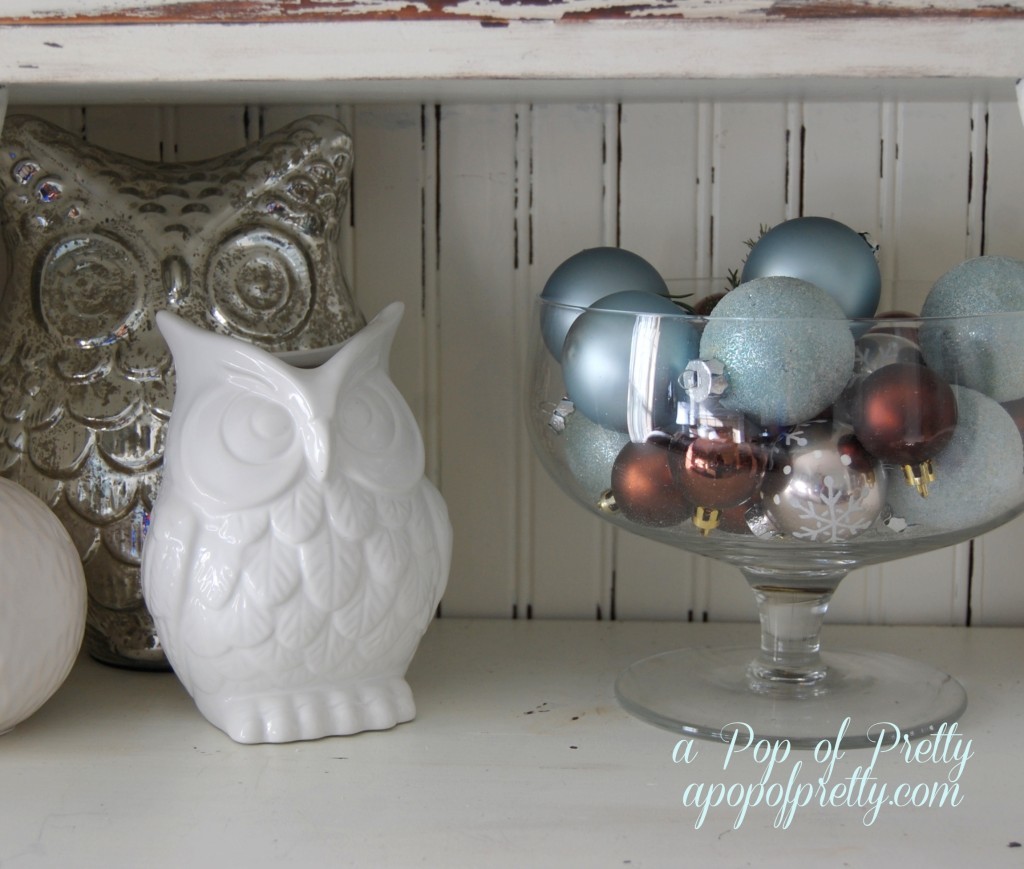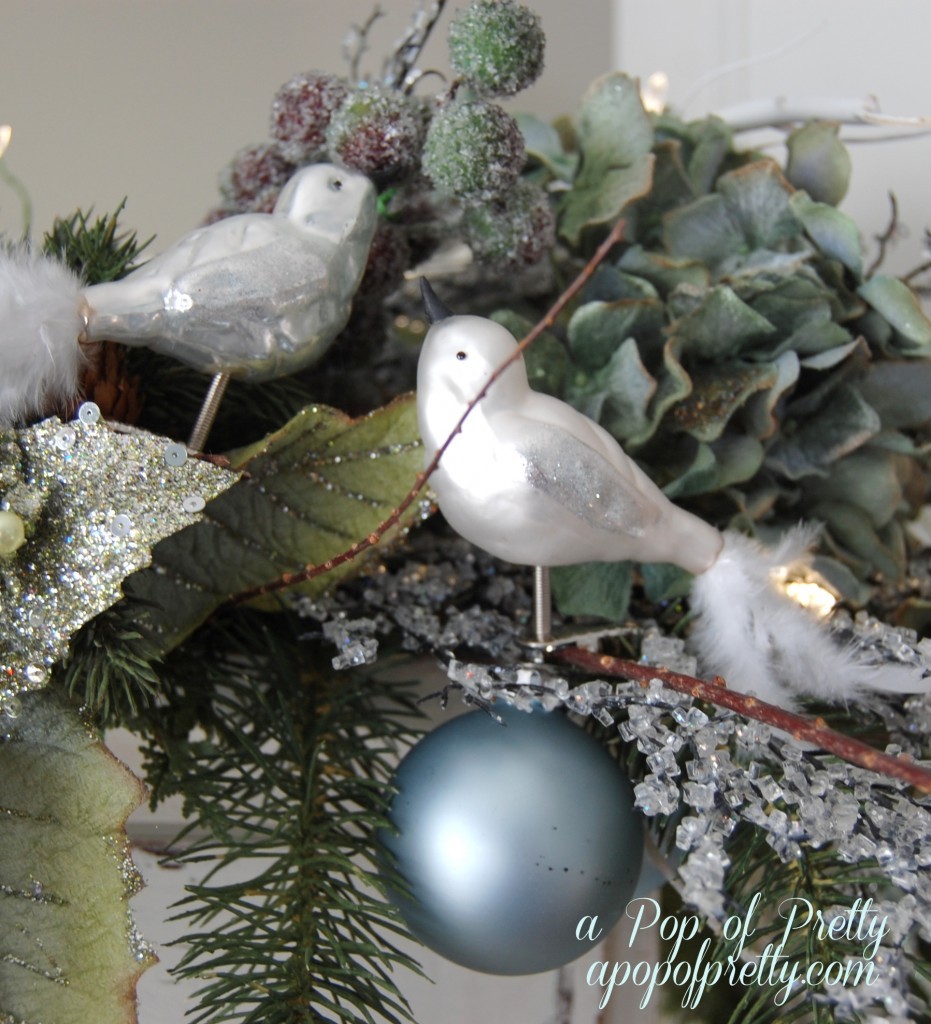 In our dining area, I put together this vase as a centerpiece for the table.  I started with faux snow, then added white feathers and glass bulbs, and ended off with a glittery nest and bird.  It has some battery-operated tea lights on the tray, so it really sparkles at night!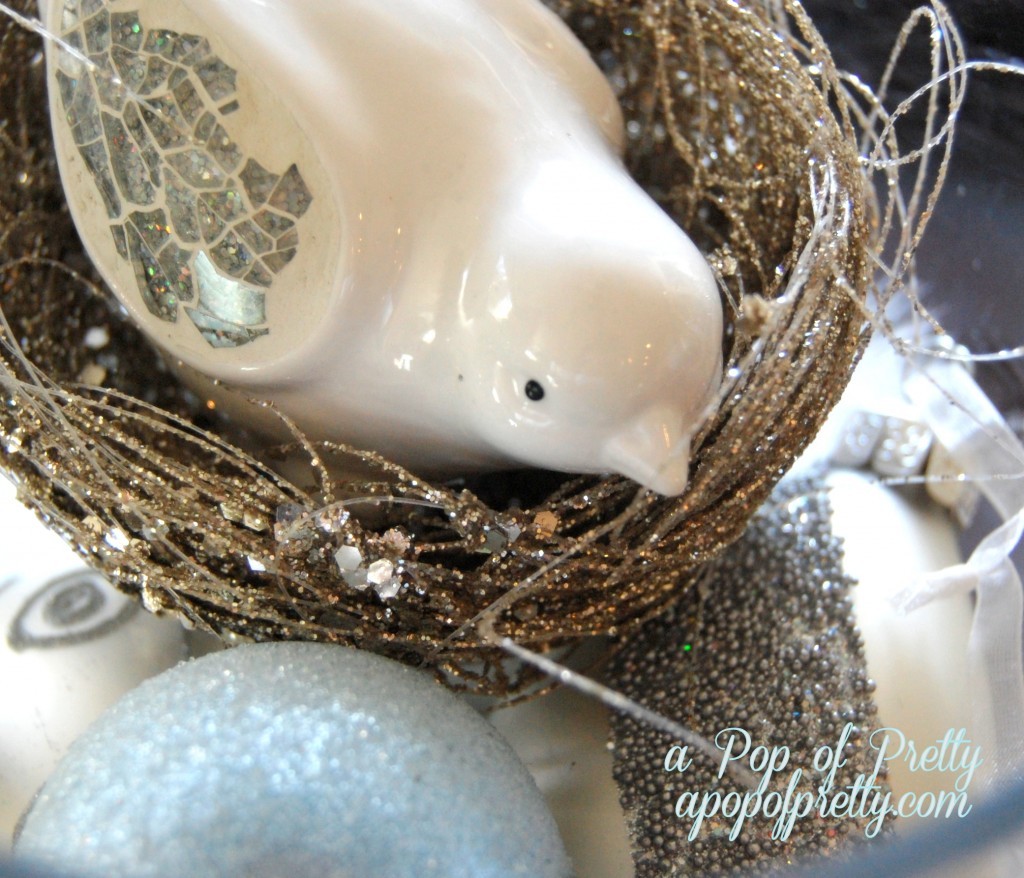 This Christmas  sign that I created, based on a quote from Scrooge, is on top of our hutch.  (If you'd like to make your own, you can find that free Christmas printable here!)  I also filled up two rustic birdcages with sparkly Christmas bulbs and white lights. (Last year, they were filled with red and turquoise Christmas bulbs, so its quite a change in color scheme!)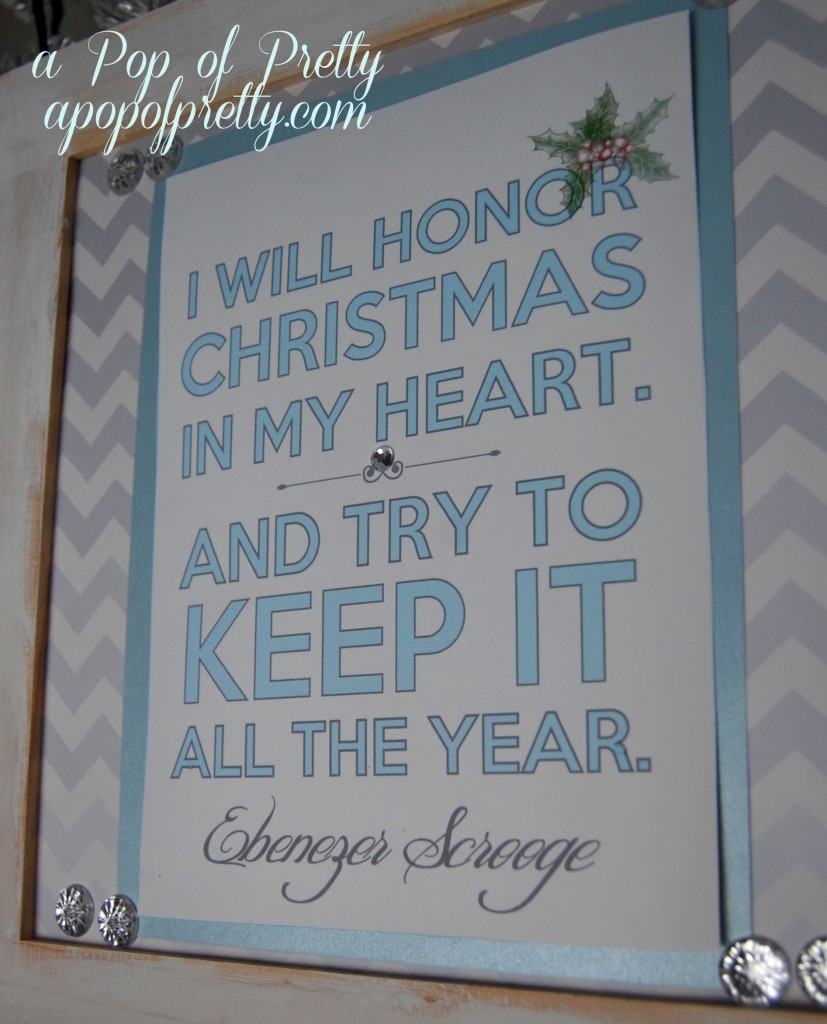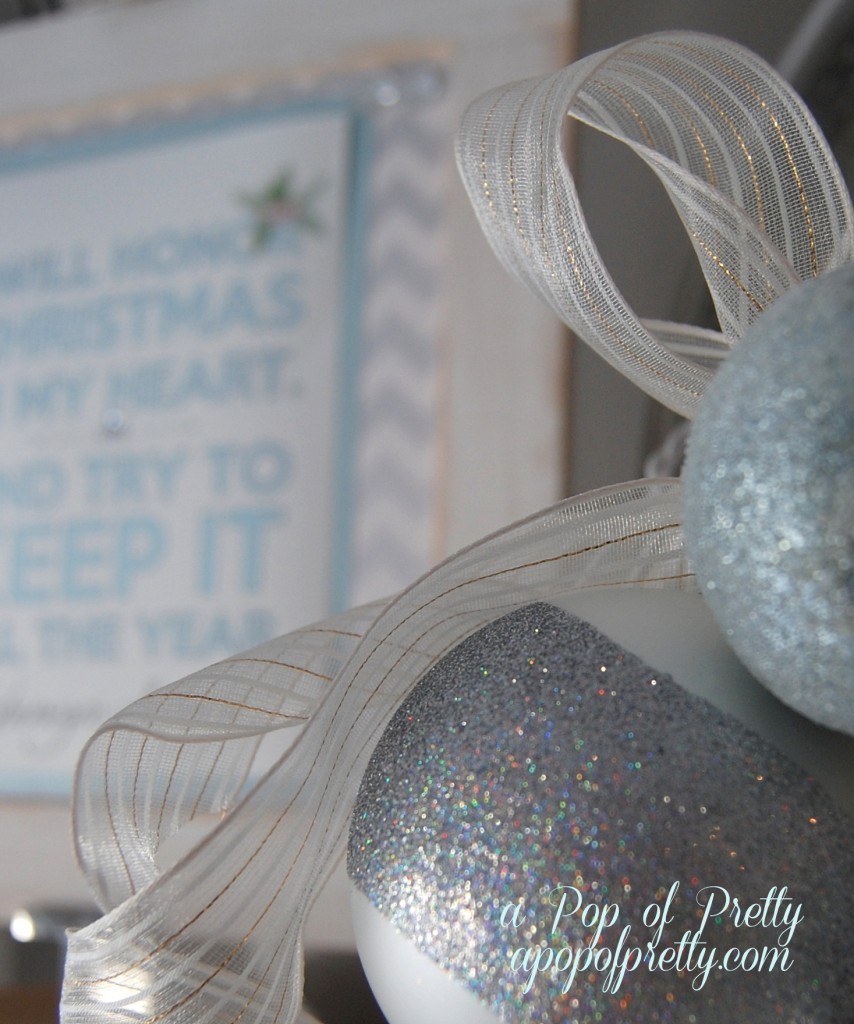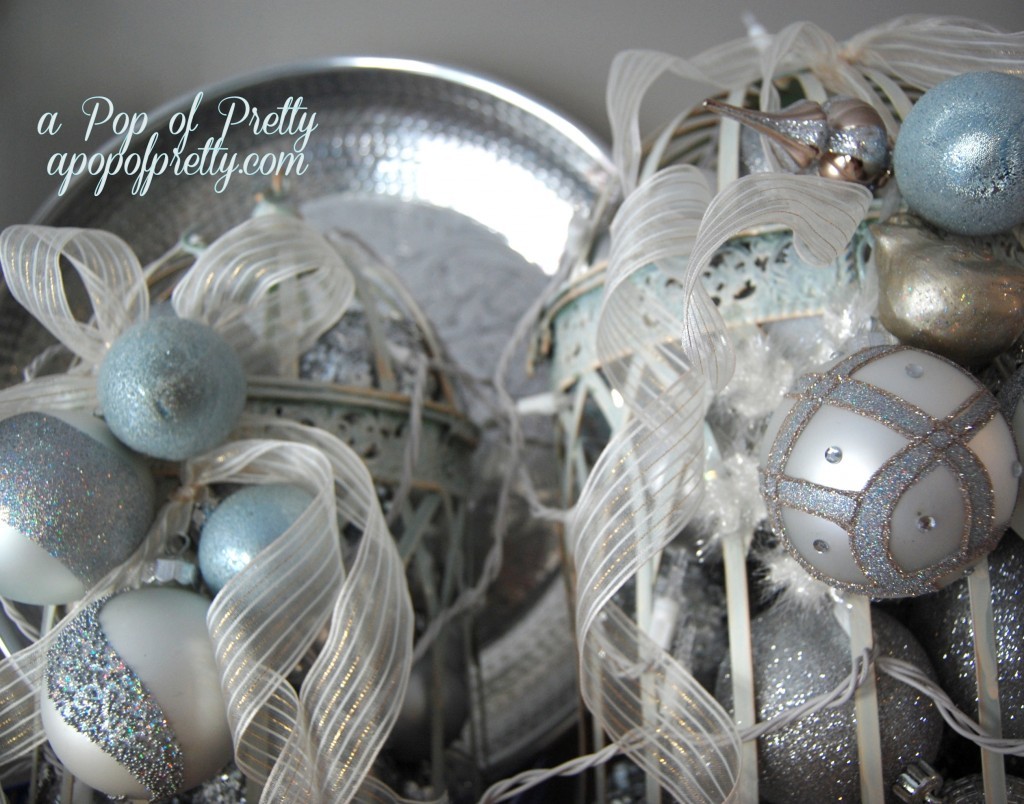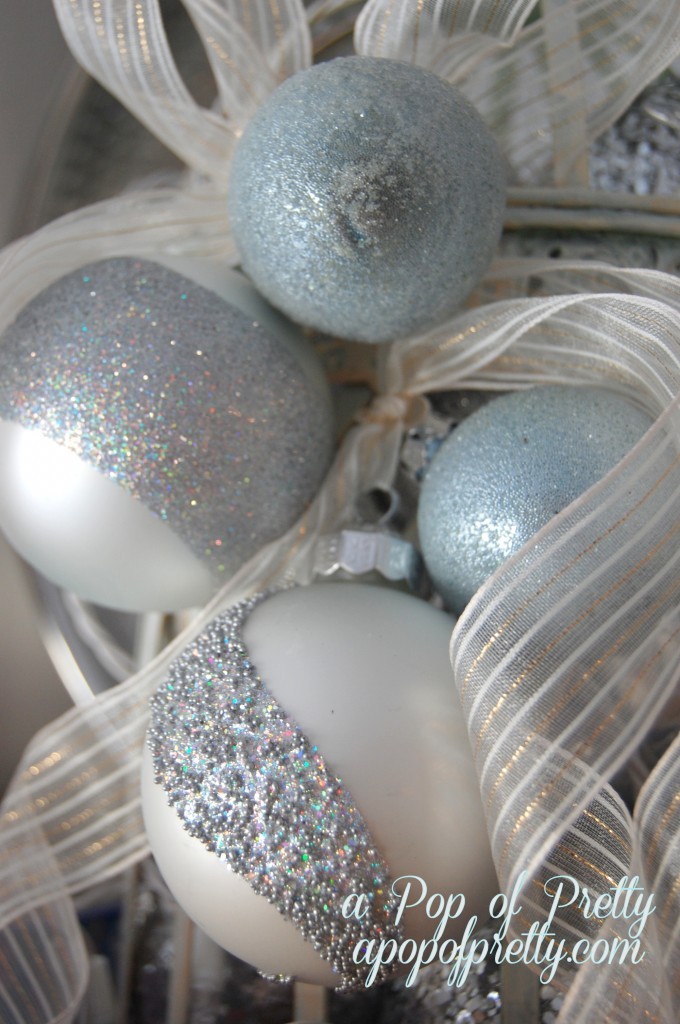 The TV Room Tree
I haven't posted anything yet about this mini-tree in our TV room. Our TV has a bit more color than the rest of the main floor (some red)…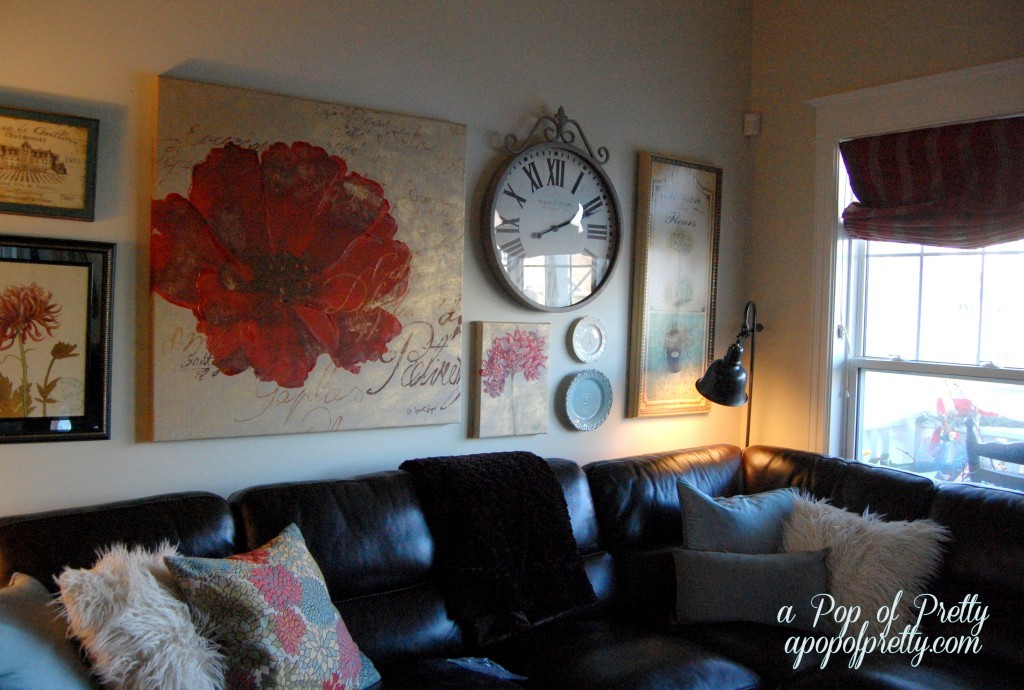 …so it could take a little more saturated color than our living room area. We decorated a fun little "Christmas cookie" tree. I've been collecting these decorations for years.  Last year, this tree was in the kitchen. It's filled with gingerbread men, shortcake cookies, and peppermint candy ornaments! Our Elf, Henrie Rouge, must have thought this cookie was real because we found him trying to munch on it this morning!  As long as our 3-year old boys don't try to eat one, we're good!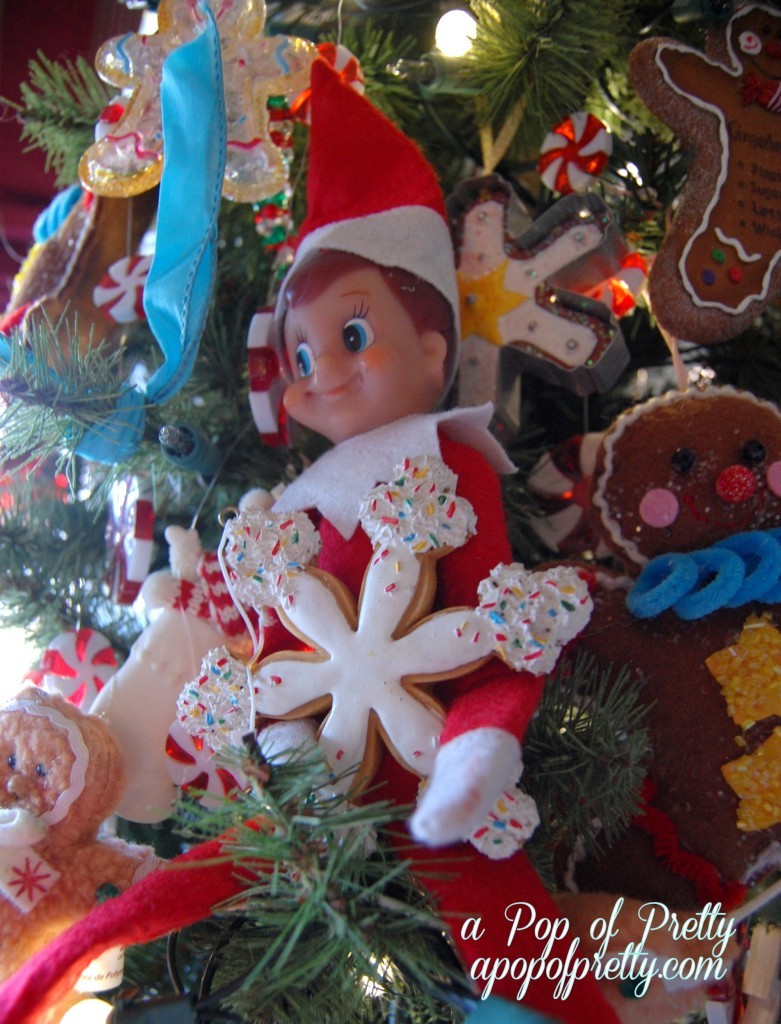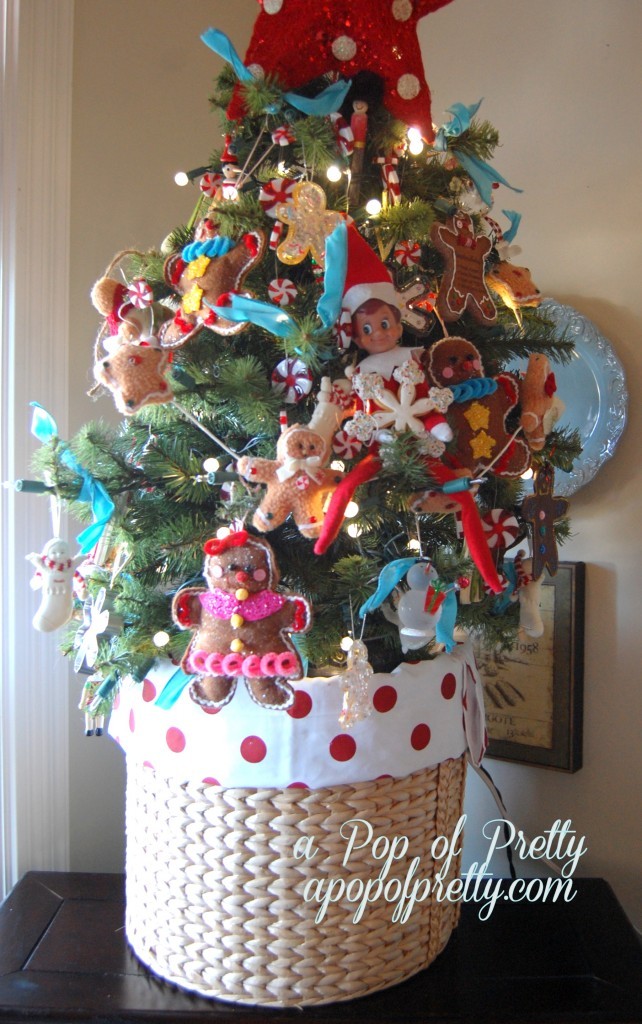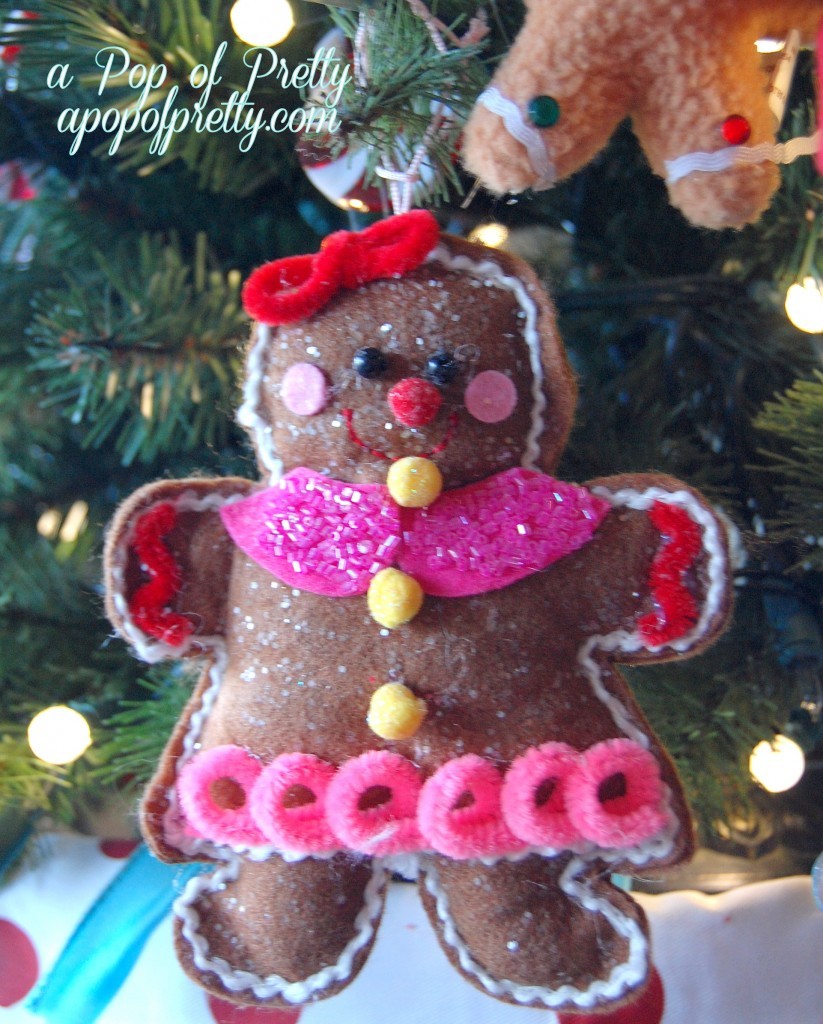 The Basement Playroom / Family Room
A little earlier today, I posted about our Dr. Seuss Tree, which I first created last year.  Last Christmas, I created most of the Dr. Seuss decorations myself. (You can find a tutorial on how to make these Dr. Seuss decorations here.) I didn't make anything new for it this year, but I did add some new Dr. Seuss ornaments that I was given last year.  If you'd like to see the tree in more detail, just click over to that post: Our Dr. Seuss Tree! 2012.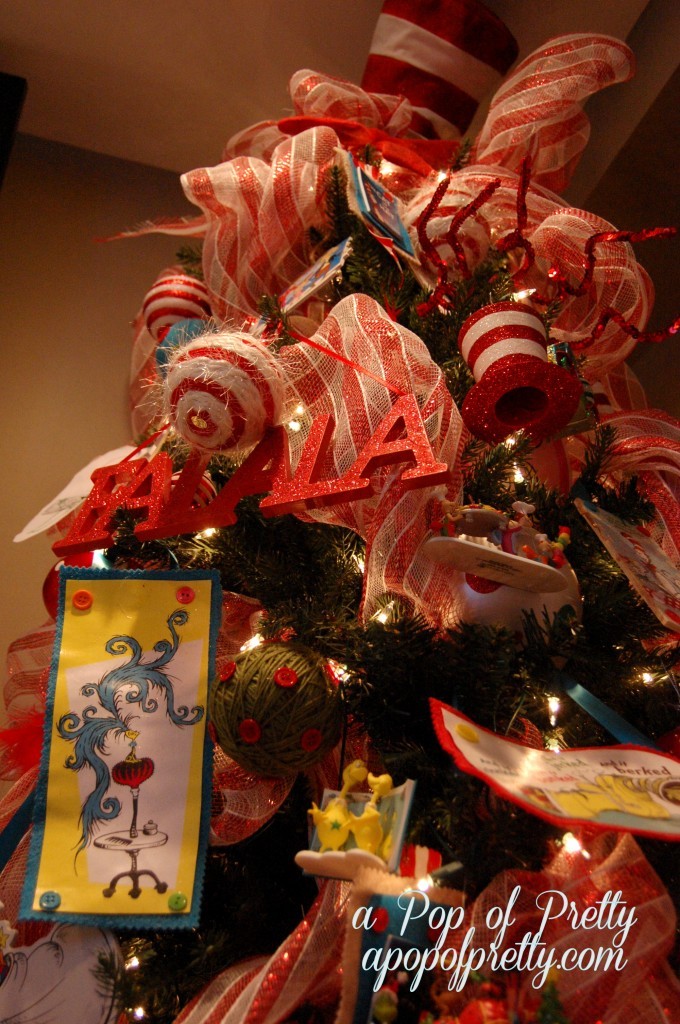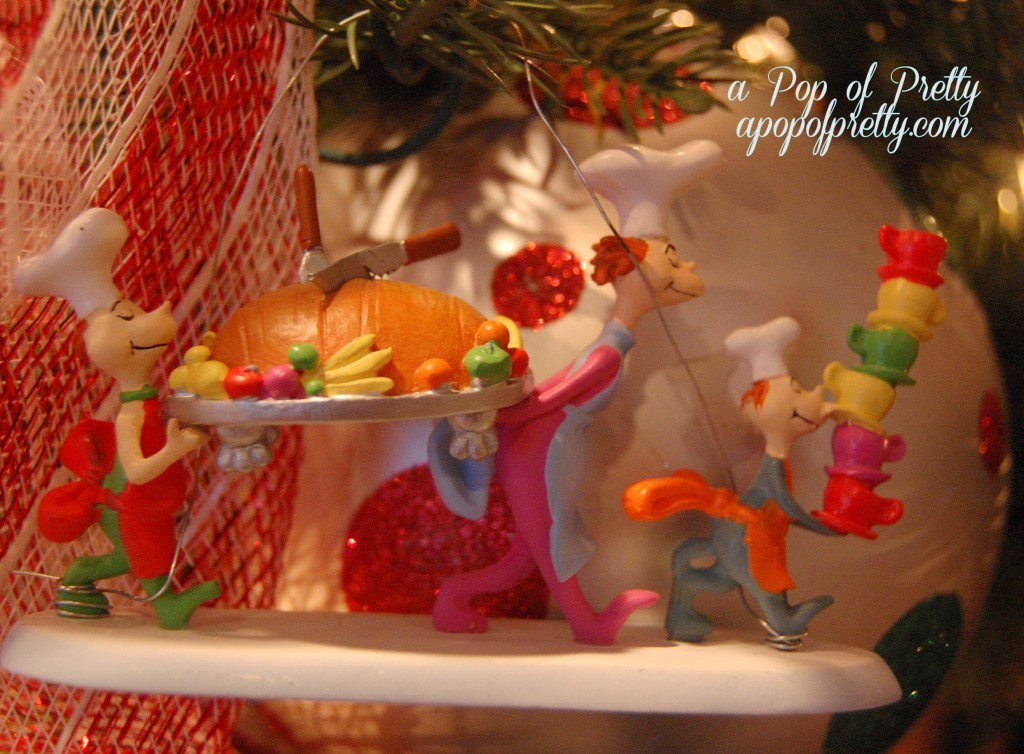 Miss G's Green & Pink Girly Tree
This year, our 8-year old daughter graduated from her pretty ballerina mini-tree to a 6-foot tree.  The lights on her mini-tree no longer worked, and we just happened to come across this heavily marked-down white tree (swoon) at our local Zellers Store (Canadian).  (FYI, in case you weren't aware, Zellers is  is closing down soon as it's been bought by Target.)  I thought it might be a little big for her space, but it actually fits nicely!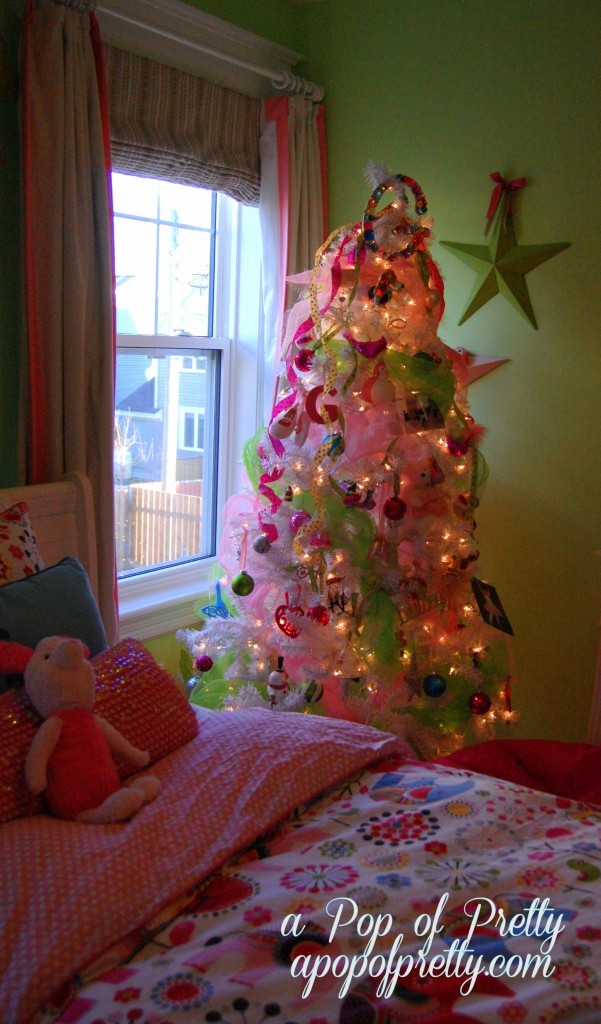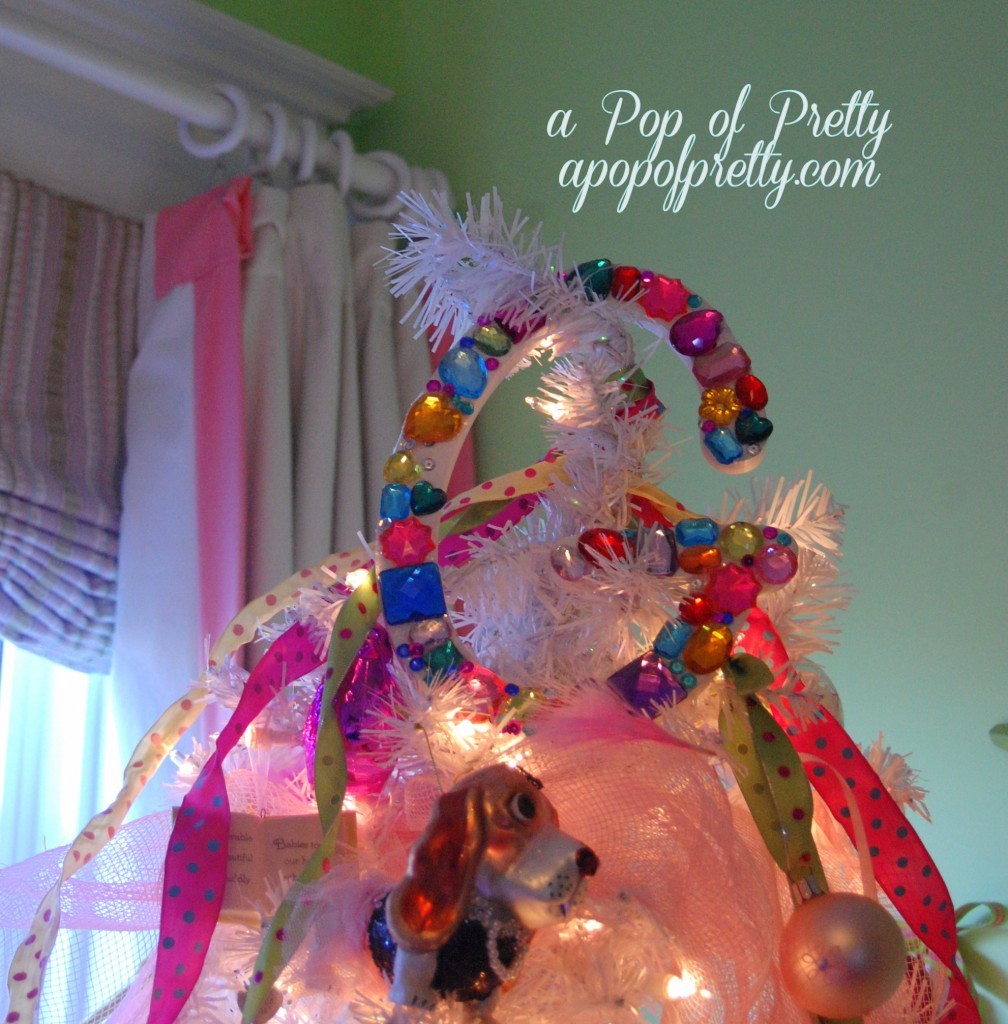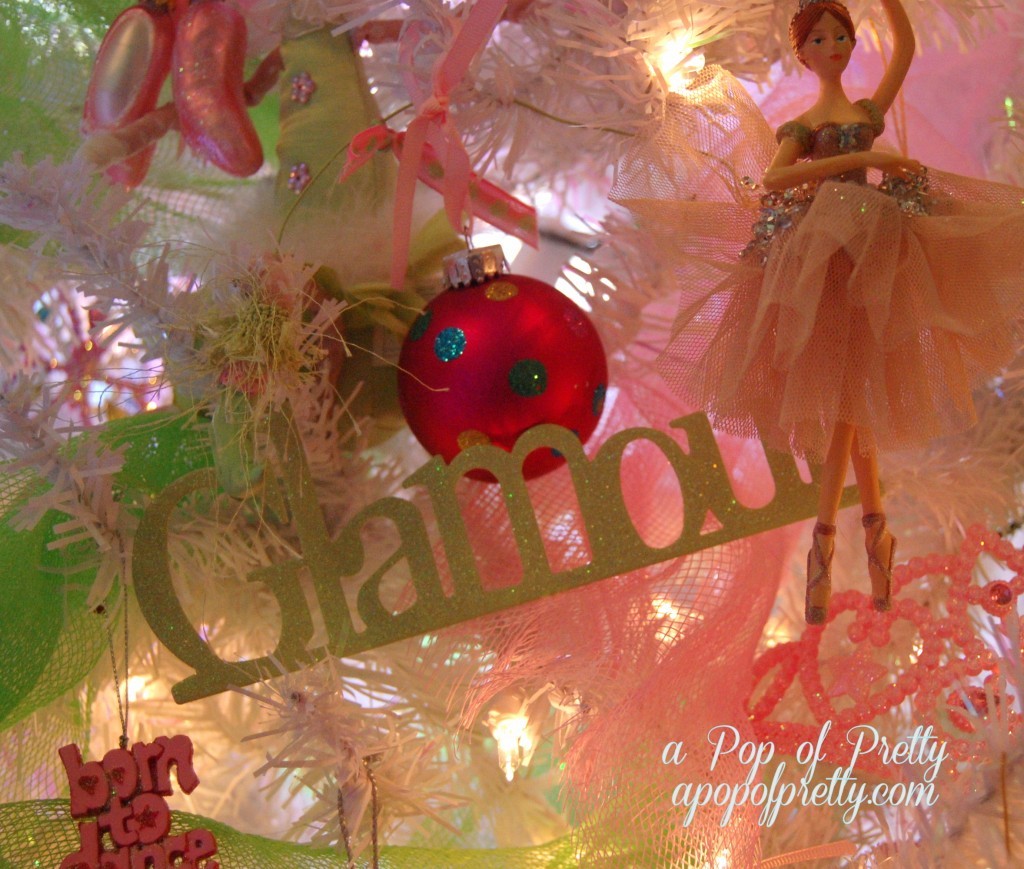 I haven't posted about this pink, girly tree yet, so I'll try and do a post next week to show you a few more details – including how to make a blinged-out monogram tree topper!
Whew!  I'm exhausted just talking about all that decorating!  Forget what I said earlier: I am definitely DONE with decorating this Christmas!
I hope you enjoyed the tour! Many blessings for a wonderful holiday season, however you celebrate it!
(Oh, and you can click here, if you'd like to see last year's "Red & Turquoise" Holiday House Tour!)
Until next time,
P.S.  I'm linking up to…
 *This linky party can also be found at Cottage Magpie!